When a Grandparent has Dementia, It is a Family Affair


By Peggy Edwards and Mary Jane Sterne
My mom and dad were both in the early stages of dementia when they died (both at age 87). Now, my dear mother-in-law (age 90) has Alzheimer's disease. She still smiles and laughs. She knows I am someone special but cannot remember my name. She has lost her ability to put words together and carry on a conversation. When we hug I feel her vulnerability and her warmth. I know the woman I so admired and loved is still in there somewhere.
The hardest thing is talking to my children and grandchildren about what is happening to their Muma. One's first instinct is to "protect" children from bad news and scary diseases that can't be cured. But when children have only partial information, they are likely to feel even more frightened and confused. So imagine how relieved and happy I was to find a wonderful book called What My Grandma Means to Say. This book enables adults and children to have a meaningful conversation about Alzheimer's disease and related dementias when it affects someone they know and love. I was even more convinced of the value of this family resource after I had the privilege of meeting and talking with the author of the book and play.
JC Sulzenko is an Ottawa-based writer who creates stories and poems for young people. In 2009, her one-act play about dementia, written for children in Grades 4, 5 and 6, premiered at the Ottawa International Writers Festival. Since then it has been performed in elementary schools and libraries across the region, often by high school drama students. The play centres on a dialogue between 11-year-old Jake and his grandmother who has Alzheimer's disease, as he struggles to understand her situation and his place in it. As more and more people saw the play, JC was repeatedly asked to adapt it to video and to produce a book that families could read together.
"Alzheimer's disease in an intergenerational issue," says JC. "Children are part of whatever happens in a family. They need to be brought into the picture in a way that prepares them for the health challenges that will be faced by someone they know well."
With some 500,000 Canadians (one in 11 people over age 65) already affected by Alzheimer's disease and related dementias, many families are looking for ways to build skills that support each other and the person who is living with the disease. Since life expectancy is increasing and advanced age is the number one risk factor for Alzheimer's disease, the number of people who have it will grow significantly in the coming years. This means more and more families will face such challenges. Three and sometimes four generations will be involved. Muma's children who are all in their 60s are struggling with how best to cope, as are her grown-up grandchildren and their children—Muma's great-grandchildren. Children, parents and grandparents will all benefit from increased understanding and open conversation about what everyone in the family is experiencing when a loved one has dementia.
The story is in a style that engages children right away. Jake shares his story as he watches his grandma change from awesome traveler, bird watcher, teacher, friend and brownie-baker to someone who can't cook anymore and does not remember his name or where he lives. He talks about his feelings and frustrations. Jake says:
"I have a story to tell you. It's a story with a lot of truth in it. Once you've heard it, you can make up your own mind about whether it leaves you a little happy, hopeful or sad—or a mix of all three. That's up to you."
Anyone who has lived with Alzheimer's disease will relate to all of these feelings. And that is partly why it is so hard to talk about. JC suggests that we use a realistic and inclusive approach when talking with children. "Kids are up to it", she says. "They need to know that the disease is not curable and that there are limitations on what they can do. They also need to know that they are welcome to be a part of what happens."
JC is encouraging us to open the door and be brave enough to engage in a meaningful way with the children and grandchildren in our lives who are affected by dementia in the family. The book also provides answers to frequently asked questions and a list of sources for further information to assist families and children in learning about Alzheimer's disease and related dementias.
Be prepared for emotional feelings. The book and play spoke to me on an intimate level. It helped explain what I saw my mother go through when her father (my grandfather) became so "difficult". It helped explain the roller coaster of emotions that my siblings and many of my friends have gone through. And it made me realize how young children feel these things too.
At the end of the book, Jake and his mother conclude that enjoying and sharing the good moments now is the way to go. Jake still hopes that he might have another lucid talk with his grandma but he really does not expect that to happen. Jake says:
"I won't wait for it or feel impatient or disappointed. Instead, I figure I will feel good down deep inside myself whenever I see Grandma smile, which is often when I come to visit."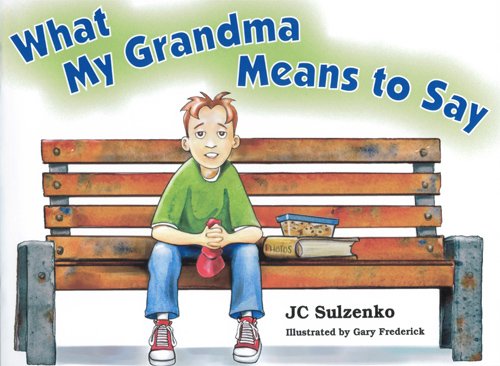 What My Grandma Means to Say
Where to get the play, video and book
The book –beautifully illustrated by Ottawa's Gary Frederick and published by General Store Publishing House—is available at the public library, local bookstores (I bought five from Mother Tongue Books on Bank Street to give to family members) and online at www.chapters.indigo.ca/ and www.amazon.ca/.
For information on presenting the play and getting the Discussion Guide, which includes frequently asked questions, activities linked to the school curriculum, sources of further information, and a bibliography, visit http://alzheimerottawa.ca/we-can-help/programs-services-in-ottawa/school-education-program or contact the Alzheimer Society at 613 523-4004.
For information on presentations by JC Sulzenko, go to www.jcsulzenko.com or send an e-mail to info@jcsulzenko.com.
The video Kids helping kids understand Alzheimer's disease is on YouTube at http://youtu.be/WsaHth8bm0s. It features an introduction by JC Sulzenko and pilot performance of the 10-minute, one-act play by high school actors before 200 students at C.M.L. Snider School in the eastern Ontario community of Wellington.
What is Alzheimer's disease and other forms of dementia?
Dementia is an umbrella term for a variety of brain disorders. It is not a normal part of aging. Symptoms include loss of memory, judgment and reasoning, difficulty performing familiar tasks, problems with language and changes in mood and behaviour. These become worse over time. Brain function is affected enough to interfere with a person's ability to function at work, in relationships or in everyday activities. Alzheimer's disease is the most common form of dementia, making up approximately six out of every 10 cases. For more information, visit the Alzheimer Society at http://alzheimerottawa.ca/about-dementia.
Peggy Edwards and Mary Jane Sterne are the authors of Intentional Grandparenting: A Boomer's Guide, (McClelland and Stewart, 2005). Available from your favourite bookstore. The authors live in Ottawa and have 22 grandchildren between them.