Enter for a Chance to Win a Canadian Tire Armor All Gift Pack
Winner will be contacted December 19, 2018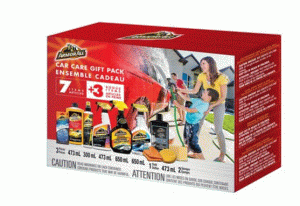 Armor All cares about how your vehicle looks and has developed a full line of products for every kind of car or truck owner. Whether you're looking for a full wash and wax or an on-the-go solution, Armor All has a product to suit your needs.
The gift set is perfect for all car lovers, and it comes with six kinds of cleaners, protectants, and wax, along with an air freshener and bonus cloth and sponges. It's everything you'll need to make your car shine inside and out.
Available exclusively at Canadian Tire stores across Canada (which makes it easy to find for yourself or a gift for someone else if you don't win this contest).
https://www.canadiantire.ca/en/pdp/armor-all-gift-pack-1999048p.html#srp
The value is $29.99.
Includes:
Wash & Wax (473 ml)
Multi-Purpose Cleaner – orange scent
Extreme Tire Shine (650 ml)
Protectant Pump (300 ml)
Cleaner Liquid Wax
Auto Glass Cleaner (650 ml)
3 packs of air fresheners