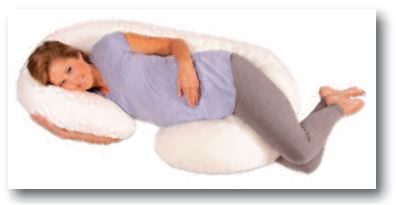 Give her something to curl up to before the baby arrives with this
plush Pregnancy Support Pillow for a peaceful slumber. The pillow
offers excellent mid-size support for the hips, legs and bump so you
can sleep comfortably and wake up feeling refreshed. The size doesn't
take over the bed and it's great to use for propping up to watch TV
or read. It comes with a removable, machine-washable jersey
slipcover. www.motherhoodcanada.ca/snoogle-total-body-pillow/.