Lifescape
By Janet Armstrong,
Certified Interior Designer, CAPS
Lots of finishes to choose from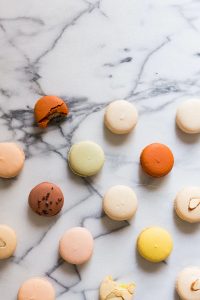 One of the most popular home renovations carried out across Canada is a kitchen renovation. This hardworking space sees a lot of use and should be renovated on average every 15 years due to the wear on finishes, changes in colours and styles and materials available.
One of the more important investments in a kitchen reno is the counter, and with the wide selection of products available, making a decision can be an overwhelming experience. The first step to
understanding what may best meet your needs begins with considering who uses the space and how often, as well as the overall style of your home. To assist you in making a decision, I share the pros and cons of several of the more popular countertop materials currently available on the market.
Marble
Marble is a natural stone from various species that brings a classic, luxury look to your kitchen. Each slab is unique with veining and colours that run from subtle to strong depending on the species. Like granite, marble is available in finishes from leathered to matte to gloss. But note that marble is not for every kitchen. Because it is a very porous material making it highly susceptible
to stains, oil absorption and abrasions, it is a high maintenance product and requires repeated sealing. If you have a low-traffic kitchen and do not do much cooking, marble could be an option for you, but if you love to cook and entertain, this product is not for you.
Granite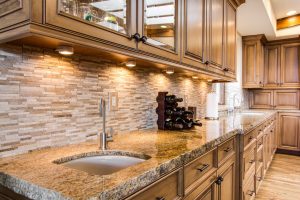 Granite has beautiful visual texture and movement from natural veining, making each slab a unique product. Available in various rich colour variations such as blues, browns, reds, mottled whites, black and shades of gray, granite is installed with minimal to no visible seams resulting in a very streamlined, sleek look. It is also available in a number of finishes, from leathered to matte to high gloss depending on the look that best suits your space. While granite has a durable, heat-resistant surface, it is a porous material that is susceptible to stains and oil absorption and pitting and chipping. If you have a lower traffic kitchen or do not mind the regular maintenance required to protect your investment, a granite countertop is the finish for you.
Slate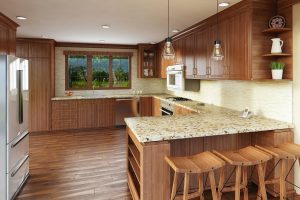 Slate is a hard, durable, nonporous product that will not harbour bacteria or absorb liquids so it does not stain. It is also heat resistant and does not easily chip or scratch, so it is an excellent product for a busy kitchen. Corners can be sharp or brittle, so rounded corners are highly recommended to prevent cracking or injury. The colouring of slate is subtle but dark and moody, with shades of black, charcoal, gray, pewter and brown available, making countertops appear more consistent than, say, granite or quartz.
Quartz
Quartz is one of the hardest, most durable minerals known, and counters are manufactured using crushed quartz combined with binders and pigments. Look for a minimum ratio of 93 per
cent natural quartz to seven per cent binders/pigments to ensure you are getting a good quality product. Because quartz is non-porous, it is bacteria resistant, durable, and doesn't require sealing; it is a low maintenance product well suited to busy kitchens. Available in a wide range of colours and patterns, from subtle to bold, options are available to suit every style.
Concrete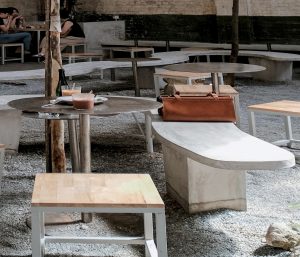 Concrete has been a popular choice for a number of years now, and its popularity continues. It is an extremely hard and durable material and makes a great work surface, especially for
baking, as it provides the perfect base for rolling out dough. Its durability means it won't scratch and is heat resistant, so it is a good option for those who love to cook and bake. Concrete comes in a wide range of colours, and artistic elements such as glass, stones, iron, etc., can be embedded into it to make a personalized, unique product. Another advantage of concrete is that it can be formed into whatever shape is required to adapt to your needs. Note that it does require sealing every so often to protect it from staining, and the use of nonabrasive cleansers is required.
Solid surface
Solid surface countertops are manufactured from dense acrylic, polyester or a blend of the two. The seams are fused to make undetectable joints, which works well if you require a large or a
long section of countertop. Solid-surface sinks are also available to match the counters, which make for a cohesive, continuous flow. Solid surface counters are non-porous, so they are easy and low
maintenance and, should damage occur, are repairable. However, they are not heat-resistant and will show scratches. However, with care, solid surface countertops will maintain their good looks for years.
As you begin to plan your kitchen update, you will find the range of products available is broad with countless beautiful colours as well as textures and finishes available. To assist and get you started, this summary will help guide you toward a product that best suits your needs, continues to look beautiful and will perform for years ahead.
Janet Armstrong (simplyswankdecor.ca) is a graduate of the Interior Design Institute of Canada, CAPS (Certified Aging in Place Specialist) and National Chair of the Decorators and Designers Association of Canada (DDA Canada).