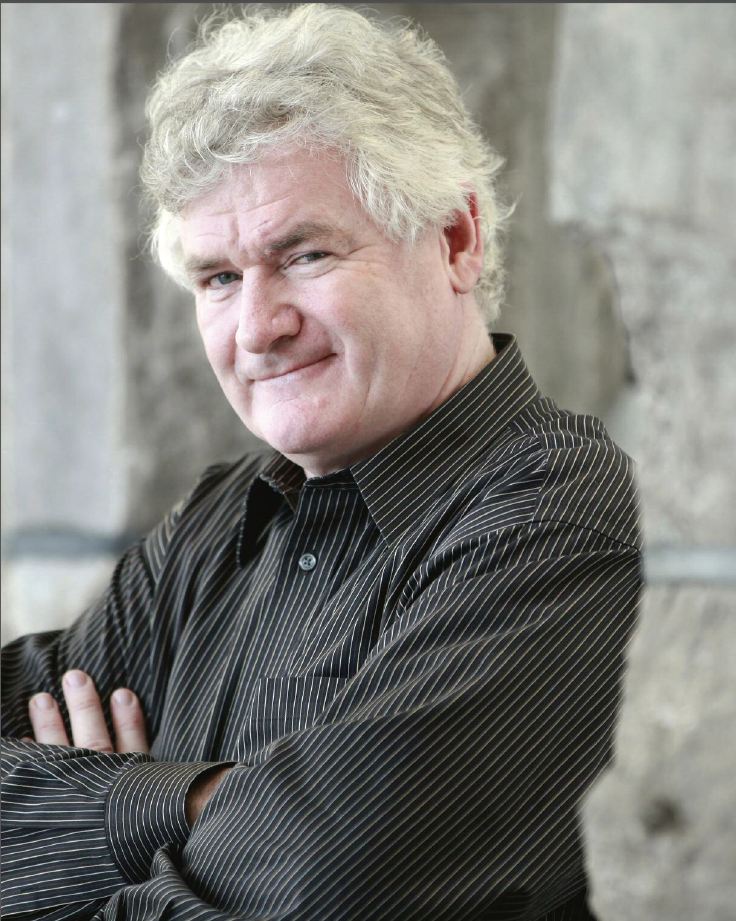 Internationally-renowned Canadian tenor, John McDermott, wipes a tear from his eye with the palm of his hand. In about an hour, this consummate professional will be regaling an appreciative full-house audience at the Oakville Centre for the Performing Arts with cornball Irish jokes while capturing their hearts crooning beautiful ballads. But sitting in the privacy of his dressing room, he pauses to get his emotions under control.
The tears begin to well up in John's eyes as he talks of his efforts to raise $3.6 million to upgrade and expand the Palliative Care Unit – K-Wing Veterans Centre – at Toronto's Sunnybrook Hospital. Well into the second year of his three-year quest, he has received pledges topping the $1 million mark. A series of concerts, entitled Music in the Key of Giving, with high-powered guests over the next two years – including an appearance by flautist Sir James Galway on October 16 – could add another half-million dollars to the total. But a great deal more needs to be done.
"Cancer doesn't choose its victims according to any plan," John says, regaining his composure. "I've seen in that ward a 32-year-old mother with a month to live and she has a one-year-old daughter. I've seen a 92-year-old vet full of piss and vinegar, fightin' this bastard of a disease right down to the end. And I've seen a fireman with all the dignity in the world knowing that it's down to his last hours. And the families ask for nothing; they don't. They're just glad they have a place to take their loved ones."
Veterans are special to John. His late father, Peter, who died in 1995, served in the Royal Air Force. John's mother, Hope, who lived on for about five years after her husband's death, had a brother who died in the notorious Changi Japanese prisoner-of-war camp. Two of John's cousins were killed in Vietnam and another took his own life after serving there. In 2010, John was awarded a Minister of Veterans Affairs Commendation for his work on behalf of veterans. He is also an honourary member of the War Amps of Canada.
The 57-year-old Scottish-born performer, whose family moved to Toronto's Willowdale area in 1965, has high praise for the staff at Sunnybrook. He wants to help them give the best possible care to their patients – veterans, serving members of the military, First Responders such as police officers and firemen, and members of the general public who are admitted to the unit.
"The people there are fantastic," he says. "What the nursing staff does day in and day out is overwhelming. They're dedicated professionals. We can at least make the conditions a hundred times better."
John's decision to raise funds to improve the layout of the unit came about partly because of visits he made to one of his good friends who was a patient at Sunnybrook. The surroundings hadn't changed in 10 years.
"But my friend made the best of the situation," John recalls. "He'd been given a private room and he set up a bar with all his favourite booze. He got a nice CD player and, when his pals came in, they drank with him and celebrated his life. He didn't sit there in a death watch and his buddies didn't have to sit there quietly as they'd have had to do if there'd been another family – or three other families – in the room."
Upon his friend's death, John decided to honour his memory, and that of other acquaintances who had died there, by helping improve conditions in K-Wing.
"When you go into a palliative care unit, you know you're not coming out," says John. "It's reached the point where the patient can't be looked after at home – where familiar surroundings and a certain amount of privacy would allow the person to die with dignity. So I asked a number of families what would've made the passing of their loved one more dignified. All of them mentioned three things: privacy, comfortable surroundings and a way for the patient to keep in touch with people unable to visit."
John's first task was to set up a charitable foundation – McDermott House Canada (www.mcdermotthousecanada.org). With John as president and retired Canadian Forces Chief of the Defence Staff, General Rick Hillier, as honourary chair, the charity boasts a take-charge board of directors made up of corporate executives, and provincial and municipal police officials.
"We talked to Sunnybrook and came up with the plan to raise $3.6 million to update the current 24 rooms in K-Wing and add eight more," says John. "We want to make the unit the touchstone of palliative care – a place where similar organizations around the world will come and say: 'Yeah, they got it right. Look what they've done here. How did you do it?' And we can say: 'Here's our plan; this is what we did.' We have an opportunity to make something really special happen."
When the project gets into high gear, top of mind will be the three priorities listed by the families John spoke with.
"Privacy is critical," he says. "Canadians are a respectful and caring people. We need to provide areas where the patients and their visitors can feel relaxed even with two or three other families in the room. We have the technology; we can do it. And there should be comfortable chairs and a second bed for an overnight stay. That way, the first thing the patient sees upon awakening is a loved one. There should also be a means of contact between the patient and those who can't get to Sunnybrook. My father wasn't able to visit his dying brother in Australia, for instance. With things like Skype, a small computer in the room would allow face-to-face conversations with those far away."
The design of the new facilities will also allow families with children to visit.
"It costs a fortune for babysitters these days," says John. "This means that a visit often has to be cut short. No! Bring the kids along. We'll have a children's area where they can play and the patient can see them. We'll also have a well-equipped dining area – a kettle, fridge and microwave just don't cut it. We'll have a comfortable place to eat and a proper kitchen with decent materials."
John maintains that a communal area for families in the same stressful situation is important. Friends and neighbours express sympathy for the grief these families are experiencing, but really can't relate to their anguish.
"People say: 'I know what you're going through.' The remark is well-intended but I can imagine what someone would like to say in response: "My wife is 52 and she's dying. Is your wife dying? You have no idea what I'm going through!' But when you look into the eyes of someone else in that ward and they tell you they know what you're going through, you know they really do. And perhaps they're dealing with it a whole lot better than you are. That can provide a tremendous amount of support."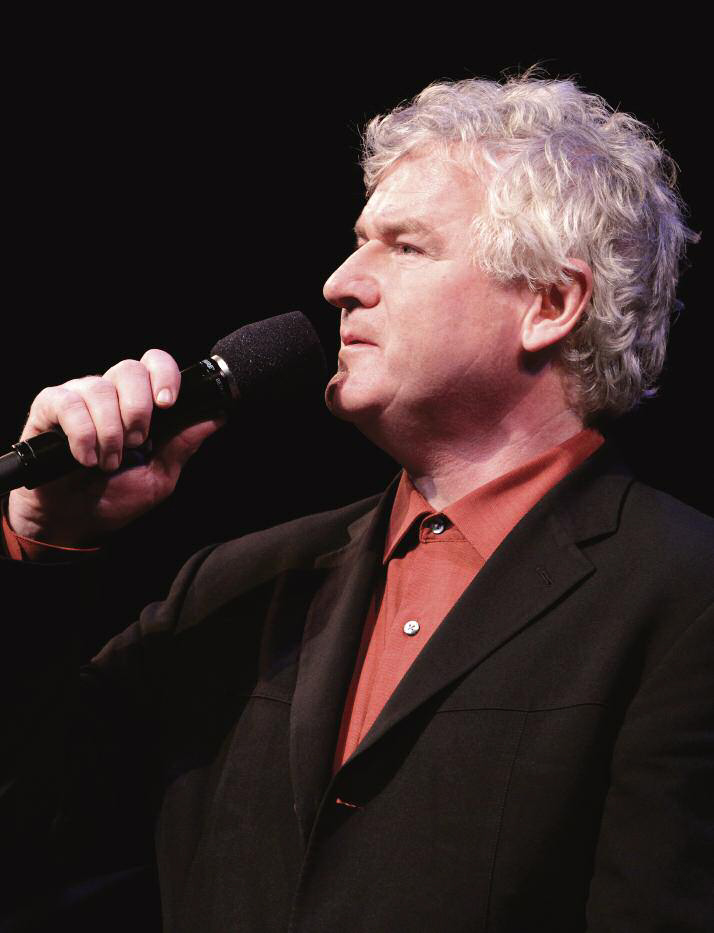 The story of John Charles McDermott has all the trappings of a Hollywood tale of success, with lots of drama stirred into the mix. He has more than 20 albums to his credit, one of which – the Danny Boy Collection – went triple platinum. Yet without a couple of lucky breaks and the help of some highly influential people, one of the original Irish Tenors might still be working in the circulation department of the Toronto Sun.
John was just a youngster when his family moved from Glasgow to the Toronto area. He was the ninth child in a family of 12, so without much money to spend on entertainment, the McDermotts made their own fun through family songfests. John still considers his father the best tenor he has ever heard. The only musical training John received, other than from his vocally gifted parents, was his 1971/72 attendance at St. Michael's Choir School.
John's early singing gigs included performances at weddings and membership in a group called The Mistletones, made up of alumni from his choir school days. They would go carolling at Christmastime, entertaining shut-ins and hospital patients. When he went to work at the Toronto Sun in the mid-1980s, John would sing a few ballads at staff parties.
Conrad Black owned the Financial Post at the time and attended some of the Sun parties. When the media mogul was planning a gala dinner for Hollinger Inc. in 1989, he asked John to do him a favour and entertain Prime Minister Brian Mulroney and U.S. President Ronald Reagan by singing Danny Boy and The Rose of Tralee.
Knowing the prime minister's penchant for belting out Irish tunes at the drop of a shillelagh, John was determined not to share the limelight: "All the time I was singing, I had my hand firmly on Mulroney's shoulder," John says with a mischievous smile. "There was no way he was getting up to join in!"
To return the favour, Conrad agreed to finance John's recording of an album of Irish and Scottish ballads.
"I had it in mind to make the album a 50th anniversary gift for my parents on Robbie Burns Day – January 25, 1991," says John. "I planned to sing 12 tracks on the album – one for each of my parents' children – but since my dad loved to hear Danny Boy sung a cappella, I sang it a second time without musical accompaniment."
Those who heard the album encouraged him to have it produced commercially. John recalled that a couple of entertainment business heavyweights had been impressed with his singing at a Karaoke Night during the Toronto Floating Film Festival a couple of years earlier.
"Michael Cohl and his partner Bill Ballard told me if I ever decided to turn professional to come and see them. So I took Billy the album and he put me in touch with Deane Cameron, president of EMI Music Canada. At the time, EMI was signing people like The Rankins and Rita MacNeil – all these great Celtic names. But I worked for The Toronto Sun; I didn't have a band. I wasn't a professional musician. However, I got a call from Eddy Colero at EMI saying they would release the album."
John had to come up with an album cover. He got the assistant to Sun editorial cartoonist, Andy Donato, to design it and someone from the newspaper's graphics department did the liner notes.
"EMI had initially released about 2,000 copies on November 10, 1992 – Billy's birthday," says John. "The next day was Remembrance Day and Peter Gzowski played three tracks from the album – And the Band Played Waltzing Matilda, Danny Boy and Christmas in the Trenches. The stores couldn't keep it on the shelves. A couple of months later, a guy I had gone to St. Michael's with – Paul Mcgrath, a CBC documentary maker – did a piece on me. For some reason, Peter Mansbridge decided one night in February to close out The National with it. Imagine that – 10 minutes on the national news! By summer, the album had sold more than 50,000 copies."
EMI began hounding their new 'find' to go on tour to capitalize on the success of the album. John resisted at first because he had a steady job at the Toronto tabloid. Then he remembered Bill Ballard and Michael Cohl saying that if he ever turned professional, he should get in touch.
"I went to see Billy and told him I had quit my job," says John, laughing out loud at the memory. "He says to me: 'Are you out of your mind? Are you crazy? What do you mean you've quit your job?' Well, in fact, (the late) Doug Creighton (one of the founders of The Sun) had given me a leave of absence – he was a great mentor and I loved him dearly. Anyway, Billy got me on as the opening act for The Chieftains on their Canadian tour. I put a pretty decent band together but I still needed a fiddler. I found a 17-year-old kid from Cape Breton named Ashley MacIsaac. By the time we finished the tour in Victoria, BC, The Chieftains had hired him."
John had a knack for hiring fiddlers because his replacement for Ashley was Natalie MacMaster – who, like Ashley, has since gone on to stardom in her own right. When she eventually left the band, her spot was filled by Ray Legere – today considered one of the best bluegrass fiddlers in the business and still with John.
Once John's engagement with The Chieftains was over, he and his band embarked on a Ballard-organized tour of their own.
"Our first concert was at the Rebecca Cohn Theatre in Halifax on October 5, 1993, and as soon as I walked on stage I knew I had made the right decision. The audience loved us; we started at 8 p.m. and played until almost midnight. Nobody left."
Throughout 1994, John toured Australia and New Zealand where Danny Boy had topped the charts. In 1995, Bill arranged a British tour with The Seekers. John played his first U.S. concert at Boston's Ritz Carlton Hotel in 1995 and a member of the audience went backstage to pay his respects.
"It was Teddy Kennedy and he invited me to perform at the Democratic National Convention in 1996," says John. "We became close friends and I'd spend summers at the Cape (Cod)." When the Massachusetts senator died in August, 2009, John sang at the memorial service.
There are many other milestones in John's career. His concerts are sell-outs, sales of his albums are brisk, he's a perennial favourite to sing the national anthem at Toronto Maple Leafs home games, and he has met five U.S. presidents. He has been nominated for a number of Juno awards and received the U.S. Congressional Medal of Honor Society's Bob Hope Award for his support for veterans' causes.
When asked to name his greatest achievement, John gets emotional again as he suggests it was finding the most amazing woman in the world and convincing her to marry him.
"Agnieszka and I met on the Toronto waterfront in the summer of 1984. She was a member of the crew of a Polish Tall Ship touring the Great Lakes. I ended up following her from port to port then flew to Poland five times that year and she finally consented to become my wife. We were married in a civil ceremony in Toronto in July of 1985, followed by a church wedding in Poland. Since then, she has tolerated my life and career – I'm on the road a great deal. We have experienced incredible highs and incredible lows, but she has stuck by me through thick and thin."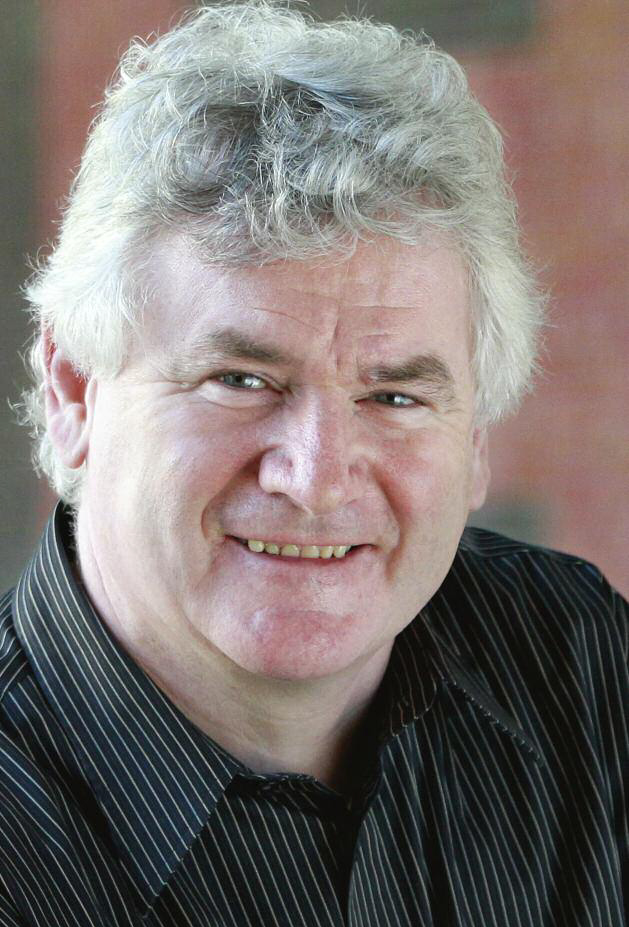 The McDermotts, whose household includes three dogs, live on Georgian Bay – about a three-hour drive north of Toronto.
John's successful career now allows him to devote a portion of his time to causes like the Sunnybrook palliative care project. But he needs help to make things happen.
"We've had tremendous support," says John. "I can't thank Michael Burns and Shaun Francis enough. Their foundation, True Patriot Love (which supports members of the Canadian military and their families), gave us $250,000. Joel and David Ippolito of the Ippolito Group have also been very good to us. And Blair McKeil from McKeil Marine in Hamilton said to me: 'We're going to do this because it's important.' Another guy I'm working with is Warren Spitz (president and CEO) of the UCS Forest Group.
"The BMO Financial Group has been a great supporter, helping underwrite our upcoming concerts at Glenn Gould Studio so that the revenue goes directly to the project. But I need other corporate champions – people who will say: 'John, we're gonna help you. Here it is. Good luck. Get this done.' That's what I want. If someone wants to make a really big donation, I'll name the place after them. Whatever it takes."
The donations that hit home are those from individuals giving as much as they can afford. "I got $103.20 from a seniors' centre in Newmarket. It breaks your heart – these are all seniors donating $2 or $5 because they really believe this means something.
"Every nickel and dime counts. We're a registered not-for-profit organization, so if you're looking for a tax break, pick us because you'll be able to see where your money has gone. It's a win/win situation for everybody."
To make a contribution or obtain information on the upcoming concerts, visit www.mcdermotthousecanada.org.