Animal Chatter
By Iris Winston
Be a tolerant neighbour
I received an anonymous note in the mail last week.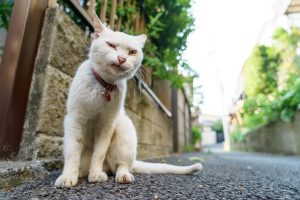 Written in capital letters, the six-word message screamed: KEEP YOUR DAM [sic] CATS AT HOME.
It bothered me for a number of reasons. First, I worry that the anger demonstrated by those hastily scrawled words could spell danger for my cats and any other cats in the neighbourhood. Secondly, until now, almost every meeting with area residents has been pleasant. I am used to exchanging smiles and greetings as I walk my dog. Often, my cats tag along to everyone's amusement, so the walk becomes something of a parade.
So, what has changed? Is it that the restrictions of COVID have made any minor frustrations seem worse, and opening the rage valve gives some relief? Is someone new to the neighbourhood a longtime cat hater? (Several homes changed hands nearby during the hot real estate market of 2020 and the early part of 2021.) Has someone simply forgotten that tolerance is an essential part of being a good neighbour?
I have no wish to upset anyone, and I am aware that some people think cats should be confined and kept indoors at all times. That is possible with some breeds of cats and some cats who have never known the allure of the great outdoors. It is not possible with my two.
Both came to our house as strays, one some fifteen years ago, the other just over a year ago (actually brought home by the first cat). Who knows what their history was? Both had been lost or
abandoned and were used to foraging for themselves. Cats who have known the outdoor life are unlikely to be comfortable if they are housebound 24/7.
Therefore, my two rescue cats are free to enjoy being outside. Most of the time, they stay close to home and check in frequently during the day for food and affection. They usually hang out on the porch steps, in the backyard, or sit on the chairs provided for them in the open garage—a favoured place to view the world.
I make sure that I bring them in at night to keep them safe from any predators and ensure that they do not bother my immediate neighbours. Several other cats in the area keep a similar schedule, and no one has indicated that this is a problem until now.
I understand that some gardeners do not want cats disturbing their flowers and vegetables by using their property as a litter box. Cats are attracted to the soft soil of gardens to deal with their toileting needs and tend to return to it once they have used a particular place.
There are simple ways to break the pattern and discourage cat visitors. Since cats are very sensitive to different smells, many scent-based repellents are extremely effective. For example, cats
dislike the scent of lavender or citrus fruits. Therefore, interspersing a little lemon thyme and a few lavender plants among the vegetables makes the garden less cat friendly. Even simpler, tossing
orange or lemon peels and a few coffee grounds on the soil has a similar effect.
A homemade spray of apple cider vinegar and water is often suggested as well.
It is also possible to purchase spray cans of cat repellents at the local pet store. These sprays work by mimicking the smell of the urine of predators and are said to be non-toxic to animals or humans and not harmful to plants. The dual goal is to trigger an instinctive fear of predators without causing harm to the animals while teaching them to keep away from the garden.
Other more expensive animal repellents include solar-powered devices that emit a high-pitched sound and sometimes have flashing lights. These keep away not only cats but also squirrels, raccoons and other animals who might be interested in the vegetable patch.
Such an investment is worthwhile if a vegetable garden is attracting various types of animals in addition to cats. If it is simply a matter of discouraging a few cats, the right scents (wrong scents as far as the cats are concerned) make perfect sense.
There is no need to send nasty notes or vent anger on the cat owners. Be assured; they do the best they can to keep the animals they love close to home.
Almonte, Ontario writer, Iris Winston, is a former Executive Director of the Canadian Federation of Humane Societies. She has been an animal lover all her life. Her pets have always been important members of her family.