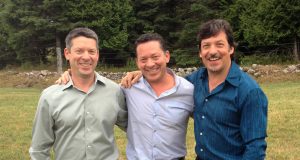 Throughout their long and talented musical careers, the Schryer Triplets were featured numerous times on the classic Canadian television program, The Tommy Hunter Show. Collectively, they have amassed nine Canadian Open fiddle championships and five Canadian Grand Master championships in addition to countless regional and national fiddle awards. Although now retired from fiddle competition, the three continue to perform, record, teach and judge competitions.
Louis Schryer is one of Canada's most respected fiddle players and a true fiddling virtuoso. He was born and raised in Sault Ste. Marie, Ont. and began to play the fiddle at 8 years old, along with his triplet brothers Pierre and Dan, under the guidance of their older siblings Julie and Raymond. With training in both classical and traditional music, Louis holds a Bachelor of Music from the University of Ottawa and has been honing his craft as a performer, recording artist, composer, and teacher for over 30 years.
Louis is an 8-time Canadian Open Fiddle Champion and has the unique title of 4-time Canadian Grand Master Fiddle Champion,
Pierre Schryer has established himself as a gem on the music scene among fans and fellow musicians. He was immersed from an early age in the Franco-Ontarian traditions of his heritage and through multiple fiddle competitions along with his triplet brothers. The Schryer Triplets, with their sister Julie, recorded 2 albums.
As a solo performer, Pierre has received numerous titles and awards including Canadian Open Fiddle Champion, Canadian Grand Master Fiddle Champion, Violoneux Championnat, and North American Irish Fiddle Champion.
Pierre has released six solo recordings, among which he has received nominations at the JUNO Awards for Best Roots and Traditional Album of the Year and at the Canadian Folk Music Awards for Instrumental Solo Album of the Year.
Daniel Schryer grew up surrounded by a rich environment of music, and along with his two triplet brothers, Pierre and Louis, started to play the violin at age eight. He went on to learn traditional fiddle styles including Cape Breton, Scottish and Irish.
Over the past three decades, Dan has taught fiddle lessons in Ottawa, Renfrew, Arnprior, Cobden and Deep River where he currently resides. While living in Ottawa and Arnprior (1992 to 2002) Dan played with The Old Sod Band, Ottawa's foremost contra dance band. The Old Sod Band produced a CD in 2001. During that time Dan also played with the bluegrass band, The BVDs. Daniel is now a member of "Traditional Fare", performing a wide range of traditional fiddle styles, and "Off-Road" a Country/Rock Band.