Red Word Search
Online Edition | Compiled by: Pat MacAulay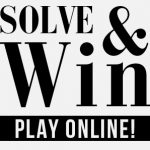 Enter to Win! Once you find all the words a secret word or phrase will pop-up with a link, click the link and fill in the form. It's as simple as that, but don't forget the secret word or phrase. Good luck!
Winners will be randomly chosen from entries received by February 14, 2021.
Did you finish the puzzle on the magazine? Fill in the form to enter the contest.
The answer to our In the KitchenWord Search was CAN OPENER. Our winners this issue are Rhonda Hayes of Kingston, Sue Ryan of Elgin and Bonnie Newsome of Kanata.Thank you to all the readers who replied.