Garden Word Search
Online Edition | Compiled by: Pat MacAulay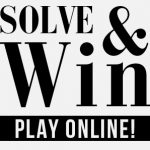 Enter to Win! Once you find all the words a secret word or phrase will pop-up with a link, click the link and fill in the form. It's as simple as that, but don't forget the secret word or phrase. Good luck!
Winners will be randomly chosen from entries received by June 15, 2020. Each winner receives a prize compliments of Fifty-Five Plus.
Did you finish the puzzle on the magazine? Fill in the form to enter the contest.
The answer to our March/April Cooking Easter Dinner Word Search was KITCHEN. Due to the state of emergency caused by the COVID 19 pandemic, we experienced some delays in mail delivery.We are holding all puzzle entries from March/April and including them with our May/June contest. Thanks for understanding.Thank you to all the readers who replied.