A Sappy Word Search
Online Edition | Compiled by: Pat MacAulay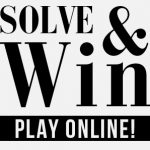 Enter to Win! Once you find all the words a secret word or phrase will pop-up with a link, click the link and fill in the form. It's as simple as that, but don't forget the secret word or phrase. Good luck!
Winners will be randomly chosen from entries received by April 2, 2022.
Editor's Note: This will be the last installment of our Word Search. We hope you have enjoyed completing it for the more than three decades it has been part of our pages. As our dear, late colleague, Pat MacAulay always said: "It's been a fun ride."
Did you finish the puzzle on the magazine? Fill in the form to enter the contest.
The answer to our Time Management Word Search was PERFECTION. Our winners this issue June Bell of Ottawa, Unis Kincaide of Brockville and Clark Code of Toronto.
Thank you to all the readers who replied.