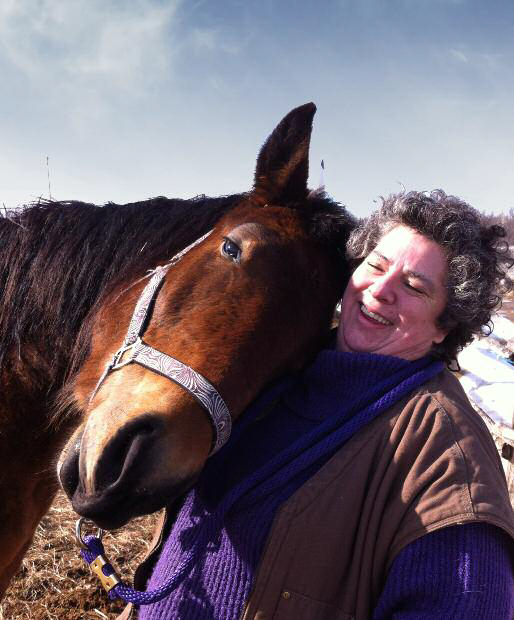 by June Coxon
A quiet barn full of horses, a strong cup of coffee, the sounds of horses chewing their hay and grain, and the aroma of leather and other distinct barn smells. That's Elizabeth "Liz" Tompkins idea of a perfect moment.
Liz is a multi-talented woman who spends her time helping both two-legged and four-legged beings.
Since 2007, she has worked as a cook at Ottawa's Symphony Senior Living Palisades Retirement Home at 480 Metcalfe Street at Isabella. "We make everything from scratch there," she explains. "I particularly like baking, and the desserts I make are always for people who are diabetic so everyone can enjoy eating them without worrying about the ingredients. I'm also fond of cooking for people with special needs,like gluten- or lactose-free, vegetarian or heart smart food."
Liz's first taste of working as a cook began in 1991 when she sought a job that would enable her to have time to look after her seriously ill boyfriend. At the time, they were living in Arcadia, Michigan where she was raising and breeding her own riding horses, as well as those belonging to others. Liz gave up her work with horses, enjoying her new role as a chef until the owner sold the restaurant in 2000.
Over the years, Liz worked in the restaurant industry in the United States for such venues as the Arcadia Bluffs Golf Course in Arcadia, Michigan, where she was assistant manager and administrative controller, and as a chef at Armedos restaurant in Onekama, Michigan.
Closer to her other love, horses, she also worked for the Michigan Farm Bureau (MFB) as a county administrator for Manistee County. "MFB's purpose is to be an effective advocate for farmers and to promote agriculture through its policies and program," she explains.
A series of tragic events brought Liz back to Canada in 2003, where she resumed her career as a chef, this time for the former Ottawa Lynx baseball team. "They needed high- carb food and sometimes special diets," she explains. "Cooking for them required a lot of food too. Forty-five play- ers, for instance, can go through 10 pounds of bacon in one meal." Later, demonstrating her versatile cooking skills, she worked for Gerry and Isabelle's, a teahouse in Chelsea, Quebec that turned into a breakfast, lunch and dinner spot with "a small but interesting menu."
Liz Tompkins has a passion for horses
Although Liz loves cooking, her real passion is horses. She fell in love with them as a toddler when living near Toronto. Her father took her to see horses belonging to the then famous Canadian thoroughbred race horse breeder, E.P. Taylor. Later, she even ran away from home three times to try and follow her dream of working with horses. Prior to becoming a chef, Liz groomed and trained world-class horses on the Grand Circuit — a series of horse races for Standardbred two- and three-year-old trotters and pacers — from 1975 to 1992, when few women were in the profession.
"As a Grand Circuit groom, I travelled coast to coast in Canada and the United States," she recalls. "I got to go to races that were the best of the best. Montreal was my home base, but I lived in Florida during the winter."
Liz got her first experience working with horses at Ottawa's Rideau Carleton Raceway. "I wasn't even a teenager," she says. "I lied about my age and they hired me for the summer." And she was hooked. Since then, Liz, now a fully-licensed trainer, has handled such famous horses as Sabella Lobell; Pirate Amahurst; Canadian- owned Armbro Blush, who set a world record of 158 for three-year-old trot- ting fillies in 1976; and Precious Fella, who won the Prix d'Ete setting a world record in 1976. "He time trialed free legged at one minute, 55 seconds at Montreal's Blue Bonnet Raceway." In those days, Liz moved from one track to another, sleeping in stalls and caring for horses.Although life wasn't easy, she loved it.
Kindred Farm
"A few years ago my friend Anne Milligan convinced me to visit a place called Kindred Farm, where Tanya Boyd and a team of volunteers train horses that have been rescued from the slaughter house, and I haven't looked back," says Liz. Since then, she has satisfied her passion for horses by becoming one of the farm's "Kindred Angels," as the volunteers are sometimes called.
The first horse Liz worked with at the farm was Asher, an animal that des- perately needed someone. "It was hard to catch him that first day I was with him," she recalls. "But eventually I was holding his head in my hands." She tended to his needs, helping to prepare him for his forever home. A few months later, they thought they had found just that. Fortunately, it is Tanya's policy to follow up on the fate of her rescued horses. Only two months after purchasing the horse, his owner advertised that if Asher wasn't sold, he would be slaughtered. Tanya rebought him and Asher chose Liz as his person. Now safely settled in his real forever home, he brings happiness to his owner and others he encounters. "As with all the rescue  horses at the farm, Asher can now spend his days happily grazing out in the field."
Liz explains that each horse the farm rescues from the kill buyers is taken to an isolation barn at the farm and quarantined for three weeks. "After that," she says, "they are assessed and a rehabilitation program is designed for each one. Then the horses are assigned to staff and volunteers who help them recover. The length of time varies as some have been neglected or abused. The retraining and healing process can take just weeks or many months. But as each horse begins to develop, it's advertised for sale to pre-approved owners.
"Tanya's farm has a great track record when it comes to finding new homes for the rescued horses," Liz notes. "Almost everyone there is a volunteer – about 15 of us care for approximately 25 rescue horses at a time." And new volunteers are always needed. "They need people with a variety of skills, from helping with the chores and horses to fundraising or bookkeeping. Because what the farm does can be so expensive, corporate or private donations of goods are also welcome. There's even an opportunity to foster or buy a rescued horse."
Liz has been a volunteer at North Gower's Kindred Farm since May 2013. She used to volunteer two days and four evenings a week. But she is so devoted to the farm that she recently made the move from her Ottawa home to be closer to her beloved Asher.
Since moving, another of Liz's talents has emerged. She has started designing and making silk scarves in a variety of colours and with an assortment of designs. She donates profits from selling the scarves to Kindred Farms.
Profession and passion meet
In February of 2014, Liz and fellow members of the Kindred Farm family took Asher to the Palisades to interact with the residents. "We loaded Asher into the trailer and took him to Ottawa along with a two-seater cart. We stayed there for about four hours giving residents rides around the block. It was fantastic. Everyone was excited about it. And Asher was a wonderful therapy horse," Liz adds proudly.
"The next month, the Palisades bus took about 20 residents from Ottawa to the farm. We gave demonstrations in the arena showing them what we do with the horses." Since then, Liz has acquired a buggy that's wheelchair ac- cessible. "It's not very high off the ground, so someone in a wheelchair can be lifted into the cart. It lets more people experience the joy of being close to horses."
Although Liz no longer travels across the continent sharing her life with prize-winning race horses, she now is content to create interesting meals for the 150 residents at the Palisades she calls friends, and happily volunteer at Kindred Farm in her spare time. 