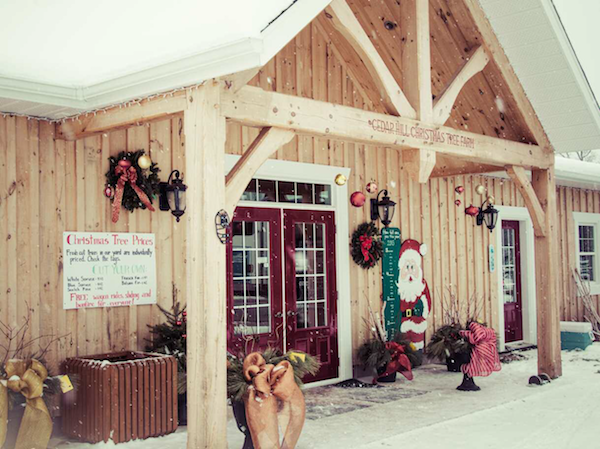 Step outside the city for a beautiful day of shopping in towns and villages on our backroads
by Madeline Kallio
Christmas is a magical time for everyone. Purchasing and wrapping gifts and thinking about those we love and want to bless with the giving begins the celebration of the season.And, what is more festive than visiting a Christmas- tree farm to pick out that one special tree to adorn the family room, resplendent with lights and decorations, including those special ones with memories of Christmases past.
Christmas stores
Imagine the wonder of Christmas in July! Inside the Christmas store, Christmas music is playing. Exquisitely decorated trees display myriads of colourful and shiny ornaments and bows. Large and small Santas, Fathers Christmas and animated carollers take their place beside nutcrackers and miniature villages, resplendent with lights. You are transported to the time of gift giving and turkey dinners. Not only can trees and decorations be brought out only during the Festive Season, the stuff from which Christmas is made makes wonderful gifts for any occasion!
At The Merry Christmas Shoppe (613 269-4213; www.themerrychristmasshoppe.ca), 136 St. Lawrence Street, Merrickville, thousands of ornaments decorate the lower level.The upper level is brimming with Victorian and country displays, a Hallowe'en room and a children's section.
McIntosh and Watts' Factory Store (613 233- 2332; www.robmacintosh.ca), 11-700 Industrial Avenue, Ottawa carries a host of Christmas items, including Waterford, Royal Albert, Vera Wang and Royal Doulton. The delightful cluster of Rob McIntosh Factory Outlet Stores in Lancaster, Ontario (888 651-8122), 20369 South Service Road, is also home to a collectible section of exquisite crystal and giftware.
Tinseltown Christmas Emporium (613 680- 7557; www.tinseltownchristmasemporium.com), 1096 Somerset Street West, is a year-round Christmas store in the west end of Ottawa with the goal to bring you everything you need to step into holiday nostalgia and immerse yourself in Old World Christmas cheer! From trees to ornaments, from candles to stockings, a wide variety of quality items help bring home the joyful atmosphere that only Christmas can offer!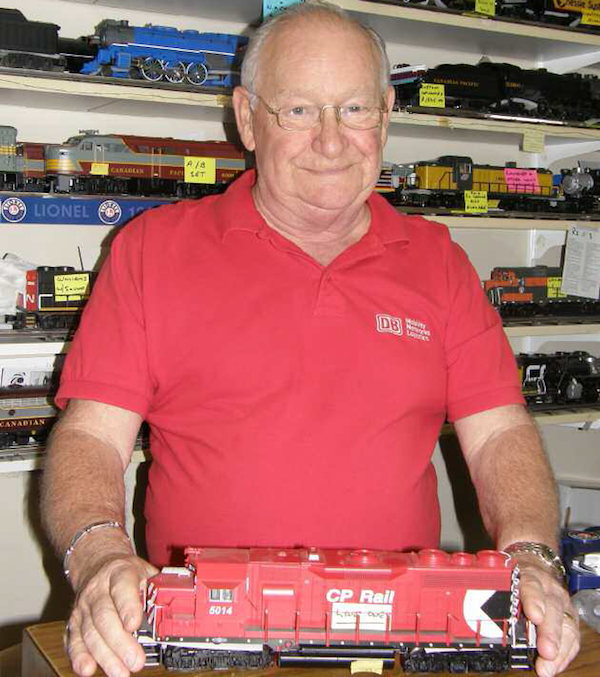 The Christmas Train Store (613 592-9402; www.027trains.com), 7 Kakulu Road, Kanata, is run by Hugh who has been an avid collector and enthusiast of model trains since the 1950s. Hugh's knowledge and enthusiasm for Lionel and other large gauge model trains is a great bonus for his customers.The Christmas Train Store is the one-stop source for all large"O"gauge model train needs and accessories.
Ten Thousand Villages (613 759-4701; www.tenthousandvillages.ca), 371 Richmond Road, Ottawa, and 190 Main Street, Picton (613 476-0040) "create opportunities for artisans in developing countries to earn income by bringing their products and stories to our markets through long-term, fair trading relationships".The shops offer an eclectic collection of unusual, international Christmas gifts and ornaments.
Cut-your-own Christmas tree farms
Cedar Hill Christmas Tree Farm (613 256-3029; www.cedarhill christmastreefarm.com), Pakenham, offers free tractor/wagon rides to cut your own tree.The Café Claus offers light meals. Hot chocolate around the bonfire is warm and welcoming.Wreaths, preserves and more are available for sale.
Blitzen Estate (780 983-1900; www.blitzenestate.com), Jasper, offers a variety of pre-cut and 'cut your own' trees of all different sizes.The farm also breeds Morgan horses.
Hugli's Blueberry Ranch (613 638-1288; www.blueberryranch.ca), Pembroke, invites visitors to take a ride on the "rockin' Christmas wagon" to cut their own trees. Hot chocolate is a reward before heading for home with that special tree!
Fallowfield Christmas Tree Farm (613 720-3451;www.ottawatreefarm.com),Stittsville,is a large tree plantation with special activities at Christmas.The farm offers a number of tree species, including some from Europe. Hot chocolate is offered after the sleigh ride/hayride into the forest to choose the tree.The boy scouts sell hot dogs on the three weekends before Christmas.
The 50-acre Thomas Tree Farm (613 489-2314; www.thomastreefarm.ca), North Gower, serves hot chocolate and homemade cookies after the hayride/sleigh ride to choose the perfect tree.
On Carole's Tree Farm (613 532-8733; www.carolestreefarm.com),Greater Napanee, you will find approximately 40,000 trees representing the full range of quality grades, mainly White, Norway, and Blue Spruce, Scotch and White Pine, Balsam and Fraser Fir. A range of activities and products are offered to visitors.
Denmar Farms (613 922-2841; www.denmarfarms.com), Belleville, grows Balsam, Fraser Fir and Blue Spruce of all sizes. Family activities include wagon rides, a campfire, free hot chocolate and a hay maze.The store offers fresh greenery, tree care accessories and gift ideas. The café offers a tempting menu.
The Smyth Family Farm (www.littlelakechristmastrees.com), Cramahe, is a small family farm producing Fraser Fir trees and offers homemade shortbread cookies and candy canes to nibble on while you are choosing your special tree.
Campbell's Tree Farm (613 283- 2585), Smiths Falls, produces Red Pine, Scotch Pine,White Spruce, Blue Spruce and Balsam Fir.
Sobczak Tree Farm (613 828-5608), Carleton Place, has a large selection of cut your own and pre-cut White Spruce, Scotch Pine, Balsam Fir, Serbian Spruce and Colorado Blue Spruce. Take home a free bough for your door.
The Christmas Farm (613 372-5443; www.thechristmastreefarm.org), Harrowsmith, is a new tree farm which currently offers pre-cut Balsam and Fraser Fir from Nova Scotia while they wait for their own trees to mature.
C&C Tree Farms (613 925-1712; www.candctreefarm.com), Prescott, grows Scotch Pine, Blue and White Spruce, Balsam Fir and Pine.Daily wagon rides,hot chocolate and coffee are available to enhance the holiday feeling and warm the innards.
Edgeforest Farm (613 443-3848;www.edgeforest.ca), Limoges, has sold trees for 30 years. On weekends, they have a bonfire and music in the field.
Hillcrest Tree Farm (613 489-2994; www.hillcrest treefarm.com), North Gower, invites you, on weekends, to hitch a ride on a horse-drawn sleigh or wagon to fetch your special Balsam Fir or three species of Spruce.
Ian's Christmas Adventure Park and Tree Farm (613 253-0086;www.iansevergreen.on.ca), Ashton,hosts a large selection of cut your own and pre-cut Balsam and Fraser Fir,Scotch and White Pine,White,Norway and Blue Spruce. Don't forget to visit the snack bar and our real reindeer.Take a wagon ride to Ho Ho Lake and Claus' Cabin. Enjoy the night lights on Candy Cane Lane and sip hot chocolate.
Laird's U-Cut Tree Farm (613 821-2195 or 613 791- 7483; www.lairdstreefarm.ca), Osgoode offers on weekends, free hot chocolate, wagon rides and a warm bonfire (weather permitting). Join in the merriment by singing a few carols around the fire before you head home.
MacGowans Christmas Tree Farm (613 623-4312; www.macgowanschristmastreefarm.com), Arnprior, welcomes visitors on weekends in December with wagon rides, hot chocolate and a bonfire when you come to choose your Balsam or White Spruce Christmas tree.
Skootamatta Tree Farm (613 336-8774; www.skootamattatreefarms.webs.com),Flinton,has a flat landscape of approximately 40 acres with blocks of different varieties of trees and walking trails throughout. Spruce and Scotch Pine trees are available for cutting. ■