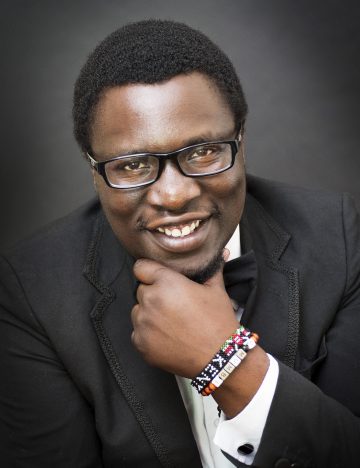 Mark your calendars for the Belleville Choral Society's Spring concert, Out of Africa, for
Sunday, May 14, 2017 at Bridge Street United Church. The BCS, Belleville and wider
community will be welcoming our honoured guest, Kenyan tenor Eddie Baraka Mony, of the
Jacobs School of Music, University of Indiana.
Eddie Mony is a Kenyan tenor studying under Andreas Poulimenos at the Jacobs School of Music. He has performed as a soloist for the Kenyatta University Choir, The Nairobi Music Society and the Kenya Conservatoire of Music. Eddie has engaged audiences in solo concerts under Kenya's OPERAtion classics in exclusive venues. His international presence is flourishing with appearances in the United Kingdom under the Martyn Donaldson Music Trust, in Finland and the United States, including the historic Tivoli Theater in Spencer, Indiana. Eddie recently sang the role of Father Grenville in the Jacob's School of Music production of Jake Heggie's opera, Dead Man Walking. In addition to classical music, he loves to perform Kenyan folk music.
Eddie's early passion for Kenyan music was influenced by the traditional folk songs sung by his grandmother in Kenya. As a child, he was sponsored by the Spoelstra family in Belleville through the charitable organization Chalice*, which provides education, nutrition, medical care and basic necessities to children around the world.
Continuing his musical journey, Eddie devoted his time to playing the clarinet in high
school, and participated in a cultural exchange in Finland. During his exchange, he first
heard a full orchestra performing and knew that his future was destined to include the
pursuit of a musical career.
He went on to study music education and music arts at Kenyatta University, where he
auditioned for the visiting opera coach Kim Carballo of the renowned Jacobs School of
Music. Carballo was in Kenya as part of Tunaweza Kimuziki (Through Music All Is
Possible), which promotes musical exchange between Kenya and the United States.
Carballo himself worked with Eddie to perfect his audition.
Eddie has performed internationally, but this will be his first performance in Canada.
Whether singing Kenyan folk music, classical or opera, he is sure to delight!
Be sure to join the Belleville Choral Society in welcoming Eddie to our community on
May 14, 2017, for an afternoon of gospel, Negro spirituals, opera excerpts and
much-anticipated surprise medleys!
The Belleville Choral Society, founded in 1959, is a community choir where singers of all ages have the opportunity to hone their musical skills. The Chorus consists of professional and amateur musicians of diverse backgrounds, performing choral literature from all musical periods.  The Society regularly collaborates with other vocalists and instrumentalists to present music ranging from classical to contemporary and including both sacred and secular repertoire. As part of its community outreach, an annual scholarship is offered to eligible students pursuing post-secondary education in vocal music. For more information about the Belleville Choral Society, call 613-966-0372.
_______
*Chalice has been recognized by MoneySense magazine as one of the best run Canadian charities for the past five years (receiving an A+ rating for the past three years). Chalice has also been rated a top charity in international aid and development for the past six years." (Chalice 2016) Chalice provides shelter to nearly 50,000 children and the elderly in 15 developing countries. For more information on Chalice, visit www.chalice.ca.