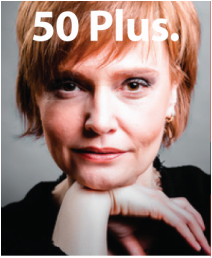 According to The Globe & Mail – "The Boomer Shift – January 5, 2017, "As of this year, for the first time, Canada has more people over the age of 65 than under 15. The age group that now encompasses the boomer generation – 50 to 69 – makes up 27 per cent of the population, compared with 18 per cent in that age group two decades ago".
This aging population is changing the fabric of society; so why is it that society is still obsessed with youth – just think about all those Top 30 under 30 and top 40 over 40 lists. Traditionally, innovation and "change-making" has primarily been recognized to be within the sphere of the young.
However, iindividuals who are mid-life aged and beyond represent an incredible source of talent, experience and wisdom that provides them the opportunity to make a difference in their lives and to the world.  They have a desire to follow their passions, fulfill lifelong dreams and improve the future for generations to come.  Moreover, they are among the largest group of individuals to keep philanthropic efforts and volunteerism, which are critical to societal progress alive and well.
That's why AGEWORKS has chosen to publicly acknowledge successful accomplishments of people aged 50+; to raise awareness for this inequity and to demonstrate that older people offer a variety of innovative solutions to an array of important societal issues.

The AGEWORKS Top 50 Over 50 Awards celebrate Canadians who know who to dream, create, contribute and achieve in many different areas.  Winners will be acknowledged at the inaugural Top 50 Over 50 Awards Gala being held in Toronto in November 2017.
The recipients, and their stories, will serve as inspiration to others with a message that you're never too old to make significant changes in your career or your life via reinvention, pursue a long-held dream or redefine what it means to be successful.  These amazing stories will be publicly leveraged to help combat some of the ageism myths, like over 50 means over the hill, that still exist.
Success will be measured on a variety of criteria, including finding purpose, social change, innovation and inspiring others, by a panel of independent judges who have significant expertise and involvement within the 50+ category.  Selected judges recognize the importance of these awards and will bring their objectivity and enthusiasm to this essential role.
For more information or to nominate someone go to:  www.ageworks.co
Marylou Hilliard – Principal
Marylou has over 25 year of advertising expertise and has earned a reputation as a brand champion.  She has worked with a broad range of clients targeting an "ageing population" including the development of a new brand identity and design of several research reports for International Federation on Ageing and volunteer work for the Consumers Council of Canada and Psychologist Foundation of Canada.
Ann Hossack – Principal
Ann has held senior database marketing roles and has communicated effectively to consumer and business-to-business markets including those 50+ across a wide variety of industries. She believes that companies have yet to fully embrace this target group and is determined to promote the value of 50+ individuals as employees, entrepreneurs, volunteers or consumers.