By the Council on Aging of Ottawa: Peggy Edwards
Social connectedness is essential to our overall health and well-being at any age. However, men in our society, especially after retirement, tend to have low levels of social connectedness, often experiencing loneliness, isolation and lack of purpose. This can lead to severe physical and mental health problems including depression, anxiety and suicidality, as well as increased dependency and unhealthy behaviours such as eating and drinking too much.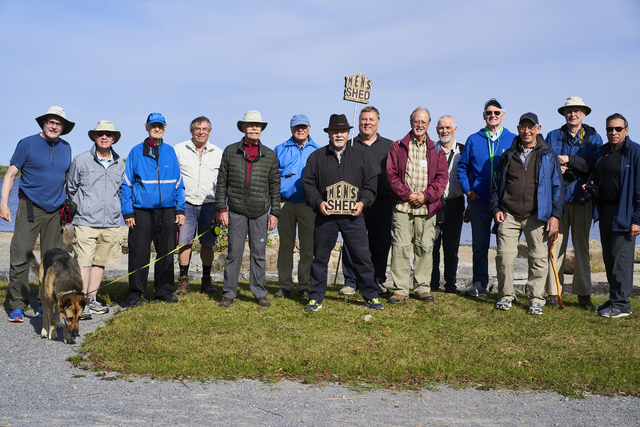 As we salute International Men's Day November 19, let's celebrate and promote social connectedness: older men reaching out to be with others and enjoying the benefits to their well-being that come with camaraderie, friendship, fun, commitment and doing things together.
"Having a purpose, a reason to get out of bed is essential to well-being as we get older," says George Hartsgrove, a volunteer at the Council on Aging of Ottawa (COA) and the Ottawa Senior Pride Network. "Many men lose their sense of purpose after retirement or after losing a life partner. As we age, we feel more and more invisible and we tend to stop participating in social and community activities. Older men need to find their reason for living and seek out others who share their views. That means reaching out and participating with others in groups and shared activities."
Men's Sheds
Men's Sheds are growing in popularity as an effective means of promoting social connections and mental well-being among older men. The Men's Shed is a communal space for men to meet, socialize, learn new skills and take part in activities with other men. Numerous studies support the beneficial effects of Men's Sheds on the social and mental well-being of older men, including increased community participation, reduced anxiety and depression and a greater sense of belonging and purpose.
Kevin Ford, a founder of the Men's Shed Ottawa Centre and a leader in the national Men's Shed movement, explains: "Our generation was raised to be providers, to take care of your family, to be strong and keep your counsel. As a result, men in later life are reluctant to focus on caring for themselves or asking for help. A Men's Shed provides somewhere to go, something to do and someone to talk to. It's a kind of self-help—men helping men—and that's okay."
A Men's Shed provides a safe and friendly environment where men can socialize and work on meaningful projects. Men work at their own pace, in their own time, in activities of their choice and in the company of other men. It is a place where you can learn or teach new skills and find new opportunities and interests, while making new friends. Men's Sheds are inclusive and welcome all regardless of age, religion, race, cultural background, ability, sexual orientation, income or employment status.
Kevin explains why Men's Sheds are designed for men: "Women are more likely than men to maintain friendships outside of work and to join community groups. Men need a welcoming space to be with other men but are reluctant to seek it out. While most of the core participants are older, some reach out to younger people with intergenerational skill workshops and mentoring."
Some Men's Sheds focus on activities associated with a backyard shed, such as woodworking, metalworking, auto and bike repair. Others focus on diverse activities including cooking, gardening, skill-sharing, walking, community involvement, music, computers/technology, guest speakers and discussion. Some serve as a drop-in where men can socialize with a hot drink.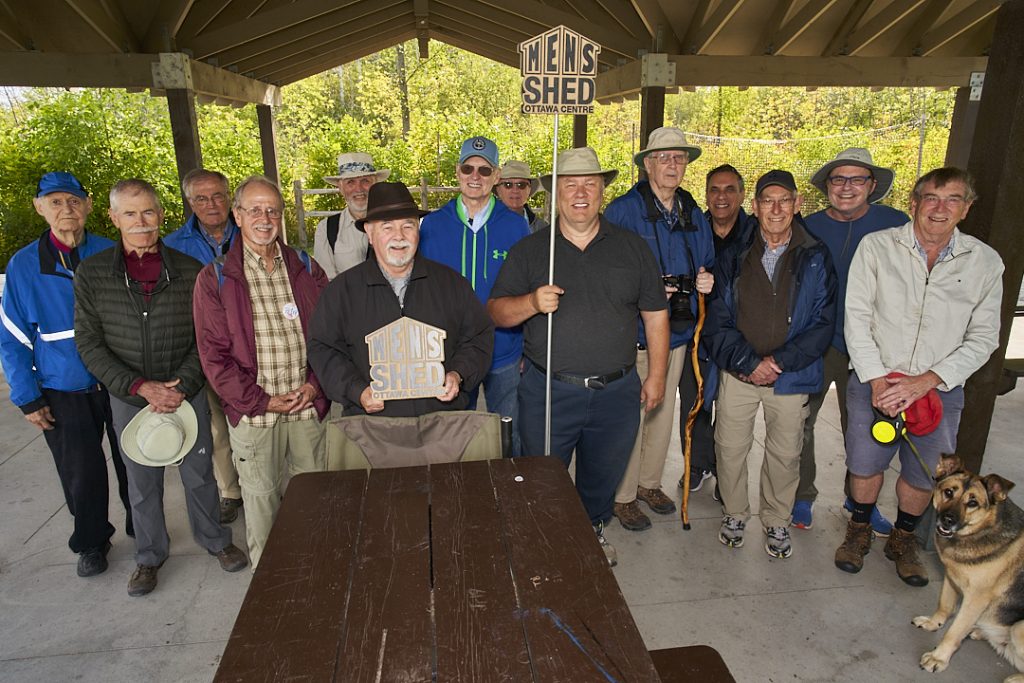 Joining or Starting a Men's Shed
The best way to find out how to join a Men's Shed and /or drop in for a meeting or activity is to go to the website of the Shed nearest you (links below).
The Men's Shed Ottawa Centre had two meetings before COVID shut everything down. "Despite COVID restrictions in the last two years, we managed to keep the momentum going through Zoom meetings" says Kevin, "and we are now back to two meetings and two brunches a month."
The newly formed Ottawa Makers Shed has full woodworking, sheet metal, welding, 3D subtractive printing and plastic moulding capacity. Its facility, which has been initially provided by one of the members, is in the west end of Ottawa, off 417 at the Moodie exit.
In the area surrounding Ottawa, there are active Men's Sheds in Arnprior, Carleton Place, Mississippi Mills, Perth and Peterborough (links below).
Typically, Men's Sheds are started in two ways: independently by men in the community and through existing community organizations.  If you are interested in starting a Men's Shed, read the information at Men's Shed Ontario (link below). Currently, start-up micro-grants of up to $1000 are available from HelpAge Canada (link below).