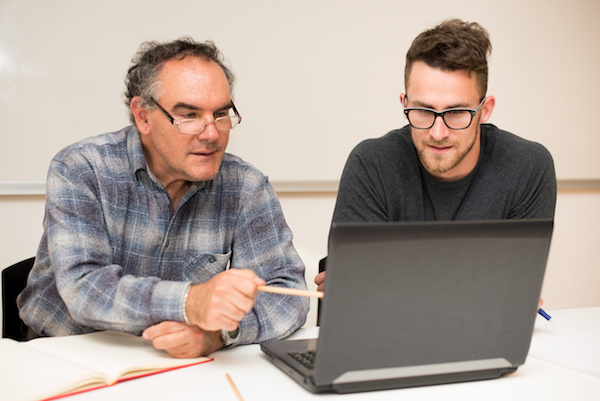 By Richard S. Tobin, Ph.D.
I recently received a wonderful e-mail. "I just got a contract job in the government lab. This is my first job in Canada and I am really excited! Thanks for your help." This is the best news I could get from my mentee that I had been working with for over six months. I am delighted for her as this could lead to a new career and a bright future.
I am one of dozens of volunteer mentors with the Ottawa Community Immigrant Services Organization (OCISO). For six years, I have been working with internationally-trained professionals who have recently arrived in Canada and who will invariably face the normal job hunting challenges, overlaid with differences in culture, language, ways of candidate selection and expectations in the workplace. OCISO has given me the training needed to understand modern job-search methods based on networking. The organization also ensures each volunteer is sensitive to cultural differences, allowing both parties to work effectively and respectfully together.
During my six years with OCISO, I have worked with six scientifically-trained immigrants and have contributed to the successful placement of the first five. (I am currently working with the sixth individual.) We work together in person for at least an hour every week and by e-mail throughout the week. Our topics of focus include preparing for the job market, effective networking, and applying for positions that are commensurate with their experience.The process can take a few months or up to a year. I know the success of my mentees has been the result of their hard work, but they tell me, and I firmly believe, my support, encouragement and engagement in the process have been valuable to them.
So why do I believe volunteers should support our foreign-trained recent immigrants? There are seven main reasons that motivate me.
It's an amazing way to "give back" using skills honed during my career.When I retired from the public service in 2009, I looked for opportunities to volunteer in the community. I searched in those areas where I already possessed knowledge and had something to contribute. When I saw the opportunity to work with OCISO, it was immediately attractive to me.
It is vital to the immigrant to have a Canadian mentor and confidant. We can all imagine how scary it must be to live in a new country with no professional contacts. On top of this, Canada's customs and expectations may be very different from their country of origin. Having a "guide" and confidant during those first few months of job hunting could make the difference between success and despair.
I learn about other cultures. One of the side benefits of helping my mentee understand our business culture is that I, in turn, learn a lot about their culture too. One of the attractions of vacationing in other countries is to see how other people live. During our one- on-one sessions, I have the opportunity to discuss differences and similarities in culture and customs.
I can contribute to Canada's role in maximizing the social and economic success of our immigrants. Getting a job in Canada is difficult, and you often need to find the 'unadvertised' opportunities. Immigrants are an important part of the diverse talent that makes Canada globally competitive. It would be very unfortunate if our highly-qualified immigrants were not given the chance to work in their field and ended up wasting their talents.
It keeps me up-to-date in my field. Mentors have to be able to discuss hiring and business practices with their mentees, as well as stay abreast of developments in their field that may affect the job market. I do this through online research, reading, online coursework and networking.
It adds to my own social and business network. One of the key elements in the OCISO job search process is learning how to network through "informational interviews." This technique allows the mentee to contact and discuss current business issues with leaders in the field. Along with my own network of associates, I have learned how to make effective 'cold calls' to decision-makers to assist my mentee.
I get back more than I give. It has been my experience throughout my career that formal and informal mentoring is valuable not only for the mentee, but for me as well. I have established some long-term friendships I value strongly and I have a great deal of satisfaction when our teamwork is successful.
I believe the OCISO mentoring program is an excellent opportunity to contribute to worthy individuals in our diverse Canadian society. It takes a significant commitment, but not a lot of time to make a life-chang- ing difference to a mentee's future. I strongly recommend it. n
Richard Tobin is a retired public servant, having served 35 years in the Public Service of Canada as a scientist, science manager, and senior executive. He is a mentor with Ottawa Community Immigrant Services Organization ( www.OCISO.org).