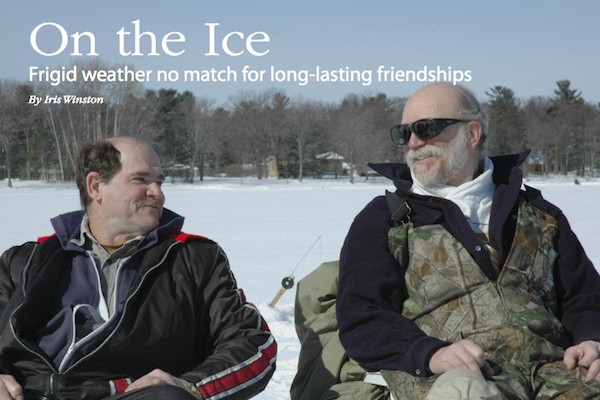 by Iris Winston
Grant Bailey has been hooked on ice fishing for well over 50 years. His enthusiasm for fishing in general and ice fishing in particular began when his father took him onto the ice for his first ice-fishing experience when he was just 10 years old.
"It's a great way to enjoy the outdoors in the winter," says the Ottawa resident. "And it's always an adventure."
Sometimes, his ice-fishing adventure begins in the middle of the night.This is when he heads west to meet up with his son, who lives in Trenton. The pair then continue to the Bay of Quinte.
"There's world-class walleye fishing there," Grant says. "I'll head out about 3 a.m., as it's about a three-hour drive. I walk out on the ice in the dark, before 5:30 a.m., dig my hole and start fishing. The peak times for fishing are dawn and dusk, so we start fishing early in the morning, fish all day on the ice and keep fishing at the peak time in the evening. That goes on until about 6:30 p.m. Then we walk back to the car and drive home. I usually get back to Ottawa about midnight."
On other occasions, he fishes much closer to home, usually around Shirley's Bay or Constance Bay. At least once a year, Grant has a special ice-fishing date with a group of his former workmates and longtime friends from his days as a federal public servant with Agriculture Canada.
Fishing is as much about the camaraderie as the catch.
"We've been going on our annual ice-fishing trip on the Ottawa River since 1975," says Grant. "We have three generations coming out with us now. The youngest is 14 and the oldest is 76. We no longer make him pull the sled," he jokes.
"It's a great tradition," says Walter Wojtas, a Constance Bay resident who has been part of the group of fishing buddies for some 33 years."The main attraction is the camaraderie. We always have a good time."
At one point in his career with Agriculture Canada, when Walter was stationed in Nova Scotia, he and his son, Nick, used to fly back to Ottawa to be part of the group's special fishing weekend. "It never mattered whether we caught a whole lot of fish or no fish. What mattered was the fun we had when we were together." While agreeing the social aspect is of prime im- portance, Grant also points out that ice fishing is rela- tively economical. "When you are on the ice, there is no concern about having a boat or expensive equipment," he says. "If you can walk there, you can ice-fish." As with any sport, it's important to observe the rules and stay safe, he emphasizes. The first step is to purchase a fishing licence — either a short-term licence for the occasional fisherman or a long-term out- doors card for the "chronic" fisher (as Grant describes himself). The next stage is to test the ice before venturing too far from shore. "Normally, when you walk out on the ice, you have a long pole with a spud — that's something like a chisel — at the end," explains Grant. "You chink it on the ice, as you would a walking stick  and every 10 or 15 steps, you give a couple of hard hits on the ice.As well as being aware of the ice conditions, you must also be aware of currents. Normally, in Ottawa, we have about 30 inches [76 centimetres] of solid ice."
"In Constance Bay, the ice gets to be a metre or more thick, so there's no chance anyone will go through," says Walter, adding that the difficult part of dealing with the ice used to be digging a fishing hole with a hand auger. "That was pretty hard on the back and used to take about 15 minutes for one hole. Now we have two or three gas augers and you can dig a hole in a minute."
Weather is not a major concern for the two men. "You don't get cold if you dress properly," says Grant. "The most important thing is to have warm boots and wear the right clothes."
"On sunny days with no wind, we'll sit in lawn chairs with our jackets unzipped and tan," adds Walter.
But on days when it is 35 Celsius below zero with a North wind blowing, they might retire to an ice shack or pop-up tent with a propane heater inside, or even sit in the cab of one of the trucks parked on the ice while they wait for the fish to bite.
And there is always the camaraderie of friendship that adds warmth to the occasion, no matter how icy the weather. n