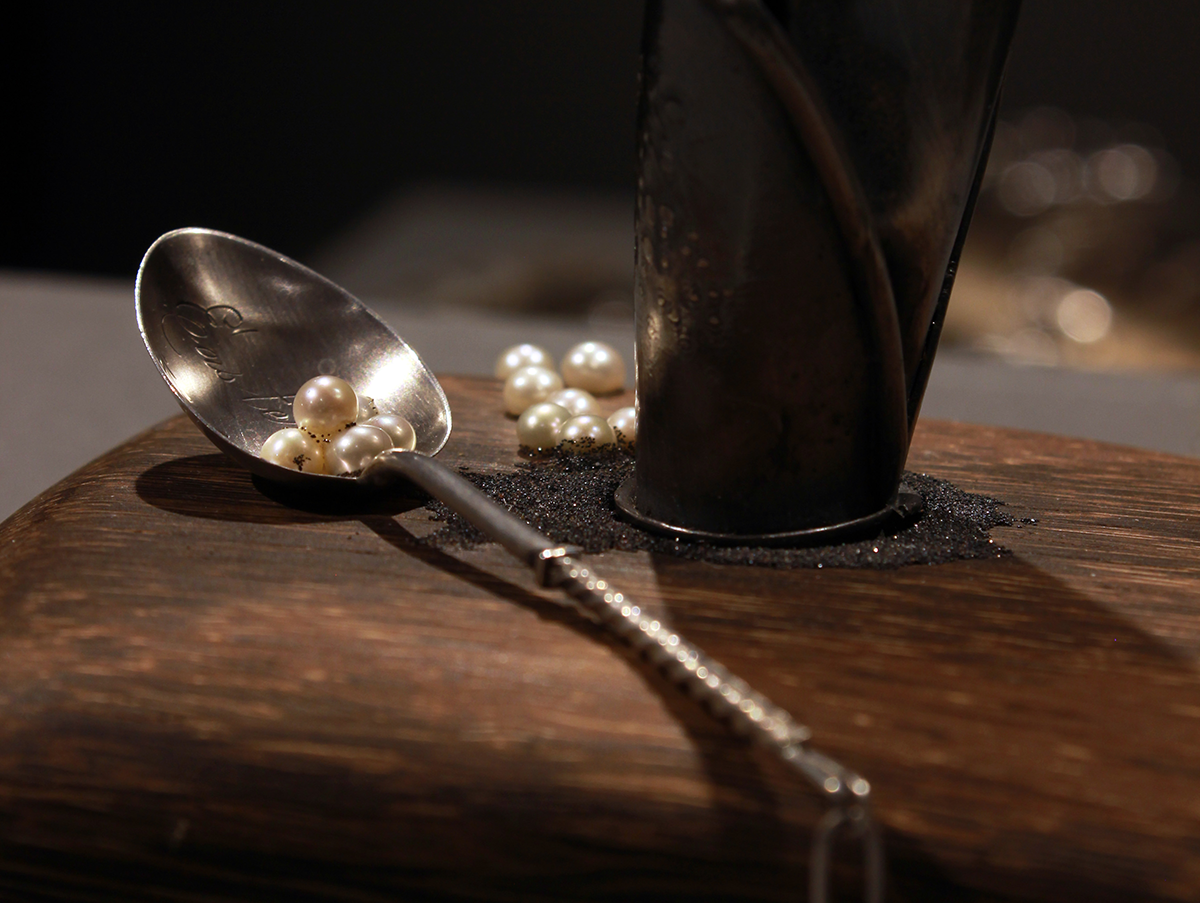 Contemporary art fashioned from heritage silver
By Paul Gessell
Back in the 1800s, Elizabeth Dunlop of Toronto established a home for unwed mothers, championed women's property rights, joined the anti-slavery movement and poured tea from a silver pot.
Gracing a table with silver teapots, cutlery, trays and other bric-a-brac was essential for every 'upwardly mobile woman' two centuries ago. These silver objects were an integral part of a family's history and were lovingly passed from one generation to another — mother to daughter.
Over the years, much of this gorgeous silver, plus that of Elizabeth Dunlop's descendants, landed in the lap of her great, great, great-granddaughter, Laura Brandon, who served for 22 years as art curator at the Canadian War Museum in Ottawa. Laura decided to repurpose the silver teapots, plates, trays, cigarette cases and other bric-a-brac to create contemporary, sculpture-like holders for candles and lamps that would honour the generations of women who contributed so much to society and, unlike their husbands in politics, the military and business, were largely unsung.
The genesis of the project dates to 2015 when, shortly after retirement, Laura heard a radio program discussing plans for 2017, to mark Canada's 150th birthday and the 100th anniversary of The Battle of Vimy Ridge.
"There was a lot of talk about the Fathers of Confederation," Laura recalled in a recent interview. "It all sounded as though it was going to be a masculine enterprise. That bothered me. I thought: 'There were women involved in the Confederation story.'"
It was time to honour the Mothers of Confederation; people like her great, great, great-grandmother Elizabeth Dunlop, who fought for important social causes, raised a family and, yes, poured tea from a silver pot. Seeking help, Laura contacted veteran jewellery-maker and metalsmith Lois Etherington Betteridge of Guelph, Ontario. Now in her 90s, Betteridge is the recipient of Canada's highest prize for fine craft, the annual Saidye Bronfman Award. Her credentials are such that she when calls, other metalsmiths jump. She quickly assembled a team of 14 other craftsmen from Alberta to Nova Scotia. The list included some of the top names in the business. Other examples of the work of many of these craftsmen can be found for sale in fine craft stories like L.A. Pai Gallery in Ottawa's ByWard Market. Pai has been an enthusiastic supporter of Illuminations.
"It's an inspired project," says proprietor Lisa Pai.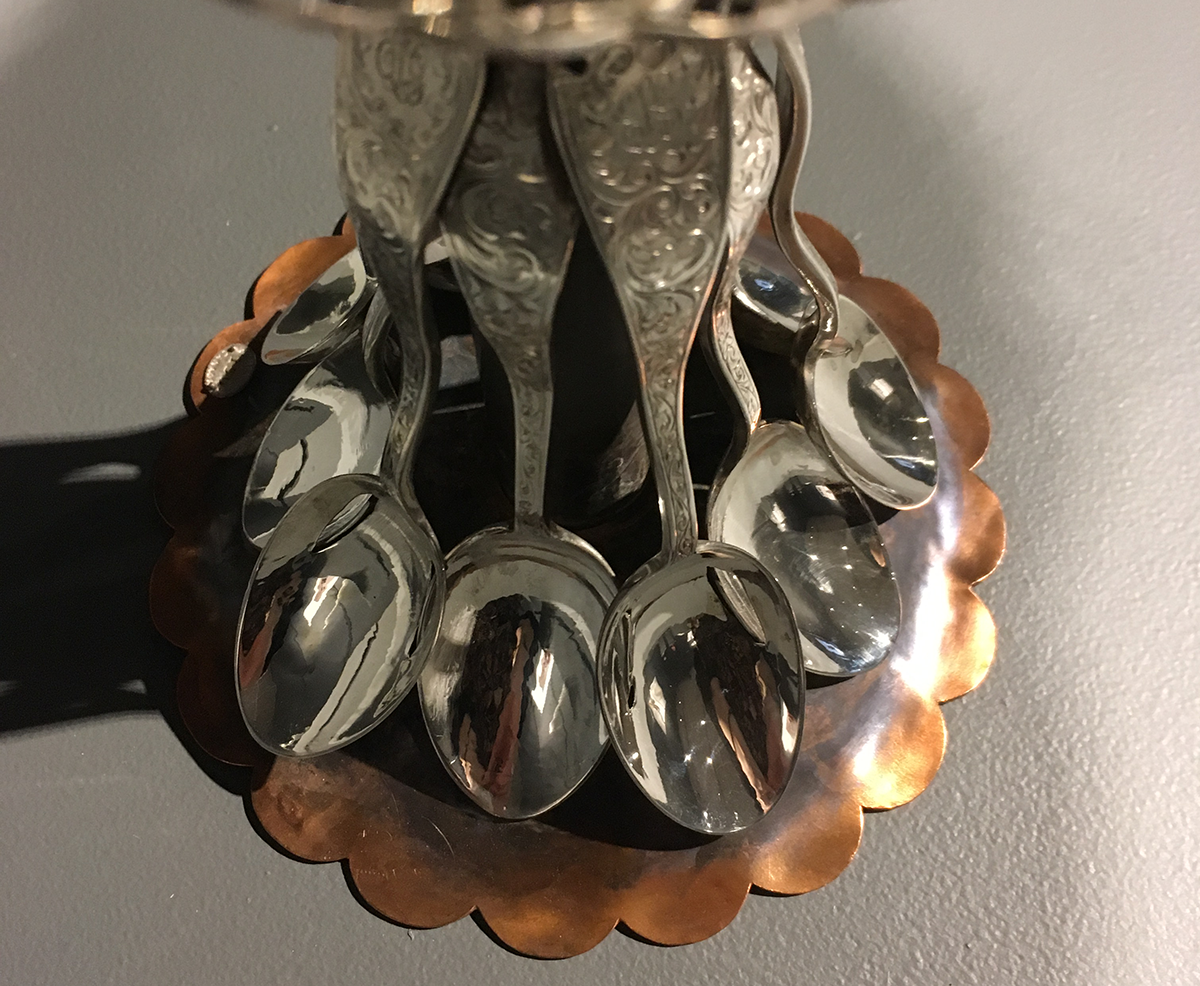 Much of Laura's silver was melted, with 650 grams given to each of the 15 artisans to create a candle or lamp holder. Plus, each artisan picked a piece of heritage silver — a teaspoon, a small picture frame, an ornament — to incorporate intact in the new work. Thus, each work is a combination of untouched heritage silver and repurposed silver. The amount of silver involved in the project was supplemented by some heritage silver donations from her in-laws and from longtime friends of her forebears, the Cronyn and Britton families, from various Ontario locations.
The 15 newly fashioned works started travelling the country in 2018, in an exhibition called Illuminations. First stop: Guelph. Exhibitions were then held in Fredericton, New Brunswick and Halifax, Nova Scotia. The next two showings are in 2020: Craft Ontario, 1106 Queen St. W., Toronto, from January 19 to February 29, and then RiverBrink Art Museum, 16 Queenston St, Niagara-On-The-Lake, Ontario, from April 1 to August 29.
Laura and her husband Rob, transport the 15 works to each exhibition venue in the back of the family's Gulf Wagon. No government nor corporate money was donated to the project, which is very much a labour of love. Laura hopes the travelling exhibition is not the end of the story. She has contacted the Crown Collection, the National Capital Commission agency that collects art, antiques and artifacts, to place in the federal government's official residences, including Rideau Hall, the Governor General's home. That's where she hopes the silver creations will be permanently on display so that Rideau Hall residents and visitors will be able to view the works and ponder the contributions made to Confederation by the foregone generations of tea-pouring women.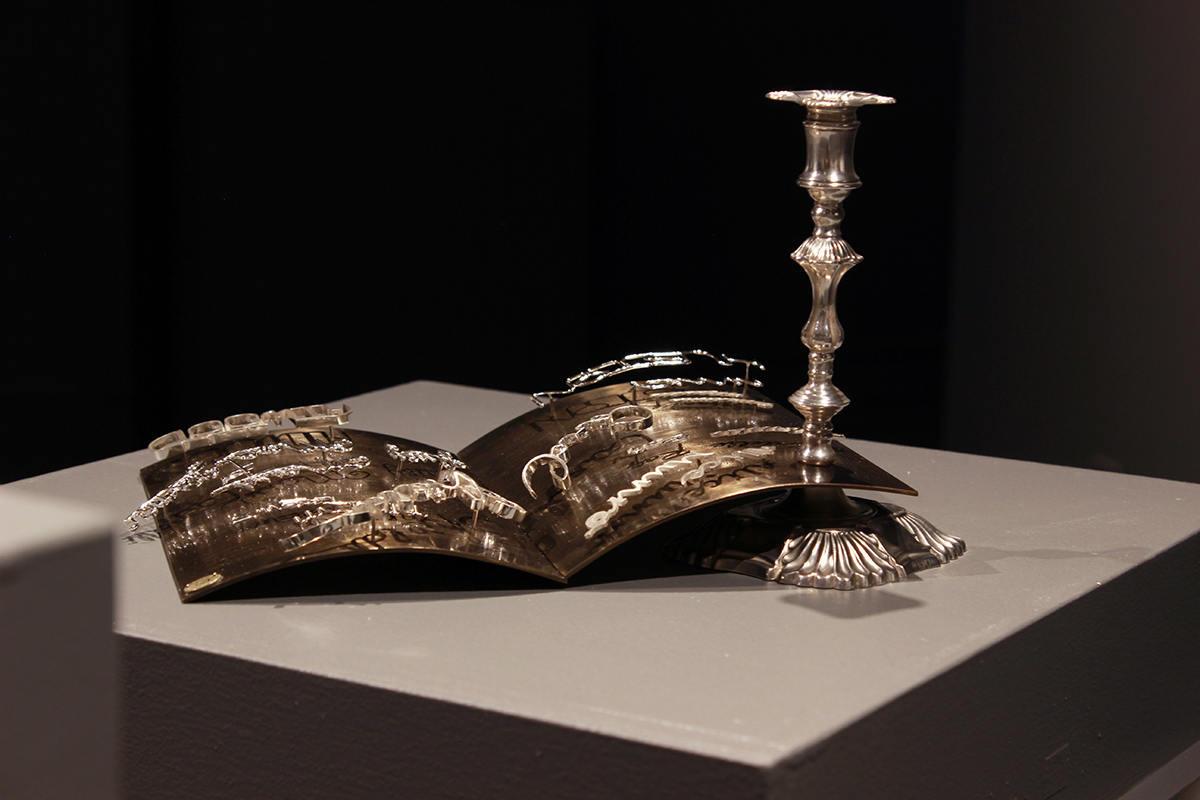 Each artist's work was inspired by a certain theme involving other women. For Anne Barros of Toronto, that theme was photography. Her candlestick, 'The Female Gaze,' is surrounded by a miniature, circular clothesline supporting photographs etched onto silver sheets. The main photograph, called 'Going to Call on the Bride' by photographer Millie Gamble, shows four fancily-dressed women, probably from the early 1900s in Prince Edward Island. Anne fell in love with the women's hats. Also hanging from the clothesline is a monograph from one of Laura's heritage cigarette cases.
"This project interested me because I feel that Canadian women artists have been overlooked in most of the history and art history books," says Anne. "Laura Brandon's proposal was an effort to correct the omission. Also, our group of silversmiths, 'the metal collective,' has been exhibiting together for many years and it is always fun to take on a new theme, do the research, and then come up with a concept for a work in silver.
Because the world of handmade objects in metal is not widely recognized, it means a lot to me to be one of several silversmiths responding to an idea for contemporary work in silver." Fiona MacIntyre of Merrickville near Ottawa, incorporated a handful of heritage silver spoons in her candlestick, 'Loose Threads.' "The overall form of the candlestick is reminiscent of an hourglass shape; the feminine ideal of colonial Canada, such as a cinched waist and flowing skirt of Victorian times," says MacIntyre. The "skirt" made of upraised teaspoons was inspired by Inuit women's amauti (parkas) in the 19th century. Non-indigenous items, such as cutlery, were sometimes incorporated into the parka design.
Kye-Yeon Son of Halifax is another Saidye Bronfman winner. Her candlestick employs elaborate text to honour such prominent Canadian authors as Gabrielle Roy and Lucy Maud Montgomery. Beth Alber of Toronto engraved the names of female Canadian architects on her work. Jackie Anderson of Calgary created a candlestick engraved with the names of female musicians.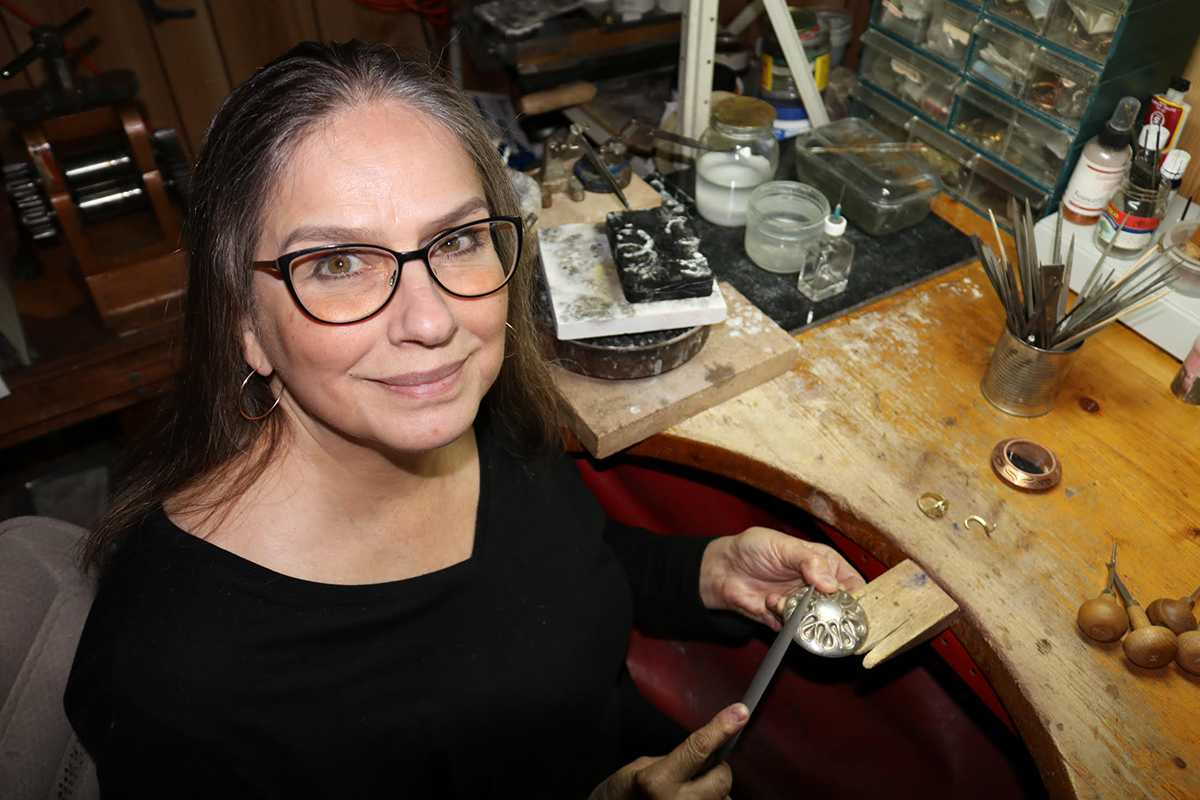 Indigenous artist Mary Anne Barkhouse of Haliburton, Ontario, is best known in the Ottawa area for her sculpture, 'Namaxsala,' a life-sized copper canoe carrying a wolf and floating in a pond by the Canadian Museum of History in Gatineau. Her work for Illuminations echoes that iconic work by using a small ornamental canoe from the heritage silver.
Laura says she is very proud of Illuminations. There seems to have been a sense of duty associated with the project.
"I have strong feelings about giving back," she says. "Canada gave me a career."
It was a career in which she assembled many travelling exhibitions of war-related paintings and sculptures that tell the story of Canada. Many thousands of people across the country came to see such exhibitions as 'Canvas of War,' revealing dozens of masterpieces painted during the first and second World Wars.
So, will the candlesticks end up in Rideau Hall? The Crown Collection has promised to consider the donation once the exhibition travels are completed next year.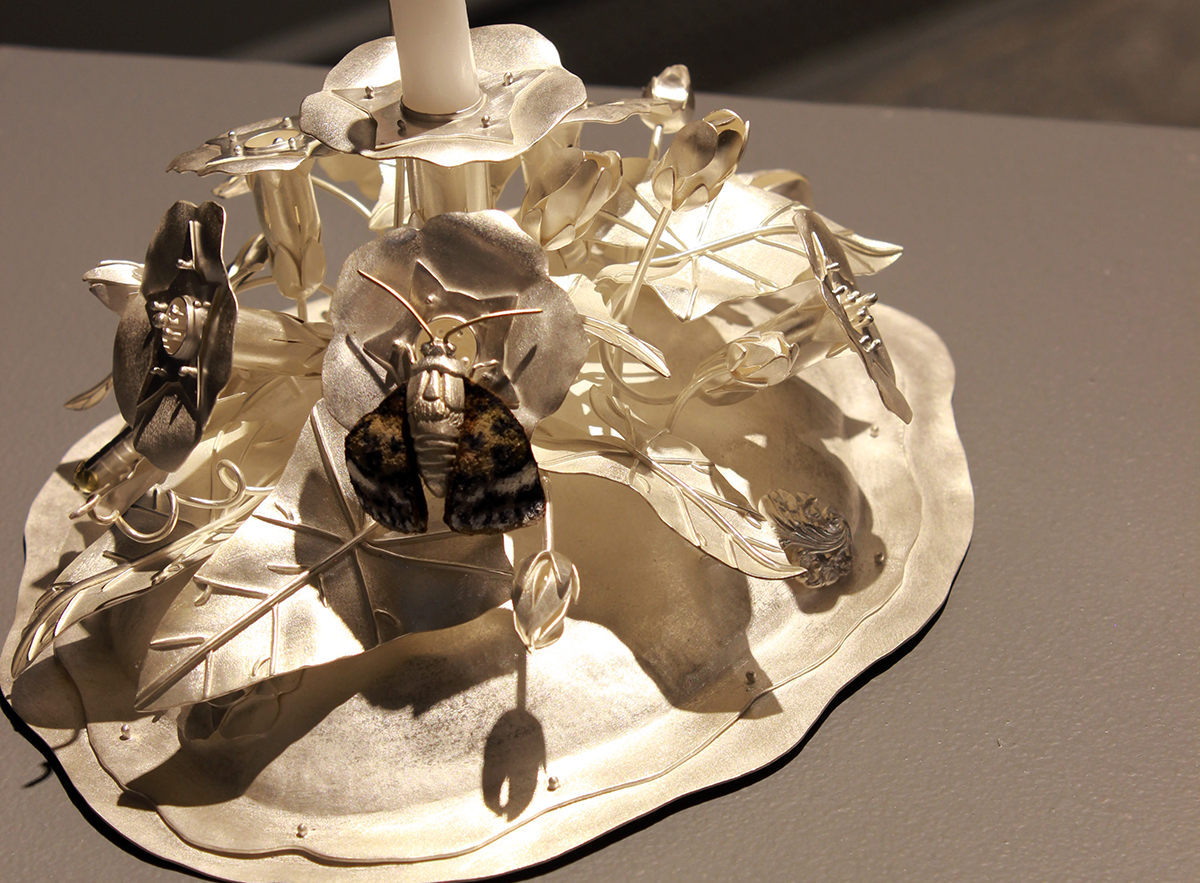 She seems optimistic. "I feel that the ancestors are cheering me on," she says. Yes, somewhere up there, the ancestors are polishing their silver, awaiting their chance to shine at Rideau Hall, like the 'Mothers of Confederation' that they really are.
For more information on the artists or exhibitions: illuminationsilverexhibition.ca.