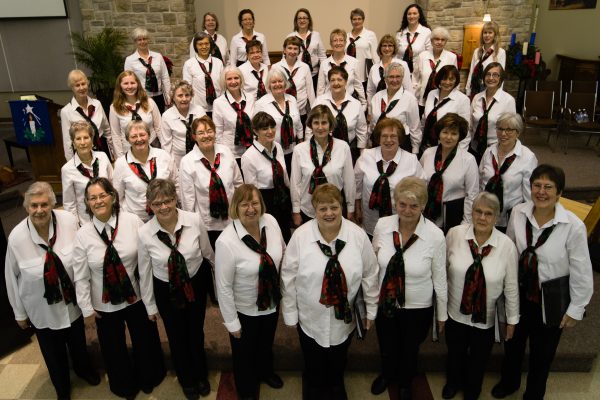 Picture – WOLC
Twelve ladies gathered in Robert Dueck's basement one afternoon in late summer, 2012—they wanted to sing, to start a choir and Robert to be their Director. Thus the West Ottawa Ladies Chorus (WOLC) came to be. In the few short years it has been in existence, the chorus has grown to welcome 45 committed voices. The WOLC is a performance-oriented, community singing group with the goal of providing members and audiences with a musically rewarding and enjoyable experience. Finding an audience was easier than expected and their three performances each year are well attended—they now have a loyal following. Pleased to give back to the community, the chorus give freely of their time to perform for elder listeners at local residences. Their popularity has reached far shores through Facebook and YouTube. The challenge is always to find music scores suitable for SSA and SSAA that has audience appeal as well as chorus appeal. Robert Dueck is a master at finding the perfect scores with a balance of choral music and a variety of other styles. WOLC is fortunate to have Peter Brown, well known jazz pianist, as their accompanist. Of course this means the choir always sing some jazzy numbers.
This winter's concert 'An Old Fashioned Christmas' taking place December 1st and 2nd will celebrate the season and bring the spirit of Christmas to the heart of the audience.  Bidding goodbye to autumn in 'WinterSong', sets the mood for 'Welcoming Winter' with lyrics by John Parker and music by Vicki Tucker Courtney then Icy December, a traditional Catalonian folk song tells of winter ending with fresh sweet blossoms. But the real celebration happens mid winter and this concert will present some of the most beautiful arrangements of traditional and contemporary Christmas ballads sharing cultures and some rhythmic and fun selections. The variety of music will be sure to please the entire audience.
'An Old Fashioned Christmas' takes place Friday, December 1 at 7 pm and Saturday, December 2 at 2 pm at St. Paul's Anglican Church, 20 Young Rd., Kanata. New this year! Tickets on line ($20) at www.westottawaladieschorus.ca. Tickets are also available at Gaia Java, 1300 Main St., Stittsville; Kanata Barbershop, 2 Beaverbrook, Kanata; and Kanata Cleaners, 1029 Teron Rd., Kanata. Tickets are $15 advanced or $20 at the door with children under 12 free.
Contact – Molly O'Connor 613 489-3624