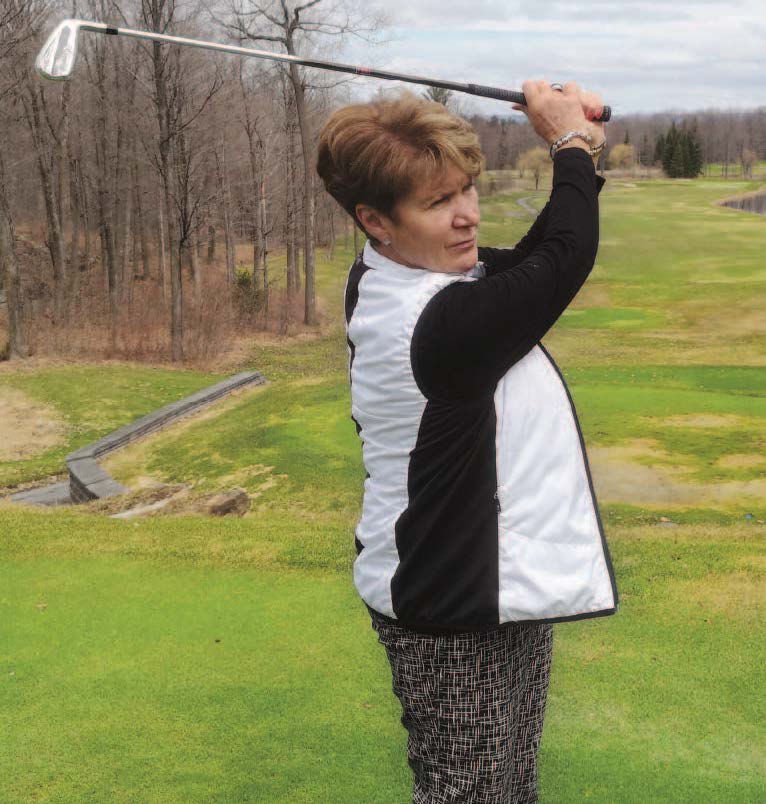 Danielle Nadon's enviable swing
By Martin Cleary | July/August 2019
When Danielle Nadon was a teenager, she would spend her summers working at the former Outaouais Golf Club (now Rockland Golf Club).
She experienced a variety of roles — dishwasher, waitress and pro shop clerk — at what was one of the Ottawa region's newest golf courses in the mid-1970s.
But her time at the club never involved hitting a ball, lining up a putt or filling out a scorecard. That was okay with Nadon, as she didn't play the game of golf.
"No, it was for old people with money and not girls," Nadon remembered thinking at the time.
There was, however, that quiet moment one day, when she wanted to "imitate the guys on the tee and take some practice (swings)." As she was getting the feel of being a golfer, Outaouais head professional Ray Haines took notice and was impressed.
He encouraged her to take advantage of her natural talent. That positive comment meant the world to Nadon. She hit golf balls with Haines that entire summer. Haines then invited Nadon to train at the PGA of Canada winter golf centre in Titusville, Florida.
The next thing Nadon knew, she was working her ways towards becoming a teaching professional. First, she earned her B class card by shooting in the low 80s. Just as quickly, she passed the A card tests by firing rounds in the low 70s.
By the time she was 19, Nadon was a full-fledged golf professional. Not bad, for someone who never hit a single tournament ball as an amateur golfer.
Forty-two years later, Nadon is still using those skills and many more to help golfers of all levels enjoy the game to its fullest. Whether she was at the Rivermead Golf Club, the Board of Trade Country Club in Woodbridge, ON., operating her own academy in Orleans, ON., or at the Loch March Golf and Country Club, where she is the head professional and general manager, Nadon brings a sense of calmness and creativity to her teaching and game enjoyment.
That approach is especially true when it comes to her working with mature adults. While most clubs have programs for retired or semi-retired people 55 and older, Nadon is proud of "her family" of 200 women, who participate in a 21-week, morning league for nine holes of golf and breakfast, a golf clinic once a month, a fashion show, closing banquet and a Christmas meal.
She also explains the language of the game, the various types of tournament formats and runs golf pools for major tournaments to make it more interesting.
Nadon, who became Canada's first Francophone woman to serve as a head golf professional when she joined Loch March in 1987, operates a similar men's evening league, but the age range is far greater (30 to 72 years old).
A former student of Canadian golf legend George Knudson, Nadon extols the health and social benefits of golf for seniors looking to swing into action.
"It's a great way to meet new people. And would you want to walk in a mall or on a great golf course?" Nadon enthused.
She suggested easing into the game by taking group lessons with six or eight people. Private lessons are another option but, may not be for everyone.
If lessons go smoothly and you see yourself wanting to move ahead, you can explore purchasing a set of clubs, as well as all of the extras.
Exercising before heading out to the course is important to enjoy your game. Various stretching exercises will be beneficial for your arms, shoulders, back and legs. Yoga also is a good avenue to improve flexibility.
Nadon suggests using thin rubber resistance bands to help with stretching various muscle groups.
"If you walk the 18 holes, you are walking six to seven kilometres. The walk itself is beneficial. It also helps your concentration. It's very good for you physically and mentally," she explained.
"It's good for socializing. You don't have to know the person your playing with and you can talk about news, the weather and politics."
If playing 18 holes is too much at the start, since it can take up to five hours, opt for nine holes.
As you learn the game through lessons and hitting practice balls several times a week, Nadon recommends keeping a golf club inside the house. Pick it up every so often to become familiar with the feel of the grip of the club.
Twenty-five years ago, a 67-year-old single mother, who lost her husband at a young age, decided to try golf, after raising her five boys. It was a bold, but rewarding, step. Not only did she experience winning a tournament championship, but she also travelled on Nadon's getaway golf tours and became a good friend.
Medical reasons forced this golfer to leave the game in her late 80s.
"It's never too late," Nadon said.