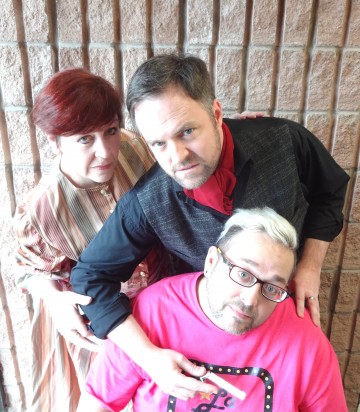 If it's possible for any play to get audiences to sympathize with murderers "Sweeney Todd – The Demon Barber of Fleet Street" is that play.
The show, with music by Stephen Sondheim, is about a barber – Sweeney Todd – who murders people. His cohort, Mrs. Lovett, then uses the remains as a special ingredient in the pies she makes.
The story of Sweeney Todd dates to Victorian England. It was adapted into a 1930s film, a ballet, an eight Tony award winning stage musical and, most recently, a 2007 Tim Burton movie starring Johnny Depp.
In modern adaptations, Sweeney Todd is a Londoner sentenced to an Australian prison on trumped-up charges. After 15 years he escapes and makes his way back to England, simmering with anger and vowing revenge on the judge who sentenced him.
Sweeney sets up shop as a barber next to a pie store owned by Mrs. Lovett, a working-class widow. There, he begins to exact his bloody revenge.
The barber is especially incensed over the fate of his teenage daughter, who was taken in by the corrupt judge who sentenced Sweeney. She has never known her father.
The show is part of Suzart's adult feature series called "After Dark", suitable for those over 19 years. Featured in the title role is Joseph Stone and Barbara Seabright-Moore stars as Mrs. Lovett. Suzart's recently named Artistic Director, Kraig-Paul Proulx, has dived in as director.
Proulx describes Sweeney as a wronged man battling demons that threaten to consume him.
" 'Tortured soul' is a good way to put it," Proulx said. "He's hell-bent on revenge. But there's this fire that's still burning brightly inside him."
Proulx has added his artistic vision to the play. The opening scene happens in current time as the actors recount the story of "Sweeney Todd". As the story continues, they each transform into a character and become the story.
Suzart's After Dark Production of "Sweeney Todd – The Demon Barber of Fleet Street" runs February 23 -25, 2017 at the Centrepointe Studio Theatre.