Perfect backyard playground
By Madeline Kallio | March/April 2019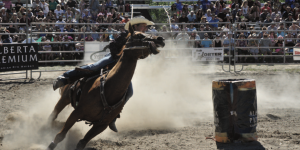 The Village of Tweed takes advantage of the choice location on Stoco Lake, which is the confluence of the Moira River to the south and the Clare River and Sulphide Creek to the east. The Black River runs through the village.The area is a mecca for fishing, boating and swimming, as well as for sightseeing. The townspeople pride themselves on the beauty of the community — even a selected number of fire hydrants in town have been painted with a unique theme.
This was the hunting ground contested by the Mohawk and Mississaugas in the seventeenth century.The victory of the Mississaugas under Chief Stoucong, led to the naming of Stoco Lake.When the first settler, Richard Woodcock, arrived in 1828, he built a dam across the Moira River. Allan Munroe built another dam by 1830 and established the first saw- and grist-mill. Two settlements developed: Georgetown on the lakeshore and Munroe's Mills (later renamed Hungerford Mills) along the river. In 1850, John Emerson was commissioned by James Jamieson to survey a townsite to be named after the River Tweed in Scotland and both communities grew together and were formally incorporated as the Village of Tweed in 1891. A stage line was established to Belleville; and, later, the Canadian Pacific and Bay of Quinte Railroads brought prosperity.
Many of Tweed's homes and buildings were built before the turn of the century. Stone, brick, patterned tin ceilings, iron-crested roofs and balconies are some of the features that are evident in the buildings. The J. M. Robertson Block, built in 1892, has been fully restored; as has the Detlor Block (CIBC) at 256 Victoria Street North. North America's Smallest Jailhousewas built in 1899 and was in use until 1950. It now serves as a tourist information centre in the summer. A unique bandshell veranda on 268 Metcalf Street marks the home of the mother of Mart Kenney, the famous big band leader. Across from the old jail, at 40 Victoria Street North, is the Tweed and Area Heritage Centre (613 478-3989), which was originally built in 1897 as the Houston House, and which features a local arts and crafts gallery, a military tribute gallery, an art gallery, a museum, the Meiklejohn Research Room and Morton Archives. A "Tweed Walking Tour" is available at the Heritage Centre for $.50.
Creativity abounds in and around Tweed; it is an area of ingenious entrepreneurs. The Unconventional Moose (613 478-2562), 108575 Highway 7, which has a wildlife theme with a rustic flair and is a "boutique of sorts," also offers motel accommodation. Quinn's of Tweed Fine Art Gallery (613 478-0000), 345 Victoria North, is an historic country store which presents the work of Canada's finest artists and artisans. Ice cream, gifts and clothing are marketed with country hospitality at Tweedy's, 7000 Highway 37 North. The Super Dollar Club (613 478-9811), 203 Victoria Street, offers an amazing selection of items of all sorts. The Tweed Florist and Gift Shop (613 478-3819), 311 Victoria Street, displays a variety of floral arrangements and interesting gifts. TheBlack River Trading Company (613 478-5068), 108059 Highway 7, has an incredible selection of sculptures, pottery and much more. Hidden Treasures (613 478-0101), 333 Victoria Street, is a second-hand store and consignment shop. The Salvation Army Thrift Store (613 478-3375), 224 Metcalf Street, offers used clothing and other items. Stoco Jewellery Studio (613 478-3833), 236 Victoria Street, sells fine gold and silver jewellery with a goldsmith on-site. The Moira River Food Company (613 478-3373), 347 Victoria Street North, has over 400 bulk food items as well as health food products.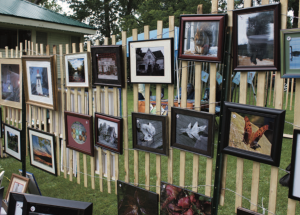 The lakes, rivers and scenic countryside around Tweed has attracted many artists. Audrey Ross(613 478-3591), 26 McCamon Avenue, is a watercolourist who delights in landscapes, florals and non-objective studies. Doug Davis (613 478- 3529), 165 Stoco Road, is a woodturner who enhances natural wood burls to make functional and decorative pieces. Hammer, chisel, files and sand paper are the tools that Paul E. Shier (613 478-6834) uses to make his one-of-a-kind egg- to- full-size-human sculptures from stone,wood,copper and paints. Suzanne Cavers (613 478-3176), 658 Victoria Street, paints abstracts and impressionist landscapes with acrylics on canvas and paper. Bob Pennycook (613 478-5684),20 North Hawkins Bay Road, interprets nature in acrylics, oils and prints. The Tweed and Area Studio Tour (613 477-2039), directs visitors during the last week of September, to a number of artists and artisans in the area who offer an eclectic variety of exquisite works.
Relax over a cup of coffee and a bite to eat while you discuss your purchases and decide where to go next! The Gateway Restaurant (613 478-2530), 327 Victoria North,"where old friends meet," serves Canadian and Greek home-cooked specialties and gives a seniors discount. The Tall Boys Restaurant (613 478-3222), 211 Victoria Street, in theTweedsmuirTavern, offers "a menu for every eater." Pizza Latina (613 478-2222), 244 Victoria Street, specializes in pizza, subs and Italian Fare, as does Vito's Pizzeria (613 478-2616), 351 Victoria Street. Chinese and Canadian food is served at the House of Chop Suey (613 478-3531), 334 Victoria Street North. An incredible variety of coffees, free WIFI and comfort food can be found at By the Way Café (613 478-6336), 301 Victoria Street North. Tim Horton's (613 478-2823), 601 Moira Street sells coffee, donuts and a variety of fast food items.
Plan to stay for a few days in this village nestled in the heart of the lake country. Drive the backroads; take a refreshing swim; or go fishing. Accommodation is available at the Park Place Motel of Tweed (866 478-3134), 43 Victoria Street South. For the outdoor enthusiast, Beachwood Hollow Resort (613 478-5353), 275 Victoria Street, on the west shore of Stoco Lake, has lakefront cottages with indoor facilities and an opportunity to fish. A delicious, full breakfast is the order of the day at the Newton House Bed and Breakfast (613 478-1691), 246 Colborne Street. Black River Retreat (613 243-7711), 107939 Hwy. 7, is a luxurious resort-style bed and breakfast which serves breakfast and dinner. Private Paradise on the Moira (905 356-1652), Rural Route 1, is a fully furnished cottage overlooking the Moira River on eight-and-a-half acres. Rose Cottage Bed and Breakfast (343 600-9159), 1585 Crookston Road, has boutique suites and offers a continental breakfast.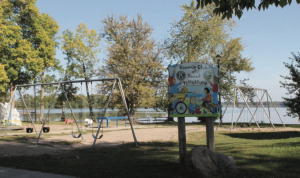 You are invited to participate in the fun and excitement of Tweed's annual events. The Tweed Winter Carnival in mid-February kicks off the year. Music in the Park at the Tweed Memorial Park Picnic Shelter takes place Sundays from mid-June to mid-August. The Annual Classic Car Show continues on the third Saturday in June. Canada Day brings a parade, games, music, bazaar, crafts and artwork, and Flowerama presented by the Tweed Horticultural Society. The Tweed Fair follows in mid-July with bingo, lawnmower races, pie-eating contests, logger's competition, harness racing, baking, crafts, midway, entertainment, livestock shows, dances, and much more. For four days at the beginning of August, the Tweed Stampede takes over Trudeau Park. The third week of August brings the Tribute to Elvis Festival. The Santa Claus Parade and the Annual Festival of Trees on the first weekend in December at the Tweed-Hungerford Agricultural Building, ends the season.
It is impossible to list or highlight all of the wonders of this part of Eastern Ontario's countryside, so this article is just a taste to encourage the reader to visit, enjoy and discover its hidden treasures. Information on Tweed and its events is available at the Heritage Centre and Museum Tourist Bureau (613 478-3989), 40 Victoria Street North, or you can contact the Tweed and Area Chamber of Commerce (613 243-7207), 255 Metcalf Street.