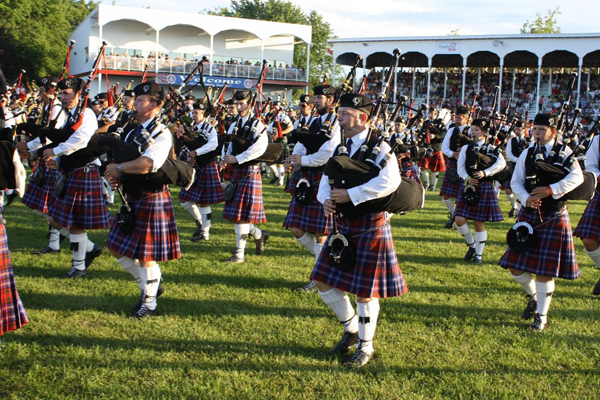 One of the best outdoor festivals in Ontario takes place August 1 and 2 in Maxville, Ontario when the sixty-seventh version of the Glengarry Highland Games welcomes tens of thousands of visitors and competitors from across North America and beyond.
Whether watching the intricate footwork of the graceful highland dancers, the amazing strength of the heavyweight athlete tossing the caber end over end in the air, or the haunting sounds of the lone piper practicing for his event, there is something for everyone throughout the two days of the Games.
After a full day of events on Friday, the grandstands will be packed for the much-anticipated Concert & Tattoo headlined this year by Cape Breton's favorite fiddlers, Natalie MacMaster and Donnell Leahy. The dynamic duo will keep the crowds clapping and tapping their toes as the jigs and reels fly off their fiddles. The evening is topped off by a Military Tattoo and a stunning display of fireworks. Anyone with any energy left can join the crowds for the Friday night dances with the best of Glengarry's own celtic entertainers.
Saturday brings another day of Scottish competitions with the Professional Heavyweights taking to the field and the Open Championship dancers performing for top honors, but the big draw is the piping. The North American Pipe Band Championships™ run throughout the day capped off at 6 pm with the massed pipe band performance where a thousand pipers and drummers play and march in unison across the infield. A sight and sound that is memorable to all who see it. The evening concludes with another round of dancing the night away with more outstanding Glengarry talent.
Add to all of this, a full slate of Scottish fiddle events, a harp workshop, great shopping for all things tartan, a military tug of war, and continuous celtic entertainment for two days, and Maxville is the place to be.
Parking is free and the grounds are fully accessible with many inside venues as well as open air events. There are also plenty of shady places to relax and watch the sights unfold around you. All events are open with the gate admission of $20 and children under 12 are free.
A short drive from Ottawa and the surrounding area brings you to this magical place where for two days you can explore the grounds taking in the experiences and excitement of celebrating the Scottish traditions.
Full details can be found at glengarryhighlandgames.com. Follow us on Facebook.