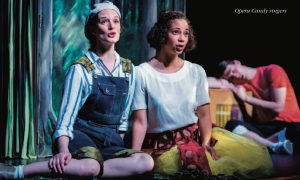 Treat your favourite youngsters and yourself to a special outing this spring to see a live stage show. There are many appealing kid-friendly options from which to choose. Here's a look at what's coming up onstage.
Story time at the Symphony
Take storytime to the next level in an afternoon of whimsy and magic at Centrepointe Theatre March 23. Ottawa Pops Orchestra presents Storytime at the Symphony at 2:30 p.m. Young children are encouraged to accompany you to this concert, where you'll rediscover Prokofiev's acclaimed symphonic fairytale Peter and the Wolf and other tales as old as time. Kids will be captivated by this new, unexpected world of musical fantasy. meridiancentrepointe.com
Opera Candy: The Gourmet Adventure of Hansel and Gretel
Typically, we tend to think kids and opera are as compatible as ketchup and caviar.At the Shenkman Arts Centre, though, Jeunesses Musicales Canada is presenting a delectable introduction to opera and lyrical singing that will be a real treat for young eyes and ears. Opera Candy: The Gourmet Adventure of Hansel and Gretel is onstage March 24 at 3 p.m.
This captivating and playful concert is about two upbeat singers who want to tell the story of Hansel and Gretel in music.Their impish friend endeavours to help them out, but he gets so preoccupied, his foot always lands in his mouth…or is that candy?
Before the show, there's also an opportunity to meet the performers in a special workshop. Kids can try vocalizing, exploring their registers and discovering their vocal ranges. They can even learn a little choreography so they can sing and dance like the fairy-tale characters. jmcanada.ca; shenkmanarts.ca
Erth's Prehistoric Aquarium Adventure
Share a thrilling, all-ages adventure at the bottom of the ocean March 28. Meridian Theatres at Centrepointe is presenting Erth's Prehistoric Aquarium Adventure:The Mystery of the Dinosaurs of the Deep. This show allows viewers to explore the ocean depths where prehistoric marine reptiles lived long, long ago — and maybe still live today. Actors, technology, puppets, science and imagination are combined to offer a riveting, kid-friendly visual experience that connects audiences to the science of paleontology. The action starts at 6:30 p.m. prehistoricaquarium.com; meridiancentrepointe.com

Will's Jams Live
The little ones in your life will love the opportunity to see Will's Jams Live at the Shenkman Arts Centre April 6, 2017. Juno nominee Will Stroet, star of the Will's Jams TV series on CBC Kids, and his band present a fun, interactive multimedia experience that will have everybody on their feet and taking part. The 10 a.m. show combines video with live music to share a wide variety of positive messages about themes ranging from sportsmanship to positive lifestyle choices. The hits Will and company will be singing include Bike Safety Boogie, Hockey's Just Really Cool, Eat a Plum, Yum Yum and Make Friends with an Earthworm. shenkmanarts.ca
The Dolls' House
Kids of all ages who've ever played with dolls are apt to be enchanted by The Dolls' House, presented by Rag & Bone Puppet Theatre April 28 at the Shenkman Arts Centre. Based on the classic book by Rumer Godden, this story is about a close-knit family of dolls that live in a shoebox and belong to two little girls, Emily and Charlotte. When the sisters move them into a proper Victorian dollhouse, the toys are delighted. That is until a fancy — and horrid — doll named Marchpane takes up residence with them. Live music, a captivating dollhouse and timeless messages about character and choices combine to make this production a winner. Shows are at 1:30 and 3:30 p.m. ragandbone.ca
Ottawa Grassroots Festival
Introduce youngsters to the pleasures of folk music, dance, and spoken word at the annual Ottawa Grassroots Festival taking place April 25 to 28 at Southminster United Church, 15 Aylmer Avenue. Award winning Franco-Ontarian performer Dayv Poulin will headline opening night, April 25, at the festival in old Ottawa south. Iconic Canadian singer Ian Tamblyn is the headliner April 26, accompanied by local performers Rebecca Campbell, Fred Guignon and Pat Mayer. First Nations folk rockers ShoShona and Raven of Digging Roots are headlining the April 27 show.They blend folk-rock, pop, blues, hip hop with Anishinabek music. And the kids are welcome to take it all in with you. In fact, children aged 15 and under get in free when accompanied by an adult. ottawagrassrootsfestival.com