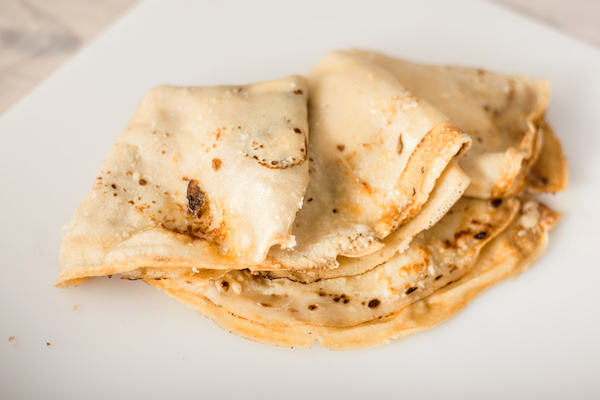 Dream Come True:
Delicious food and unique atmosphere make Krave Bistro an Arnprior gem
by Gay Cook

"We make everything from scratch in our affordable Italian cuisine at Krave Bistro," explain owners and chefs Randy and Rachelle Paulen. This delightful couple received training at Algonquin College in Ottawa, and they are proud to show their talents in this newly-staged location in Arnprior.
The bistro is a dream come true for the pair. When they found this heritage red brick building built in 1860, it was the perfect fit. The venue's unique atmosphere is created with the high ceilings, large ceiling fans and the original hard- wood flooring. The walls are peppered with local artists' work. It was originally a home hardware store. An eye catcher is the long church pew, which is now the popular spot to sit down and enjoy a meal. The Paulens owned two other restau- rants plus a golf course, but then bought this restaurant in 2015.
The day begins with breakfast that may include two or three eggs, prepared in any style, with two strips of bacon or sausage and home fries. Smoky beef strips are also an option when ordered. Freshly made hot coffee is always available. There is a choice of either brioche or multigrain toast and potato hash. Other choices include the grilled burrito wrap filled with mushrooms and cheese,or a choice of vegetables.A very popular item is the big easy benedict plate with chorizo sausage, peppers, onions and spicy Hollandaise sauce.Another favourite is the bagel lox and cream cheese: house- smoked salmon, capers, red onions, lemon, and a toasted bagel.Yum!
While breakfast is available throughout the day, one can also enjoy other house specialties,such as the mac and cheese burger or the cordon bleu burger topped with ham, Swiss cheese and sautéed mushrooms.The decadent brie and bacon burger with red pepper jelly is also a delicious option.Another popular item is the southwest chicken and shrimp crepe with peppers, mushrooms, and onions in a zesty Cajun red sauce.
There is a variety of pasta dishes, including clam and bacon linguine in white wine sauce. Popular sandwiches include the grilled brie and bacon marmalade sandwich or the naan bread with blackened salmon. For an evening dinner, try the extra special prime rib dip sandwich with pan-seared mushrooms, or the chicken parmesan served with linguine in a lightly simmered marinara sauce and salad.Another speciality is the NewYork steak with eggs on brioche or multigrain bread and fruit kebab.The beverage menu features international wines, plus several craft beers.
Krave Bistro
24 Elgin Street West Arnprior
613 623-7969
Tuesday and Wednesday, 10 a.m. to 5 p.m.
Thursday and Friday, 10 a.m. to 8 p.m.
Saturday, 10 a.m. to 4 p.m.
Sunday, 9 a.m. to 4 p.m.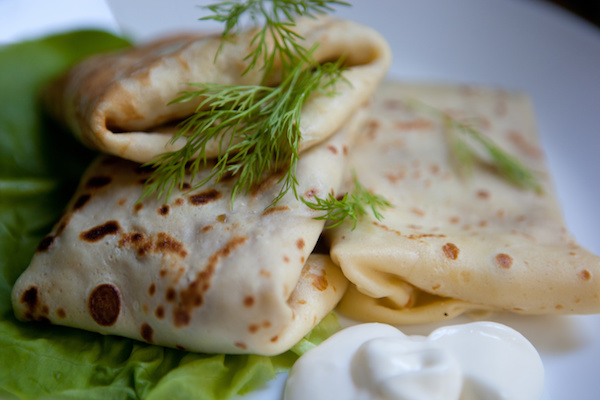 Crepes Ariel
Serves two
Crepes
1 large egg, roam-free
¼ cup (60 ml) unbleached flour
¼ tsp (1 ml) salt (or to taste)
¼ cup (60 ml) milk or water (plus extra if mixture is too thick)
1 tsp (5 ml) minced parsley, thyme, cilantro or dill (optional)
1 tsp (5 ml) lemon zest (optional)
2 tsp (10 ml) melted butterCombine egg, flour, salt, and milk in a blender or food processor, or whisk by hand for 30 seconds. Add herbs and zest, if using, and butter. Process briefly. Chill mixture in refrigerator for a minimum of one hour. Add a little milk if mixture is too thick to pour easily.Preheat griddle on medium-high heat. To test for the right heat, pour a teaspoon of mixture in the pan to make a very small crepe, spreading into a circle with the back of a spoon. When edges of crepes are dry, flip crepe over. Leave until golden brown on underside. Continue making crepes. Cool each and pile on top of each other.
Filling
1 chicken breast
2 tbsp (30 ml) butter
1 garlic clove, crushed
4 oz (113 g) sliced mushrooms
2 green onions, finely sliced (white and light green part)
Pinch of salt and pepper
¼ cup (60 ml) white wine
½ oz (1 tbsp) Pernod (bourbon)
3 medium shrimp, tails removed
¼ cup (60 ml) heavy creamPan fry chicken breast with butter on medium heat about eight minutes until juices run clear when chicken is gently pressed. Set chicken aside. Turn up heat to medium-high and sauté the garlic, mushrooms, green onion and a pinch of salt and pepper. When half-done, stir in Pernod, wine and shrimp. Add cream and continue cooking until shrimp has just turned pink. Remove pan from heat.
To fill crepes, place chicken breast and filling in the centre and fold edges over filling. Secure edges with a toothpick, if desired.
*
Southwest Linguini Crepe
1 tbsp (15 ml) each of oil and butter
2 cloves garlic, smashed by knife
¼ section of red and yellow peppers and red onion
4 oz (113 g) fresh mushrooms, sliced
2 tsp (10 ml) Cajun spice
¼ cup (60 ml) each of white wine and salsa of your choice
¼ cup (60 ml) heavy cream
1 cup (250 ml) cooked pasta (your favourite)
¼ cup (60 ml) heavy cream
Use the same crepe recipe as above.
To make filling, place frying pan over medium-high heat, add oil and butter and sauté garlic, peppers, mushrooms and Cajun spice. After five minutes, add white wine, salsa and heavy cream and cook another two minutes.
Warm the pasta briefly in hot water and drain. To serve, place crepe on work counter; add filling and pasta in the centre and fold edges over filling. Secure edges with a toothpick, if desired.
Gay Cook is an Ottawa entrepreneur, food writer and author of Mrs. Cook's Foods.