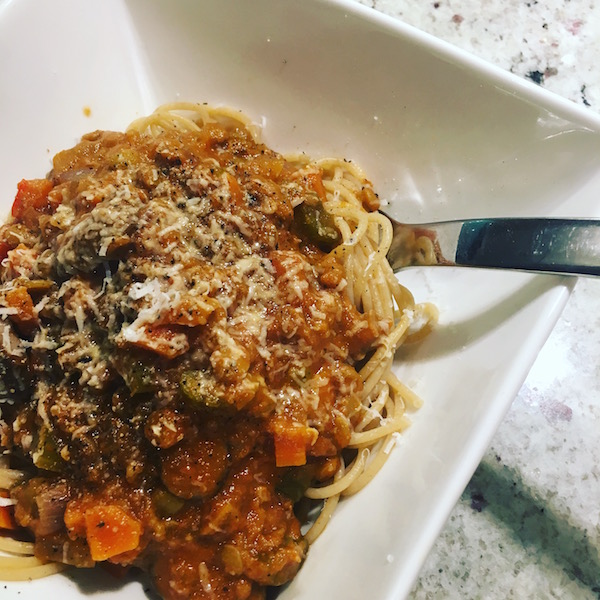 by Lauren Follett, BA, RHN, Registered Nutritionist
In my last post, I wrote about the health benefits of incorporating more plant-based foods in your diet. I'm not suggesting you become a vegetarian, but there's nothing wrong with having a Meatless Monday!
I won my husband over last weekend when I made him a vegetarian version of the classic favourite, Spaghetti Bolognese. I swapped the ground beef for lentils and mushrooms, but kept all the flavours of a classic bolognese. Give this recipe a try, and I think I'll have you convinced too.
Lentil and Mushroom Spaghetti Bolognese
Adapted from Chatelaine
Ingredients
450 g or ½ package of whole-wheat spaghetti*
1 tbsp. extra virgin olive oil*
4 garlic cloves, minced
1 package sliced cremini mushrooms
3 peeled large carrots, diced small
2 peeled celery stalks, diced small
1 red bell pepper, diced small
1 finely chopped large onion
1 cup red wine
2 cups water
1 cup vegetable or chicken broth
156-mL can tomato paste
2, 540-mL cans green lentils, drained and rinsed (or cook dry lentils ahead of time)
1 1/2 cups grated parmesan
1/4 cup chopped basil
Method
Cook spaghetti in a large pot of boiling water, following package directions but omitting salt, until tender, 7 to 8 min. Drain and return pasta to pot. Stir in 1-2 tsp. of extra virgin olive oil to prevent from sticking.
Heat a very large non-stick frying pan over medium-high. Add olive oil, minced garlic and mushrooms. Saute for 5 minutes. Add carrots, celery, pepper and onion. Cook until carrots begin to soften, 4 to 5 min. Stir in red wine and water, vegetable broth and tomato paste. Add green lentils. Boil until most of the liquid has evaporated but mixture is still saucy, about 15 min. Stir in parmesan until sauce is thickened.
Serve out 2 portions of pasta & sauce (approximately fist size pasta & 1 ½ cups sauce). Stir to coat. Sprinkle with parmesan and chopped basil. Reserve remaining bolognese sauce and freeze for another meal or lunch leftovers.
*Use roasted spaghetti squash in place of whole-wheat pasta to save calories
*I like to use EVOO when I cook pasta as it provides great flavour; if you purchase high quality, organic, extra virgin olive oil it's safe for cooking.