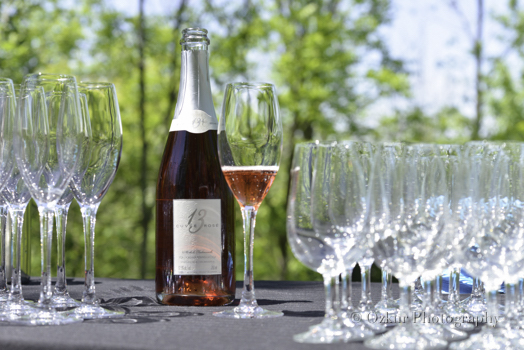 Each Friday, sommelier and Wine Travel Specialist Monique Sosa introduces us to a new wine worth savouring and sharing. We call it the Wine of the Week: #wineoftheweek and #wotw
by Monique Sosa
It's finally here, our first long weekend to kick off the summer season! Let's offer our regal salute to this Victoria Day weekend the best way we know how, with a bevy in hand!
Here are five reasons why 13th Street NV Cuvee is our #wineoftheweek
LCBO Vintages #147504 | $24.95
1 – It's brilliant, it's pink, it sort of tastes pink too …. but most importantly, it's delicious! Dominant notes are tart cherry, strawberry, pink grapefruit and rhubarb. It's light, mouthwatering, dry, and one sip just begs for another.
2 – It's Canadian and it's great! Fireworks are not the only thing we may hear popping this weekend. Popping this bubbly is a fine way to showcase our national pride over such an iconic Canadian weekend.
3 – It's traditional method sparkling wine, made in the similar style to Champagne, but at a fraction of the cost. The value for quality is unbeatable!
4 – It's classically refreshing making it a perfect patio wine. What is it about sunshine that craves refreshing summer sippers? They naturally fit, and this one definitely fits the bill.
5 – It's a versatile wine that pairs well with light dishes including: leafy green salads, smoked salmon, light cheeses, charcuterie and antipasti platters.