By Lauren Follett, BA, RHN, Registered Nutritionist
"A Better Way to Cook;" the tagline from Montreal-based food delivery company, Culiniste. They deliver a box of fresh ingredients to your door that contains everything you need to make 3 meals for your family. Intrigued? So was I.
I received an email from Culiniste's co-CEO, Neil Cuggy asking me to write a review in exchange for a free trial of their service. To be honest, I was skeptical right from the start, but I signed up anyways. I totally forgot about it until I received an email on Monday saying that my box was being carefully crafted, and it would arrive the next day.
9am there was nothing, noon: nothing, 2pm: nothing. I was about to head out to the grocery store and get something for dinner when there it was; a large box sitting at the end of our driveway.
I opened up the box, and was pleasantly surprised. The contents of the box were very cold and everything was neatly packaged, labelled and organized.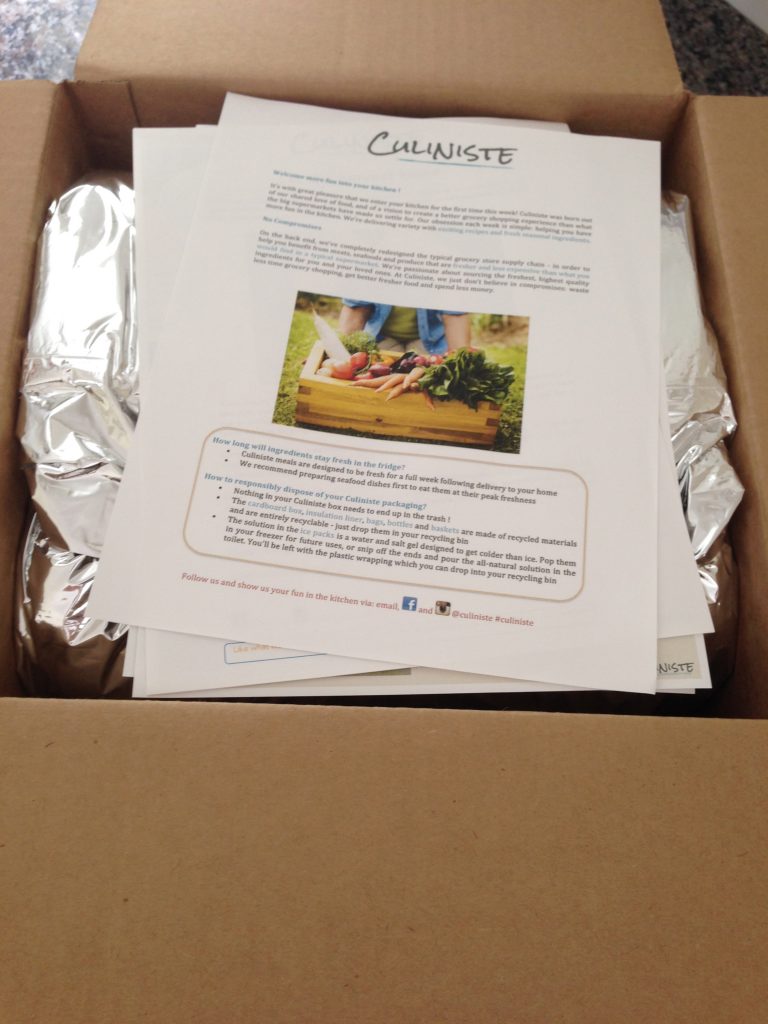 It included everything I needed to make 3 meals: Oven-Roasted Salmon, Korean Beef and Indian-Spiced Stew. Again, I was skeptical. I'm usually in full control of my meal planning and grocery shopping and it requires a lot of planning and work. How can a box that is just delivered to my doorstep cover my meals for the next 3 days?
Needless to say, I went for it, and it was exciting; like piecing together a really delicious puzzle. The recipes forced me out of my comfort zone as they included spices and flavors that I don't normally cook with. The recipes were healthy, the produce was seasonal & fresh, and the fish & beef were good quality (the beef was from a highly reviewed butcher out of Montreal called, La Maison du Roti).
The recipes only take 30 minutes to cook, and they all included elements that I could do ahead of time.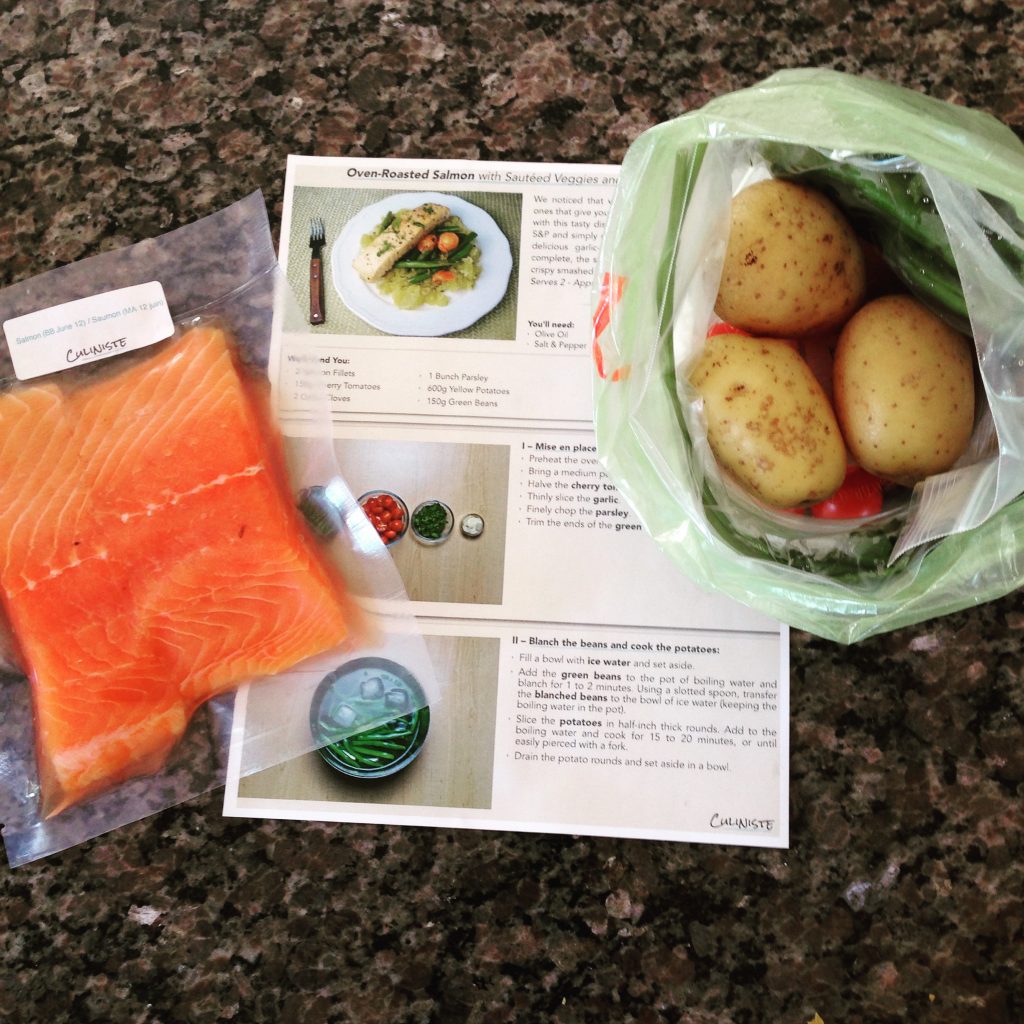 The salmon recipe totally made me feel like a gourmet chef. Normally I would shy away from a recipe that requires blanching, but it was really easy, and gave the beans the perfect crunchy texture. I made a couple minor tweaks; BBQ'd the salmon and added some chili flakes to the oil before sautéing the beans & tomatoes.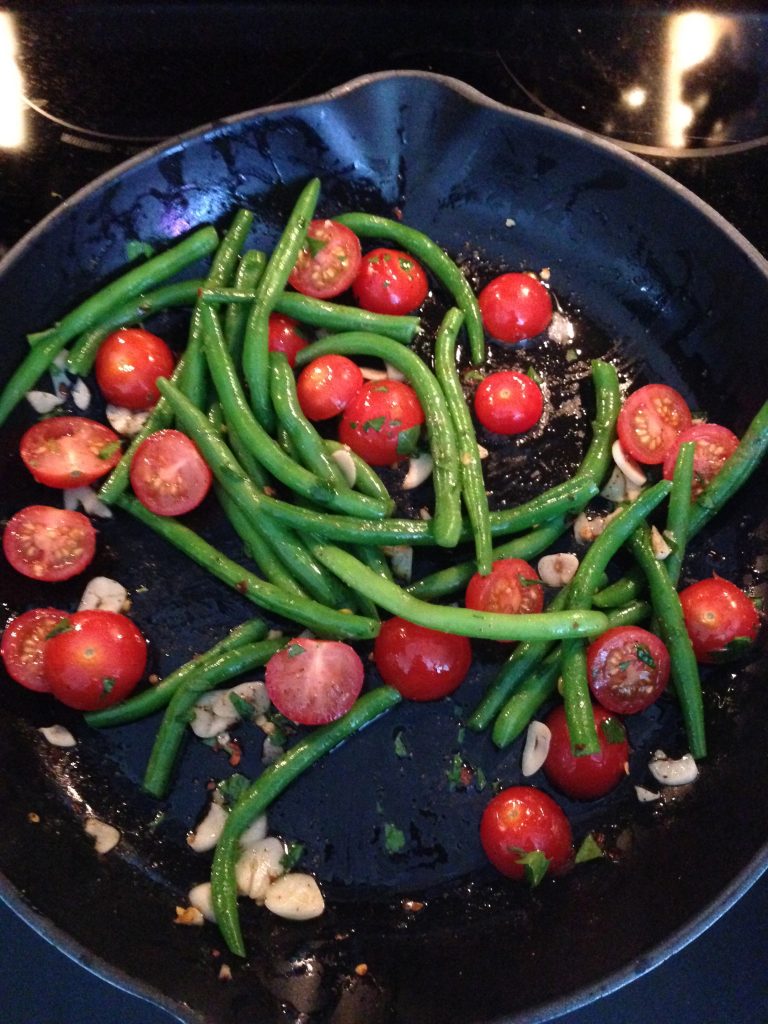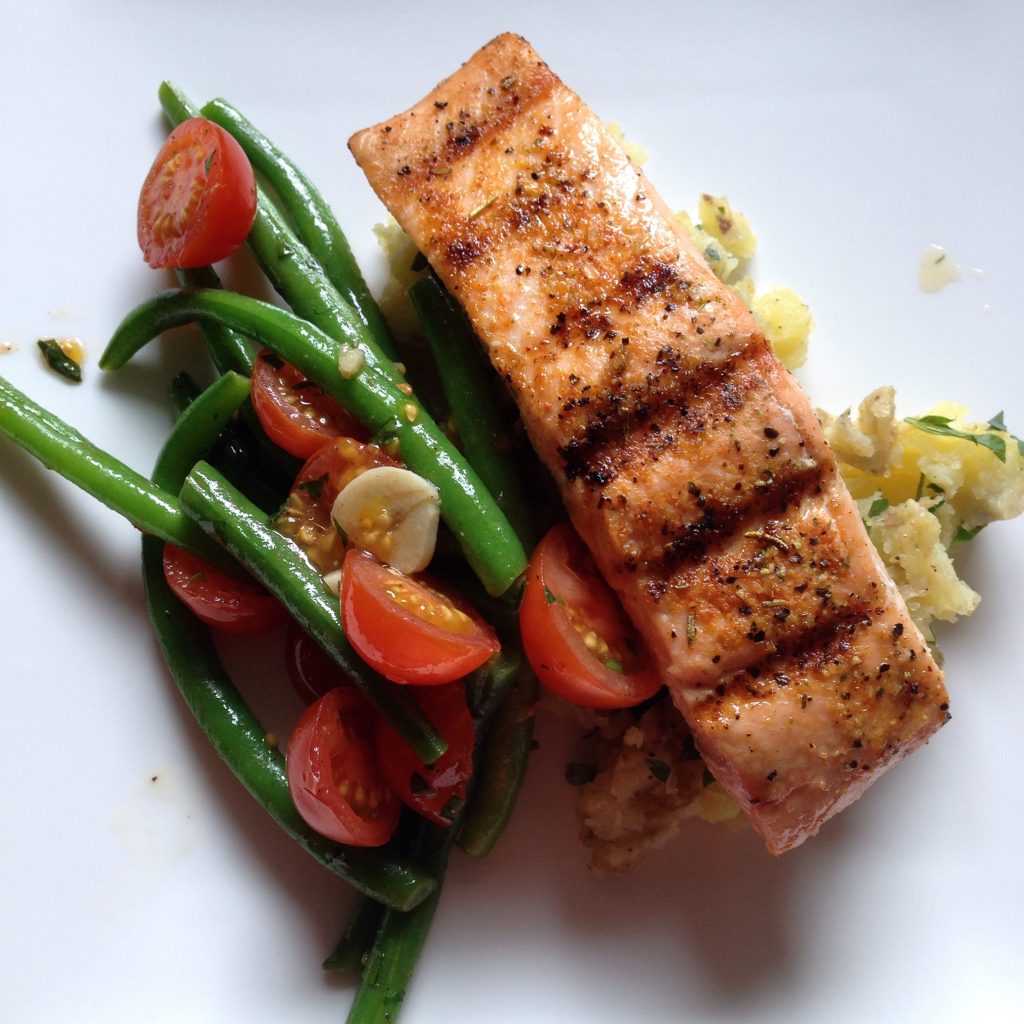 Being a nutritionist I was concerned about how healthy the meals would be, but again I was pleasantly surprised. Each meal contained proper portions of food (most people are guilty of eating larger than normal portions), and included the calorie information (between 600 – 700 calories per person). All of the meals included fresh, seasonal vegetables and they even substituted brown rice for white.
My only criticism from a health perspective are the potatoes – I ate more potatoes in one week than I normally eat in a few months. Yukon Gold potatoes were included in two of the meals, and are ok sometimes, but sweet potatoes or squash are a better choice. They have more health benefits such as: high in fibre, lower glycemic index, and a great source of vitamin C and beta-carotene.
The Indian Stew was a vegetarian dish, but I did serve it with some organic Roast Chicken as to provide lunch leftovers. This one was super easy; a one-pot wonder.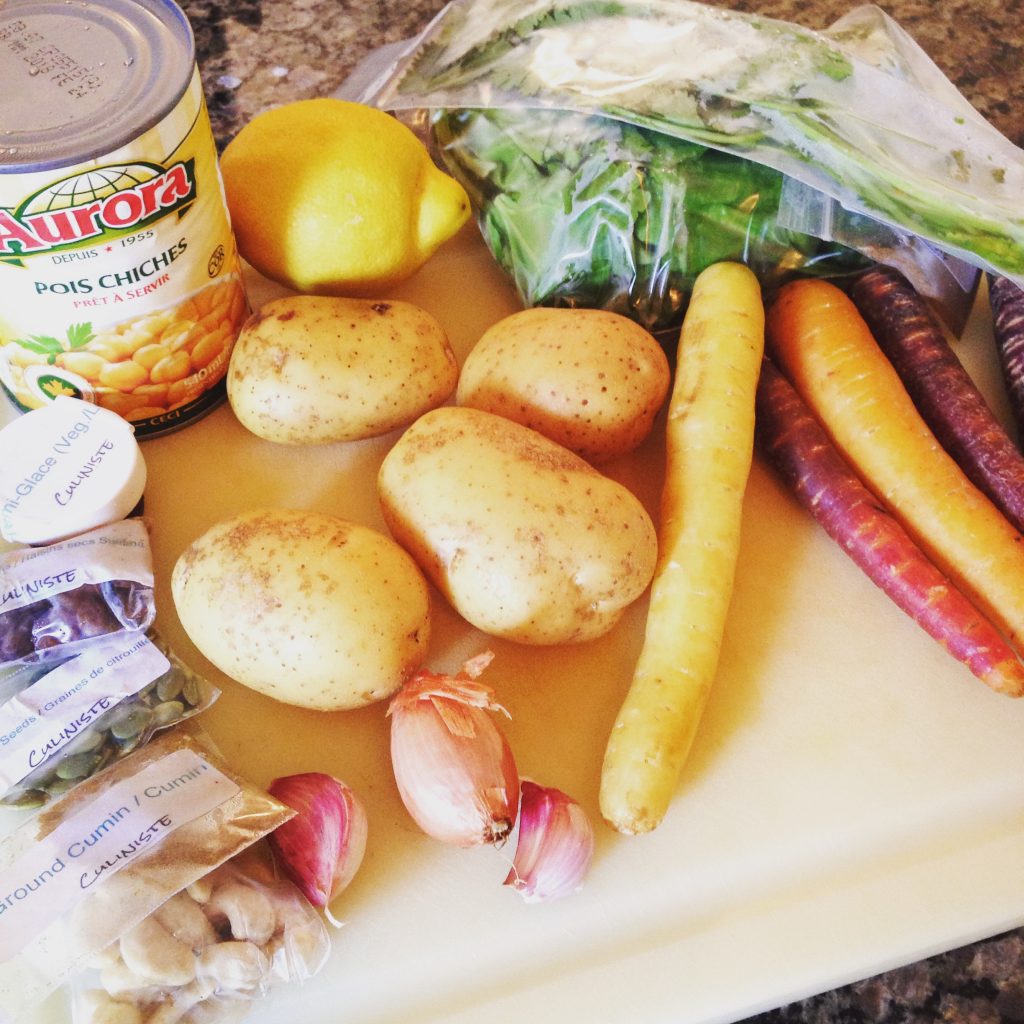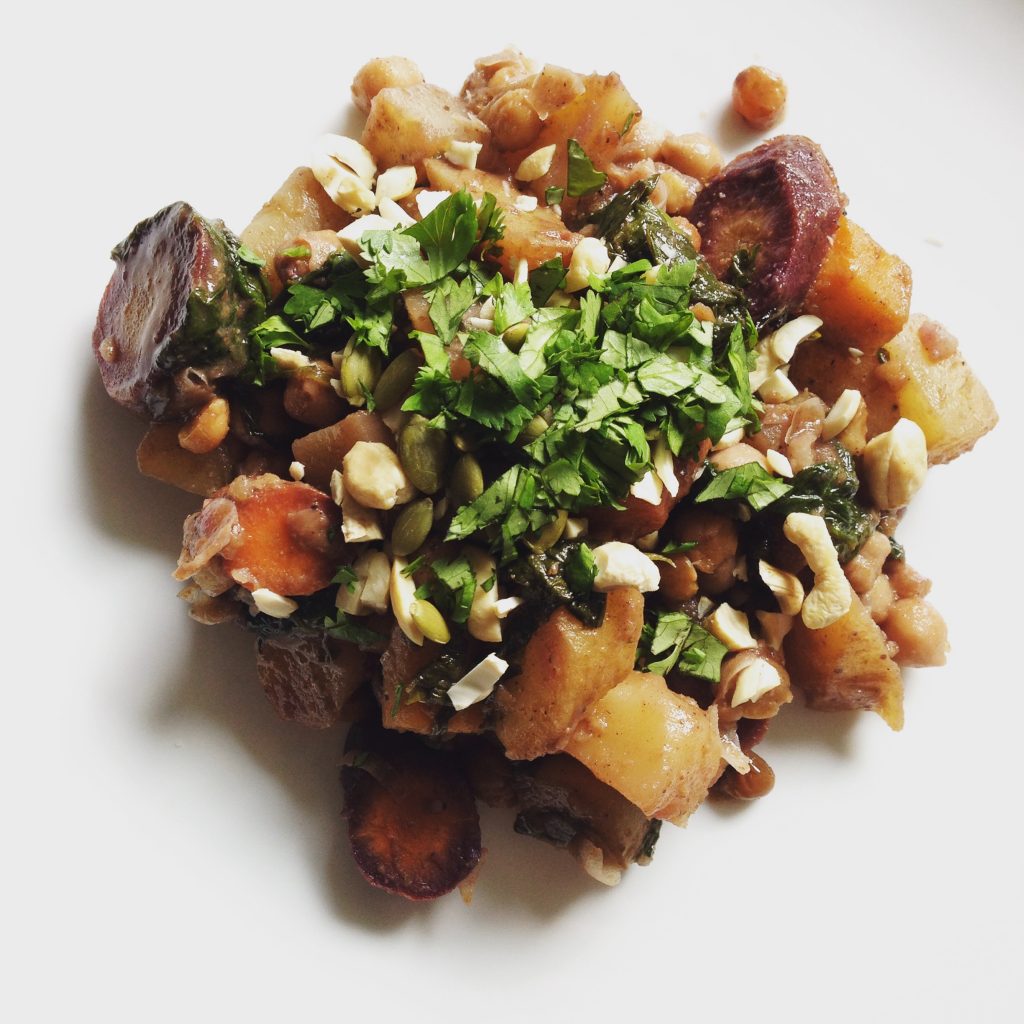 I consider myself an experienced home cook, and I enjoy cooking, but in 3 days I learned new cooking techniques, and used spices and flavor combinations that I've never used before. The stew for example included garam masala; an awesome Indian spice that I will definitely use in my curry recipes in the future. And the Korean Beef was seasoned with gochugaru; an essential spice in Korean cuisine – something I learned from the information & background they provide with each recipe. Their Indian Stew recipe was inspired from their travels in Indian back in 2010. Very cool!
The Korean Beef was an adventurous recipe for me and definitely took me out of my cooking comfort zone. My husband took a bite, and described it as a flavor explosion! I think it was the Spicy Slaw; napa cabbage marinated in rice vinegar, garlic, ginger and siracha. That brings me to another benefit of the food box. The Korean Beef recipe included a quarter of a napa cabbage; exactly the amount I needed for the recipe. This was great because I didn't have to worry about rushing to finish the rest of a giant bowling ball size cabbage over the next few days before it goes bad.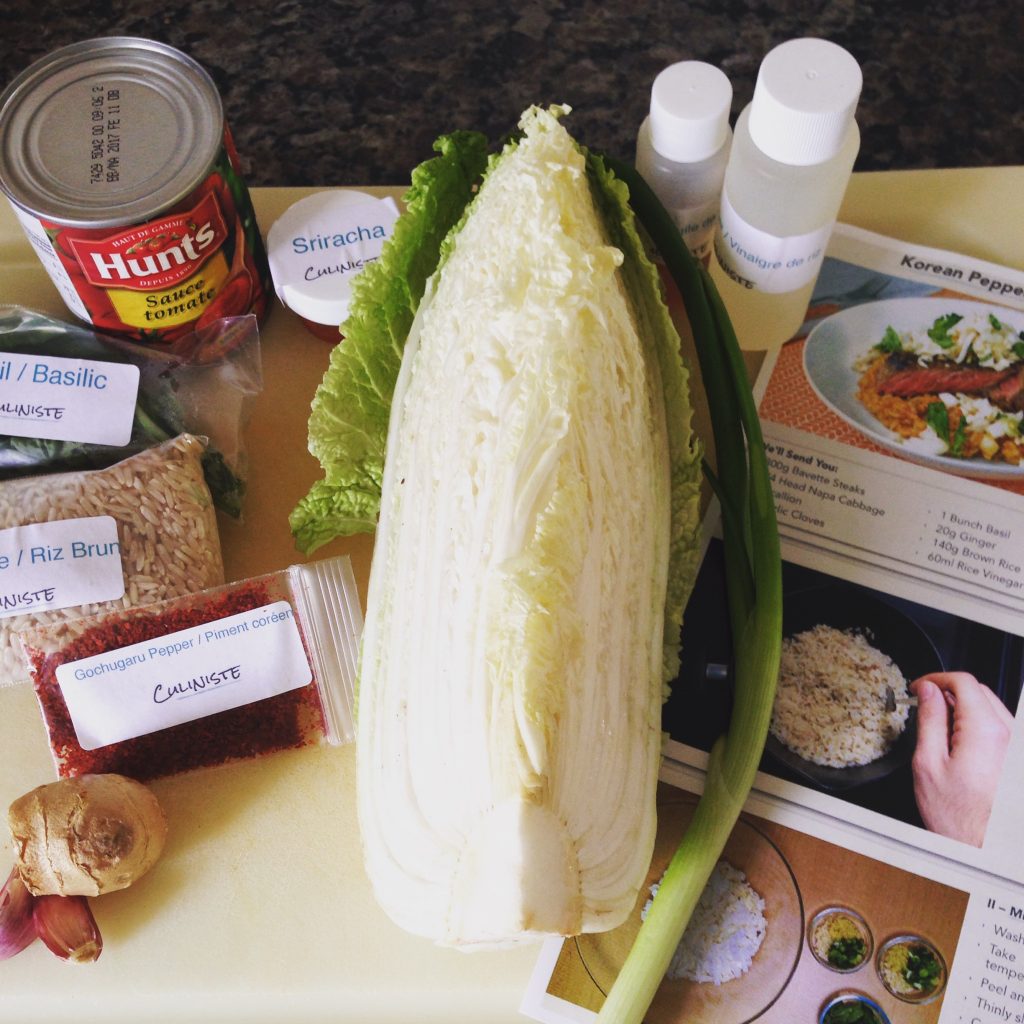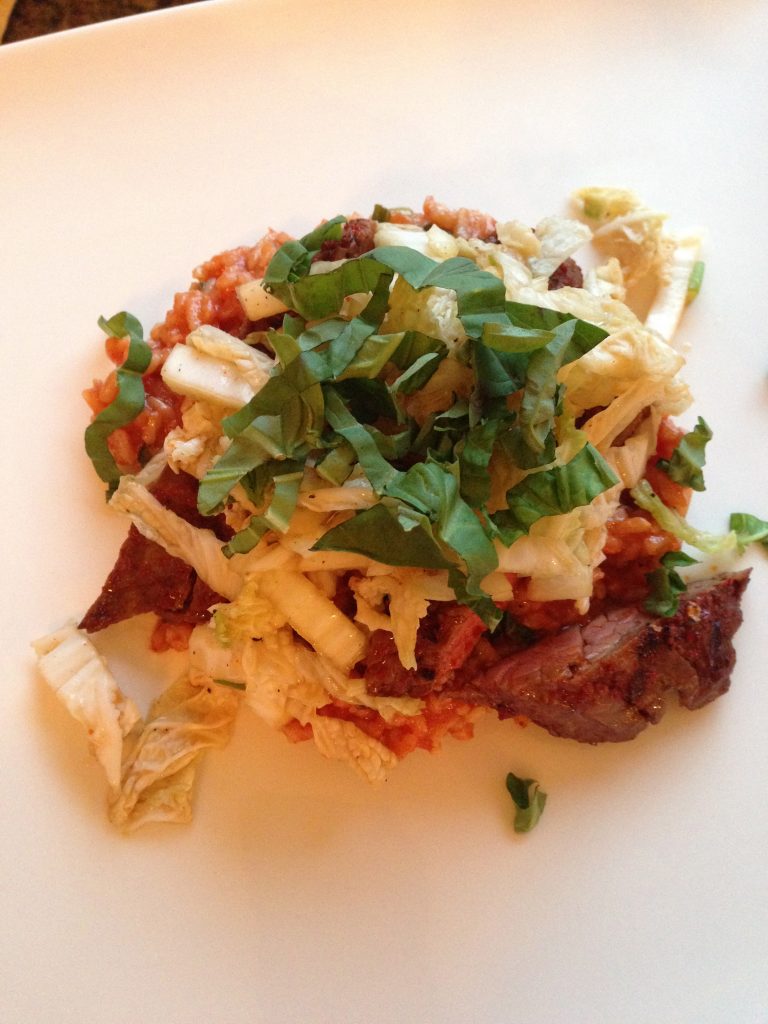 Overall, I was really impressed and happy with my first Culiniste experience, and am getting another box delivered this week. It's $59 for 3 meals for 2 people; cheaper than what you spend at the grocery store for similar ingredients. You can skip any week, cancel any time, and swap out recipes if you don't like the look of them. This was a benefit from a health perspective; for example, I chose the Chicken Tikka Masala with salad this week, a healthier choice instead of the Pork Rotini Pasta. If there are no healthy choices, you can skip an entire week. They also cater to dietary restrictions; including gluten-free and vegetarian recipes.
As a nutritionist, I recommend cooking recipes from scratch using fresh, seasonal ingredients, which can be a challenge for a lot of busy people. The Culiniste delivery service ensures that I'm still cooking meals from scratch, but it saved me the time it takes to meal plan and grocery shop, and the recipes are easy & only take 30 minutes.
Finally, it was fun. I love to cook and try new recipes, but when I'm busy I tend to get stuck in a bit of rut. Culiniste forces you out of the rut, and to try new cooking techniques, ingredients & spices. I felt like I was attending a cooking class, and out at a restaurant every night. Both my husband and I couldn't wait to taste our next creation!
If you're looking to shake up your dinner menu, and learn how to be a better home cook, skip your weekly grocery shop, and try Culiniste next week!
Follow Lauren online: