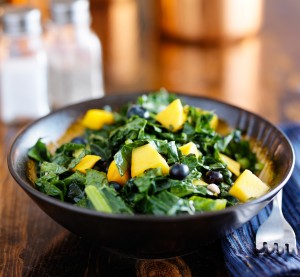 by Lauren Follett, BA, RHN, Registered Nutritionist
As you know, kale is a superfood. For a while it was considered a trend in the nutrition industry, but with all of it's amazing health benefits and versatility, this green isn't going anywhere.
Kale is part of the cancer-fighting brassica family of vegetables (along with broccoli, brussels sprouts, cauliflower, cabbage), and is an amazing source of vitamin K, vitamin A and vitamin C. It's a great vegetable to cook with because unlike most vegetables, it doesn't lose its health benefits when roasted, steamed or stir-fried. This opens up a world of possibilities! Here are 5 ways to prepare it:
Raw in Salads
Kale is quite brittle, and can be difficult to eat raw. However, if prepared properly it's amazing as a base for salads. The key is to rip it into bite-size pieces, add 1-2 tbsp. of heart-healthy extra virgin olive oil and massage it for a few minutes. Add a sprinkle of sea salt and your favorite salad dressing, toppings and voila! Click here for my favourite Super Simple Kale Salad recipe.
Stir into Soups
Hearty soups & stews are what I crave during the winter, but it's still important to get your raw greens. Kale makes a great addition to any soup or stew recipe. This Sweet Potato Kale & Corn Chowder is one of my favorite meals on a cold night, and it's full of the raw green. Tip: by adding it at the end of the cooking process you soften it vs. boiling it; retaining more of its nutritional value!
Toss on Pizza or Pasta

It makes a great addition to pizza or pasta. Bake it right along with the other toppings on pizza for a healthy crunch. Stir it into pasta right at the end for some added nutrients and colour. This Brown Butter Spaghetti with Baby Kale and Roasted Butternut Squash recipe is an all-time favourite in our house, and uses baby kale – one of the many different varieties.
Healthy, Crispy Snack

If you're craving something salty and crunchy don't reach for a bag of fatty potato chips. Instead, pull some of this great green stuff out of the fridge! Kale Chips make for a healthy, crunchy snack and remember, it still retains all its nutrients when cooked.