Vegetables and fruit hold a goldmine of nutrients to keep your feeling young
by Kelly Barry, RD
We've all heard the old saying, "You are what you eat." Believe it or not, there is a lot of truth in those words. While many chronic conditions like heart disease, cancer, and diabetes are influenced by a variety of factors we cannot change, such as family history and gender, an overwhelming amount of scientific evidence (and good common sense) tells us our lifestyle also plays a key role in the risk for developing or managing chronic diseases. This lifestyle includes our daily diet or food choices.
Vegetables and fruits are good for us for so many reasons. They are:
an excellent source of fibre, which has been shown to reduce the risk of developing certain cancers while helping to better manage diabetes and elevated cholesterol levels;
an important source of many vitamins and minerals that keep us healthy, such as vitamins A and C, folic acid and potassium;
"bulky," therefore helping to fill us up while adding very few calories and fat to our diet (especially important if you are trying to manage your weight!); and
full of special substances called phytochemicals, which have been shown to be important antioxidants that protect our health.
The recommended number of daily servings for vegetables and fruits for optimal health is at least five to 10. While this may seem like a lot, here is a list of what one serving is equivalent to:
one medium-sized vegetable or piece of fruit (apple, banana, carrot); • one cup (250 ml) salad (not that much if you actually measure it!);
half a cup (125 ml) of fruit juice;
half to three-quarters cup (125 to 200 ml) of berries;
half a cup (125 ml) of applesauce or canned fruit;
half a cup (125 ml) of vegetables (fresh, frozen, cooked or raw); and one cup (250 ml) vegetable or tomato juice.
Include more vegetables and fruit in your daily routine:
Slice a banana or add some fresh or frozen berries (thaw in the microwave for a few minutes) to your morning cereal.
Add lettuce and tomato to your sandwich.
Vegetable or tomato juice is a great afternoon snack and comes in individual servings you can carry with you when you're away from home.
Choose to eat fruit for dessert, or top your frozen yogourt or ice cream with a serving of fresh or frozen fruit.
Make a fresh fruit salsa and serve with grilled chicken or pork.
Add dried fruits, such as apricots or raisins, to hot or cold cereal.
Add vegetable soup (with at least half a cup or 125 ml of vegetables in your serving) to your lunch.
If you pack your lunch, fill half a container with vanilla yogourt and top with frozen mixed berries or frozen sliced strawberries. Keep in an insulated container with an ice pack. (The fruit will thaw by lunch time and you'll have a delicious treat!)
Top your whole-grain toast and peanut butter with banana slices.
Make a breakfast smoothie with fresh or frozen fruit, milk and yogourt.
Reduce the meat and add more vegetables, such as peppers, mushrooms, zucchini, grated car- rots and onions, to your spaghetti sauce.
Add a few slices of avocado and up to two tablespoons (30 ml) of toasted almonds to a salad. This is a great way to make your salad more appealing and you won't need as much dressing!
Roast red peppers, peel the skins and remove the seeds. Store in the fridge for a few days or in the freezer if keeping longer. Add to sandwiches and wraps or use as a side with grilled meats.
Vegetables and fruit make great snacks.
Be sure to include vegetables and fruit with every meal!
Kelly Barry is a registered dietitian who has worked for more than 10 years in both community and health care settings promoting the benefits of healthy foods and active living.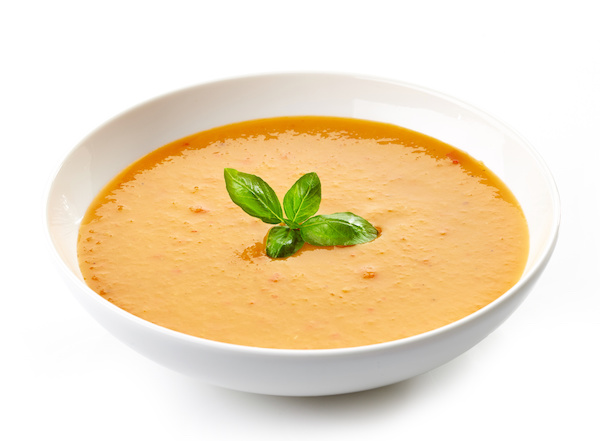 Curried Squash Soup
Serves six
1 medium onion, chopped
3 cloves of garlic, minced
3 carrots, peeled and chopped
4 cups (1 L) of butternut squash, peeled, seeded and chopped 2 tablespoons (25 ml) of non-hydrogenated margarine
1 teaspoon (5 ml) of curry powder
1 teaspoon (5 ml) of ground cumin
4 cups (1 L) of "light" chicken broth (lower sodium)
Place margarine in a large, heavy saucepan and sauté the onion, garlic, carrots and squash over medium heat for about five minutes. Stir in the curry and cumin and cook for one minute more. Add the chicken stock and bring to a boil. Simmer on low heat until vegetables are soft (about 25 minutes). Use a hand blender and purée the soup to a smooth consistency. (Alternatively, use a blender and purée in batches.) This soup is an excellent source of vitamin A and fibre, and it freezes beautifully.
Storage Tips
Except for leafy greens, don't wash fresh fruits and vegetables prior to storing. They will stay fresh longer this way. Do wash all fruits and vegetables when you are ready to eat or prepare them.
Leafy greens (unless they are packaged in air- tight packaging) should be washed when you bring them home from the store and dried well with a paper towel or a clean tea towel. Wrap the washed and dried greens in a dry towel and store in an airtight container. This will significantly lengthen the storage time.
If you buy fruit, such as pears or peaches, and they are not fully ripe, you can quicken the ripening process by placing in a paper bag. The ethylene gases that ripening fruit give off will be more concentrated in the bag and speed the ripening process. Adding a ripe banana to the bag will speed the process even more.
Never store tomatoes in the refrigerator. Cold temperatures cause a key flavour component to break down, resulting in a less flavourful tomato.
Healthy eating does not mean restricting foods you love and following a rigid diet, but rather enjoying all foods in moderation while placing an emphasis on whole grains, lower fat/leaner choices, and aiming for five to 10 servings of vegetables and fruit every day!
For more information about healthy eating, visit www.heartandstroke.ca; and www.dietitians.ca.