By Brigitte Hasbron
Chocoholics, start the car! A trip to Hummingbird Chocolate is a sweet treat that will bring you joy. Located at 476 Ottawa Street, Unit 2, in Almonte, this chocolate factory, retail shop and café is the place in eastern Ontario for exceptional chocolate. Better yet, factory tours and tastings are offered, during which you can learn about small-batch chocolate making—and enjoy the results.
After careers spent working with farmers in developing countries, Hummingbird's owners, Erica and Drew Gilmour, became intrigued by the chocolate-making process. As Erica explains, they "started to do a deep dive into the very limited craft chocolate that was available at the time—blown away by the different, unique flavours in a single-origin cacao."
From this "nib" of curiosity, their pursuit evolved into award-winning Hummingbird Chocolate. Since the venture was launched in 2012, Hummingbird has reached the highest echelon of the chocolate industry, winning over 100 international chocolate awards. In 2016 it was named "Best Chocolate in the World" by the UK-based Academy of Chocolate. The annual competition draws some of the best chocolate artisans on the planet
From Bean to Bar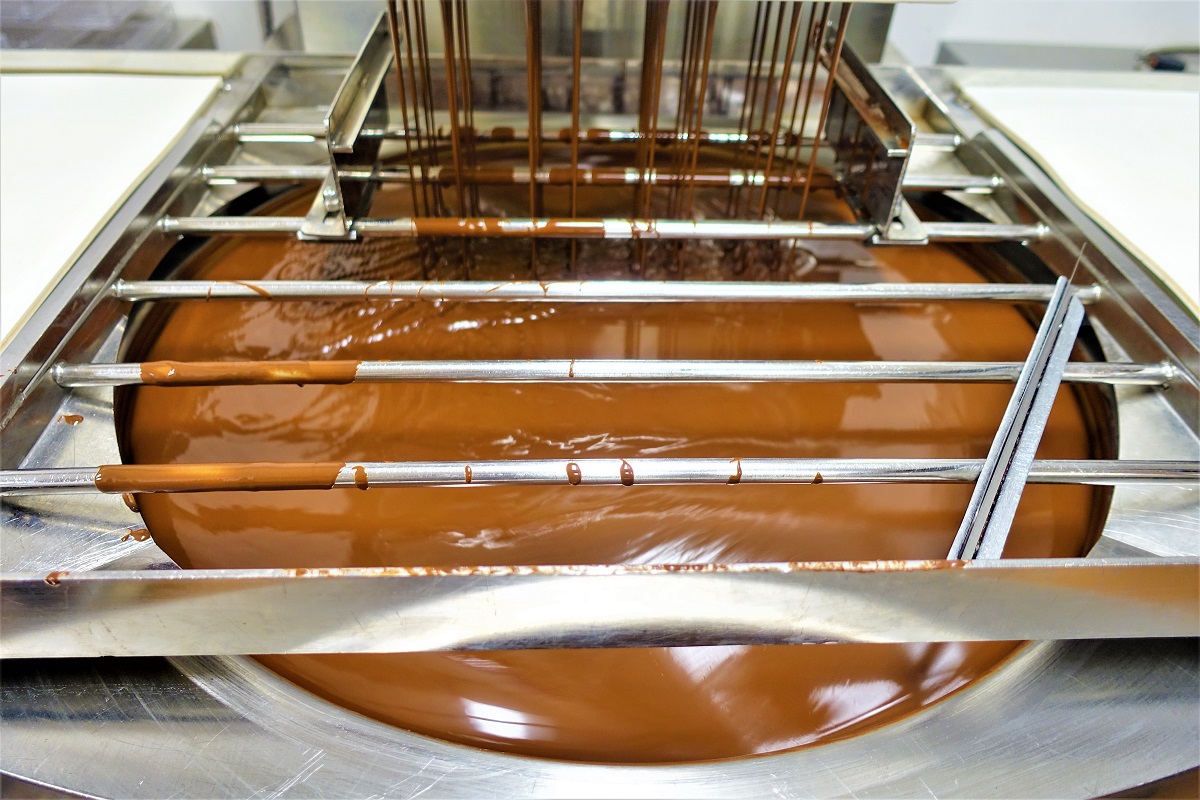 Touring the Hummingbird Chocolate factory allows you to experience the process involved in creation of the exquisite chocolate. The recipe to craft it, from cacao bean to bar, requires a ten-step, month-long process. I learned as I tasted my way through the procedure. Without a doubt, the most memorable and telling moment occurred when I sampled two different single-origin cacao beans being transformed during the conching process (coating of cacao bean particles with cocoa butter). One chocolate exuded notes of honey, while the other was redolent of berries, even though no flavouring was added. It was just the bean, in its purest form.
Each chocolate-making step is only possible thanks to the Gilmours' special connection with the farmers overseas. Since cacao has long been one of the most underpriced and undervalued commodities, Erica says they are "trying to be part of the solution, a small part that insists on paying farmers something closer to the actual value of their product." They are also committed, she adds, to "making the best tasting products possible so that people can understand the value of fine cacao [and] that chocolate is a valuable food, not an inexpensive candy."
Erica reveals that one of the most important things people don't know about the chocolate world is the difference between chocolate makers, like Hummingbird Chocolate, and chocolatiers. Hummingbird makes chocolate from scratch, starting with raw cacao beans. In contrast, chocolatiers create bonbons or bars from chocolate that's already been made, often by large chocolate manufacturers. "Both are very skilled," she notes, "but I think it's an important distinction for people to understand in order to improve chocolate education."
The shop offers everything from single-origin bars to confectionery goodies such as chocolate-covered coffee beans, almonds and caramels. Speaking of decadent caramels, I had the pleasure of joining the chocolate assembly line, enrobing caramels with chocolate and finishing them off with a sprinkle of fleur de sel. Of course I had to ensure they tasted as good as they looked, so there was no other choice but to devour a few. This was my personal I Love Lucy moment.
You don't need to join the assembly line, though, to experience the sweet pleasure and feel-good power of a visit to Hummingbird Chocolate.
Brigitte Hasbron is owner of The Food Tease (www.thefoodtease.com), a combined culinary and travel blog that highlights the best that food, wine, and travel have to offer.