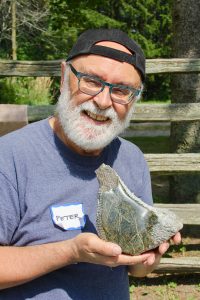 The Curious Trekker
By Peter Johansen
Carving sculpture the Zimbabwe way
Inspiring. Enchanted. Life affirming. Tranquil.
Those adjectives leapt to mind within minutes of arriving at ZimArt, Fran Fearnley's unusual art gallery in the rolling
Northumberland Hills south of Peterborough. I visited this place months before necessarily being asked to self-isolate. And, I'm so glad I did.
The gallery specializes in stone sculpture by Shona artists from Zimbabwe, and the three-acre garden that houses it all invites meditation, even in a philistine like me. The works,about 500 by more than 50 sculptors, are diverse: both large and small, abstract and realistic, fanciful and grave. Their rainbow of colours reflects the variety of stone found in southern Africa: Nyanga serpentine, opal, springstone, lepidolite, Leopard rock.Yet the sculptures share much, too. They're grounded in the cultural themes of the Shona, a Bantu people who constitute most of Zimbabwe's population, and they're produced outdoors with simple hand tools.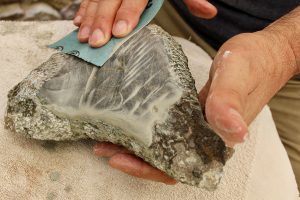 There's nothing simple about the finished pieces, though. The most elaborate, such as a table and four chairs, each carved as a wild animal, must have taken months to craft—and a fortune to ship to Canada. A sweet portrayal of a grandmother reading a book to her granddaughter, sitting cross-legged, depicts domestic life. A swirling abstract titled"Mermaid" reflects a rich mythical world.
Fearnley, a former magazine editor, first saw Shona sculpture in 1998 while volunteering in Africa. A couple of years later, she held a travelling exhibition on her property overlooking the Northumberland Hills. Now she travels each winter to Zimbabwe to meet with artists, buy their work and import it. And each summer, she invites a sculptor to lead workshops for novices and experienced amateurs alike. The artist can buy a house from this stint, she says,and burnish his international reputation too.
I joined a two-day introductory class led by last year's master,Wimbai Ngoma. As I strolled through the garden, another adjective came to mind:intimidating. I knew my "artistry" (quotation marks essential!) wouldn't measure up to that of my teacher, whose work sells in galleries from Vancouver to Aix-en-Provence. Fortunately, while fellow students included a clothing designer and the winner of a school art show, most of us were keen doofuses.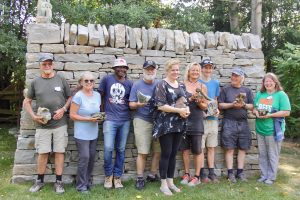 Fearnley said, "Zimbabweans believe there's a sculpture in that piece of stone and your role is to let that sculpture out. So free yourself of any preconceptions about what you thought you'd make. " That brought comfort. Then Ngoma said, "If a stone isn't telling me anything,I leave it until new ideas come up." He's left some stones for five years, he admitted. "Oh
no, " I thought." I have two days."
We were asked to choose a stone from a pile of rocks that, to me, looked alike. But I suddenly saw a bird's beak in one and could imagine an avian creature hidden inside—and decided to sculpt a chicken. Already, I'd mastered Fearnley's first rule: no preconceptions. After all, I'd planned to carve an abstract so nobody would know whether I achieved what I'd intended.
At a tree stump serving as a workstation, Ngoma demonstrated how to chip away unwanted rock with a hammer and chisels. "Using hand tools gives you time to think, and you need to think to make the right decisions," he explained.After sketching a chicken on my stone, I started chiselling. Serpentine is relatively soft, we learned. Even so,shaping the rock took the rest of that first day.
Ngoma warned us chiselling could cause the stone to break in ways we hadn't intended. "That is just the beginning of something new, "he said." It was meant to be."  I had a chance to test that theory.  A thin layer suddenly sheared off the chicken's head like shale, but I soon realized that would add interesting texture to the piece.
The work was long but rewarding, and Ngoma walked among the students offering advice and encouragement. Every time I thought I was finished with carving, he'd ask me to reconsider. Thanks to that,I refined the shape.
Impressed by the textures and colours of the professional sculptures, I learned they're the product of filing, sanding and
waxing, the principal activities of Day Two. Where I wanted the stone to be smooth and shiny, like Inuit soapstone, I used a series of increasingly fine-toothed files,then sanded for hours with five grades of sand paper dipped in water. Other
parts were left rough. Ngoma brooked no shortcuts."You need to make each stage as perfect as possible, "he said." You can't file out the imperfections of chiselling. You can't sand out the imperfections of filing."
The final step was waxing. We heated our sculptures around a bonfire, brushed on ordinary floor wax, let the wax set and cool,then buffed like crazy with both dry and wet rags.
Participants supported each other. We wandered to see how colleagues were doing. Folks liked my chicken, they said. I agreed, and proudly perch it on a shelf in my living room. I admire it often, even if the National Gallery has yet to call. It all leads to one final adjective to describe my ZimArt visit:satisfying.
WANT TO GO?
The gallery, at 855 Second Line Rd., Bailieboro,is open from 11 a.m.to 6 p.m. daily from June 1 through Thanksgiving, and other times by appointment. It has picnic tables,so bring lunch; kids are welcome. The two-day introductory workshop, led in 2020 by master sculptor Tapiwa Mapuranga, costs $275 plus tax. You're outdoors under a canopy,so dress appropriately. For details: zimart.ca
In less than 10 minutes, you can drive from the workshop to sample wine at Jonathan Drew's Rolling GrapeVineyard,  opened in 2018, and fresh butter tarts at Doo Doo's Bakery,judged Ontario's best in 2018.
For the workshop, we stayed at the comfy Best Western Otonabee Inn in Peterborough, 20 minutes from ZimArt. For other options and general information, visit the kawarthas.ca.
As we go to print on this issue, the economy had not completely opened. Readers are advised to check the websites and call ahead before visiting the Peterborough area.
Editor's Note: Congratulations to Peter for his honourable mention in the North American Travel Journalism Association's annual award in the category of 60+ travel. He received the mention for his piece on "Bobsledding like an Olympian." Keep on trekking,Peter!