In the Garden
By Ann McQuillan
Plenty of attractive options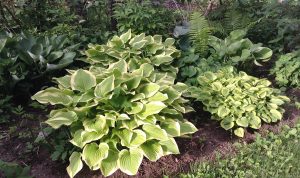 Are you looking for that elusive garden they call a "no maintenance garden?" Sorry, they do not exist; but I do think a garden in the shade comes fairly close. Trees and structures create shady spaces: a shade garden could be a large area under massive trees or a small townhouse garden facing north.
I will describe a garden that I created in the shade of two crabapple trees. But first, if you have a shady patch that you think would make a good garden area, here are some things to remember.
How much shade do you have? There are varying levels: partial shade means less than six full hours of sun; full shade is less than three hours of sun; deep shade is shading all day. A tree with an open canopy or high branches will let some sun filter through — this is called dappled shade. Before deciduous trees leaf out, early spring bloomers planted under them get plenty of light from the mid-day sun.
Do you have good soil? In general, if your soil is hard to dig in, it is probably clayey — it is a good idea to work in some coarse sand, aged manure or compost. If the soil is very sandy, add aged
manure and compost. If you squeeze a handful of soil and it holds its shape, it is probably decent soil.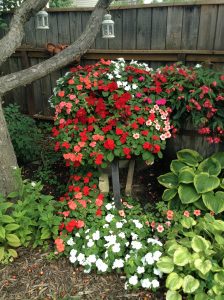 Is your shady area dry or moist? Generally, clayey soils tend to drain slowly, so they retain moisture, while more sandy soils are drier. How much rain reaches the soil through the trees? Tree roots also take up a lot of water. You may have to water your garden regularly.
When it comes to choosing plants, read the plant label carefully — check zone, light and moisture requirements, and of course, what size the plant will be at maturity.
The Ottawa area is zone 5 on the Canadian Plant Hardiness Map. We should be able to grow plants that are hardy to zone 2, 3, 4, 5. My rule of thumb is this: if I am going to spend a fair dollar on a perennial, shrub or tree, I don't go higher than zone 4. They have a much better chance of surviving, especially in severe
winters.
The plant label also will tell you the light requirements of a plant. Do not plant a perennial that needs full sun in deep shade! Plants in less sun than they prefer may grow but will not thrive — they tend to get leggy and have sparse bloom. And a plant that is struggling is more susceptible to diseases and pests.
The label will also tell you if the plant prefers moist or dry conditions. Take it from me, a seasoned gardener, but one who still experiments with the odd purchase that is just too nice to pass up. In all reality, if it does not suit this zone or the light and type of soil in the garden, there is little chance it will thrive.
My shade garden
The garden area is 7.6 m x 2.5 m (25ft by 8ft)along a fence. The two pink flowering crabapple trees have grown tall and have had the lower branches removed so one can walk under them. They are at their best for ten days in the spring and later in the season when the fruit ripens attracting the birds. This garden has colour displays through spring, summer and fall.
In spring there is a cluster of purple ornamental onion, bloodroot, daffodils, forget-me-nots, Virginia bluebells and trillium followed by white bleeding hearts, gas plant, lungwort, Solomon's seal, foam flower, Jacob's ladder and epimedium. (Nurseries sell plants by botanical name – see sidebar for names of the plants listed.)
Moving into early summer, the foxgloves are lovely along with the Japanese painted ferns, white astilbe, and hostas. I like hostas, so I have a variety of shapes and sizes most with variegated foliage to create interest. Some of my favourite varieties are Frances Williams, Golden Aspen, Golden Tiara, Spilt Milk, Zounds, Wide Brim, and Lemon Lime.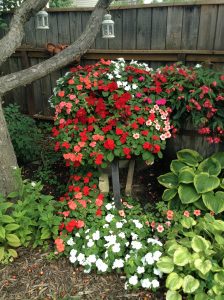 In the heat of the summer, the white gooseneck loosestrife starts to bloom, but I rely mostly on annuals to brighten up the area at this time of year. To give height, I use an old wooden wheelbarrow filled with white and pink impatiens. This creates great colour in the shadiest area. White stands out best, so I use it throughout the garden. I often create a hanging basket of annuals such as fuchsia, begonias, coleus, and ivy and hang it from one of the trees.
The shade garden can look a little tired in August, especially in a dry summer, but the annuals are reaching their full potential. There are two Pee Gee hydrangea shrubs with white, pink and bronze colours that are very striking at this time.
As fall approaches, the sedum is in bloom along with the orange ligularia. Japanese anemone is also coming into full bloom and the hydrangeas are at their best. The crabapple trees are full of small red apples which the grosbeaks will soon devour.
I made a small water feature in this garden helping to provide a cool, refreshing oasis for birds, chipmunks, squirrels, racoons, skunk, rabbits and cats. I water this garden regularly, especially in the heat of the summer. In October, I put the bird feeders up, and the variety of backyard visitors seem to increase to enjoy what is left in the shade garden. Then comes the snow and the garden rests until spring arrives and the process begins all over again.
Make that shade garden — and hopefully, it will give you as much pleasure as mine gives me! n
Ann McQuillan volunteers with the Master Gardeners of Ottawa- Carleton.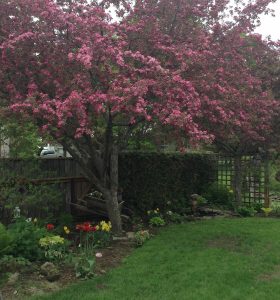 Perennials with botanical names: 
ornamental onion Allium aflatunense
Japanese anemone Anemone japonicum astilbe Astilbe spp.
Japanese painted fern Athyrium nipponicum 'Pictum'
white bleeding heart Dicentra spectabilis
gas plant Dictamnus albus
foxglove Digitalis purpurea
epimedium Epimedium spp.
hosta Hosta
fall sedum Hylotelephium spectabile
ligularia Ligularia dentata
gooseneck loosestrife Lysimachia clethroides
Virginia bluebells Mertensia virginica
forget-me-nots Myosotis sylvatica
daffodils Narcissus Jacobs ladder Polemonium reptans
Solomon's seal Polygonatum commutatum
lungwort Pulmonaria longifolia
bloodroot Sanguinaria canadensis
foam flower Tiarella wherryi
trillium Trillium grandiflorum