In the Garden
By Heather A. Clemenson
A cautionary tale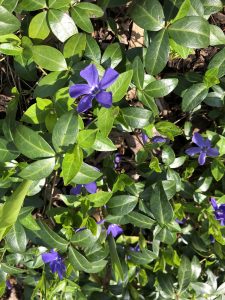 Plant sales are an excellent way of supporting local garden clubs and other community organizations. They provide good bargains and sometimes unusual plants can be bought at exceptionally low prices. In addition, locally sourced plants almost guarantee that your purchase will grow in your garden if the conditions are similar. I enjoy visiting plant sales and purchasing plant varieties that I might not have seen
before or previously tried in my garden. However, a note of caution, make sure that you know what you are buying.
Many years ago, when we were new to our garden in Ottawa, we visited a local garden club plant sale. Among the donated plants, a few small pots of seedlings were identified as "prairie orchids." They looked rather like a type of Impatiens plant. I was told they would grow to five to six feet high and with lovely pink flowers. I bought three and planted them in a section of a very narrow garden around part of our high deck. They flourished in the sun throughout the summer, growing more than six feet tall and making a lovely wall of plant material with pink purple flowers that covered one side of the deck railing. Later in the summer, when the flowers went to seed, they provided interesting entertainment. If touched, even delicately, a seed pod would explode, sending a small shower of pinhead-sized seeds into the air.
That fall, I visited my parents, who lived in a village overlooking the Teifi River in southwest Wales. To my astonishment, the riverbanks were lined with the same plants as I had growing around the deck at home. It was in Wales that I learned these plants were extremely invasive. Back home, I had been growing Himalayan balsam, a plant that is now illegal to grow in the U.K.
I was correct in assuming that the plant looked somewhat like Impatiens. Its botanical name is Impatiens glandulifera, and it is an annual
herb native to the western Himalayas. The seeds can survive very cold winters. The plant has several common names, including"touchme-not," and in the U.K., "policeman's helmet," which describes the shape of the pink flowers. It was first introduced into the U.K. in 1839 as a garden plant, and as a prodigious bearer of seeds that could be purchased at low cost, it became a popular plant known as the "poor man's orchid."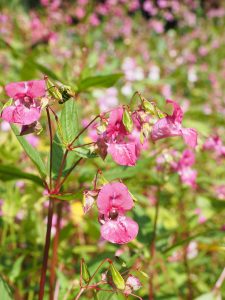 On our return to Canada, I removed the plants in question from the garden bed. The following spring, hundreds of small Himalayan balsam seedlings appeared throughout the small deck garden and in the adjacent lawn at the side of the house. Fortunately, the seedlings are easy to identify and remove. I no longer have Himalayan balsam in my garden.
Himalayan balsam is listed as an invasive plant in Ontario. It is particularly found along riverbanks, in ditches and in wetland areas. It has not had the publicity that other invasive plants have had, such as purple loosestrife (Lythrum salicaria), Japanese knotweed (Fallopia japonica) and"dog strangling vine," either black swallow-wort (Cynanchum louiseae) or pale swallow-wort (Cynanchum rossicum).
While these invasive plants are usually considered as weeds and are not generally sold commercially, many other plants that are sold at local plant sales and commercial garden centres are also deemed to be invasive. Two such plants, lily-of-the-valley (Convallaria majalis) and periwinkle (Vinca minor), both non-native to Eastern Ontario, can be found in my garden and have been there for many years. Both were bought at local plant sales early in the evolution of my garden.
Many people, including me, have always appreciated the scent of lily-of-the-valley, a small delicate white bell-shaped flower that blooms in the spring. But this plant is invasive. If it encroaches into local woodlands, it can outcompete native plants. If confined within the borders of your garden, it is not a major threat to native species. However, once established in your garden, it is extremely hard to remove and difficult to control. Lily-of-the-Valley  spreads rapidly by means of rhizomes and any part of the root left in the soil will grow to be a new plant. Not only is it invasive but also poisonous. Perhaps this plant has more negative than positive traits.
Another widely available plant is periwinkle, also known as creeping myrtle, an evergreen ground cover 8-15 cm tall, with small blue flowers in the spring. It is also classed as invasive and difficult to remove once established. It is more of a problem if left to grow rampant outside the borders of your garden, especially if you are in a wooded area. In shady woodland, it can negatively impact other native species. Periwinkle is easier to remove than lily-of-the-valley, though its vigorous growth can quickly overwhelm other plants if not aggressively controlled.
As with any foreign invasive plant, disposal of plant material is best done by bagging it for curbside pick-up. The plant material should not be put in your compost pile.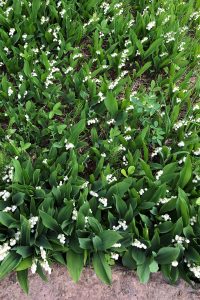 There are many other examples of invasive plants that have been introduced to Eastern Ontario. It is up to us as gardeners to decide whether to purchase a foreign and potentially invasive plant or to buy a native plant that is more appropriate for our area. For example, a ground cover that is as attractive as periwinkle is wild geranium or cranesbill (Geranium maculatum). It is native to southern Ontario and has attractive pink flowers. It is not invasive.
It is important to check that a plant you purchase is not going to be something that you will regret in years to come. My advice is to ask questions about any plant that you do not know but are thinking of buying for your garden or as a gift for someone else. Reputable garden centres will provide answers and most garden club plant sales have a reference book or two on hand to check on unidentified plants and to explain to buyers what they are purchasing. Local plant sales should make sure that, as far as possible, all donated plants are identified, accurately labelled and that any invasive plants are noted as such.
Heather Clemenson lives in Greely on a one-acre property that backs onto woodland. She and her husband enjoy their garden and watching the birds and wildlife that visit. Heather also volunteers with the Master Gardeners of Ottawa-Carleton.
Perennials with botanical names:
ornamental onion Allium aflatunense
Japanese anemone Anemone japonicum
astilbe Astilbe spp.
Japanese painted fern Athyrium nipponicum 'Pictum' white bleeding heart Dicentra spectabilis
gas plant Dictamnus albus
foxglove Digitalis purpurea
epimedium Epimedium spp.
hosta Hosta
fall sedum Hylotelephium spectabile
ligularia Ligularia dentata
gooseneck loosestrife Lysimachia clethroides
Virginia bluebells Mertensia virginica
forget-me-nots Myosotis sylvatica
daffodils Narcissus
Jacobs ladder Polemonium reptans
Solomon's seal Polygonatum commutatum
lungwort Pulmonaria longifolia
bloodroot Sanguinaria canadensis
foam flower Tiarella wherryi
trillium Trillium grandiflorum