A space to recharge in nature
By Claire McCaughey | May 2019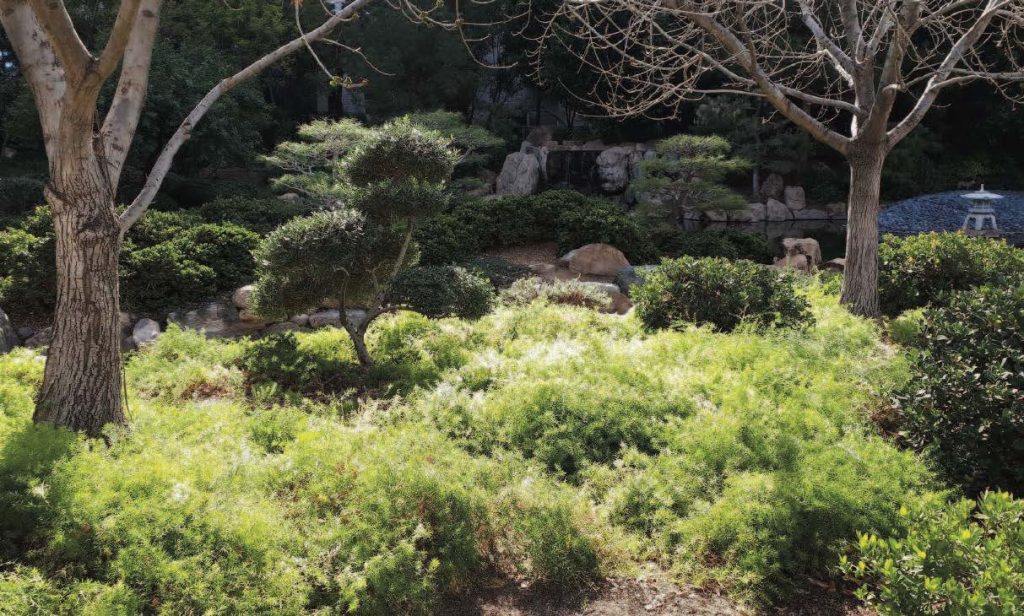 At the beginning of the gardening season in May, many homeowners take a fresh look at their gardens. Those with a new space consider what style of garden to create. Each year there are many dazzling new varieties of plants, garden trends and outdoor entertainment ideas competing for our interest, as we make garden design decisions. Spring brings with it the excitement of these new possibilities, but also a frenetic pressure to get garden chores done, so that we can just relax and enjoy the garden. These days life seems so busy with work, family and many other commitments, that we often feel we don't spend enough quiet time in the garden to just enjoy it and recharge our batteries.
Have you heard of the increasingly popular Japanese concept of "forest bathing?" This is about spending time in nature to improve health and well-being, both physical and mental. Going for a walk in the woods is quite wonderful, but it may not be possible to do this often, especially if you live in an urbanized area. But it is possible to create an everyday place for spending time in nature in our own backyards, and for those pressed for time, a Japanese-style garden may be simpler to maintain than other garden styles. When most people think of the Japanese garden, often the first details that come to mind are stone lanterns, a tea house and features such as ponds, bridges and bamboo fencing. While these accents are typically incorporated into large and public Japanese gardens (such as the beautiful one at the Jardin botanique de Montréal), these are not the defining characteristics of the Japanese style. Instead, it relies upon capturing the feeling of being in nature with just a few elements — especially stone and gravel, plants and water. In a small urban space, this style of garden can be created with only minimal use of the typical structural accents, by relying upon the principles of Japanese garden design which focus on the use of natural elements.
Japanese gardens include materials found in many outdoor spaces — rock, stone, gravel, water and plants — but they do not usually include flower beds. They rely instead on a limited number of elements — a few well-chosen trees or shrubs, one or more beautiful large stones, informal stone pathways, a water feature. How these elements are placed in relation to each other defines the natural look of the garden. In a small space, it might not be possible to have a pond, but water can be included by using a miniature water garden or suggested by a dry stream constructed from stones.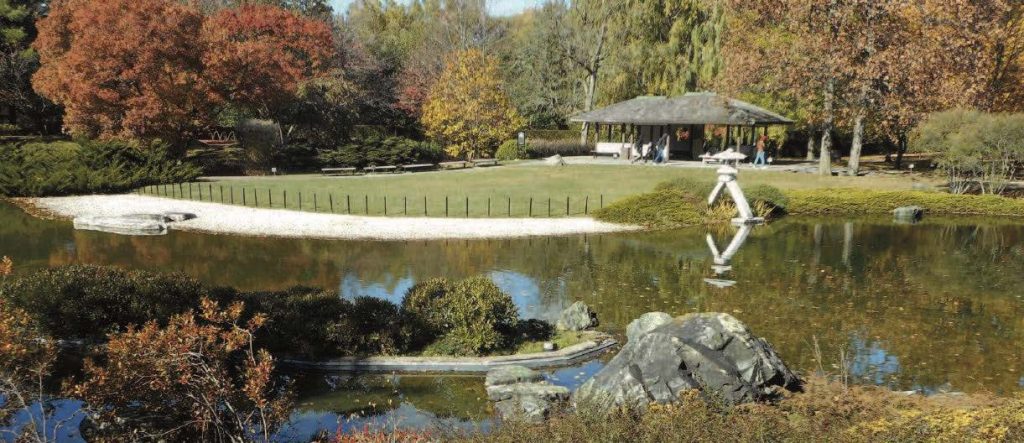 Another hallmark of Japanese gardens is that they do not include a lot of colour. Green is the dominant colour in these gardens, giving them a restful quality, as well as a feeling of permanence. Some typical plants include evergreen trees, true moss, ferns and grasses or plants with beautiful leaf shape. Other colours may be found in a few places or in one season, coming from flowering trees, perennials or fall colour. (See sidebar for a selection of plants).
In a Japanese garden, trees and shrubs are very carefully pruned, especially in the first few years after planting. The goal is to create an uncluttered open look and keep plants under control. Trees and shrubs are never out of scale with the house around which the garden is situated. The tidy well-pruned branches also add to the beauty of the garden in winter. Trees and shrubs are planted in clusters — just a few together always in odd numbers. This creates contrast and balance with open spaces elsewhere in the garden. 'Hide and reveal' is a commonly used concept — not all of the garden can be seen at once.
Finally, two other design principles used in other Japanese art forms, such as Ikebana, also give the Japanese-style garden its character. These aesthetic principles are asymmetry in the scale and shape of plants and stones, and the use of the scalene triangle (uneven-sided triangle) to guide the placement of plants, stones and other garden features. A Japanese-style garden may not appeal to everyone, but for some it provides a restful sanctuary from the busyness of everyday life and a space to connect with nature.
Claire McCaughey practices and teaches Ikebana (the art of Japanese floral design). She has a certificate in Sustainable Urban Horticulture from the University of Guelph and volunteers with the Master Gardeners of Ottawa-Carleton.