Lifescape
By Janet Armstrong,
Certified Interior Designer, CAPS
A reflection of your personal style and taste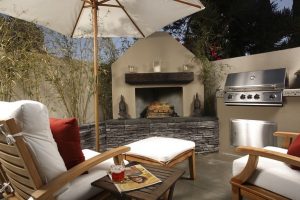 I bet you're as excited as I am to have longer days and much warmer temperatures! And with this beautiful weather, we are all excited to be outdoors as much as possible, soaking up the rays and heat. As you gravitate to the outside, does your outdoor space inspire you or need an update? Do you even have an outdoor space to relax in? Is there a corner of your yard that has untapped potential?
Many of us want to maximize our time outdoors in what seems to be the shortest season of the year, and thankfully gone are the days of folding lawn chairs and an upside-down bucket as a 'side' table. The range and selection of outdoor furnishings are limitless, and we now view our outdoor spaces as rooms—extensions of the indoor spaces in our homes and a reflection of our personal style and taste. The size of the space doesn't matter either; even the smallest balcony or condo backyard can be transformed into a welcoming place of calm and relaxation.
One or more rooms?
First, consider whether you have the room, requirement or desire for a single or multiple rooms for gathering, cooking, dining and/or lounging with family and friends. Multiple rooms can be separated using plants and shrubbery or structures such as lattice, railings, open shelves draped with trailing vines or a pergola. Or delineate the areas of a multi-function room by groupings of furniture and accessories, so it is clear what the function of each area is.
Who and how many will use the space?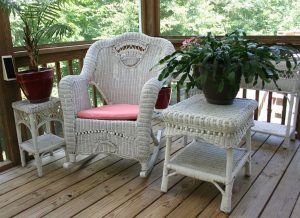 Once you have determined whether you will have one or more rooms, it is important to consider who will be using the space or spaces. If those enjoying the space include children, consider easy or low maintenance materials and finishes for less stress and easy maintenance. If more 'mature' people use the space, consider the height of seating for ease of sitting and rising. The number of people using the space will help you determine the amount of seating required in the various rooms of your outdoor play space.
Decorating the space
Now, this is where the fun begins! Whether you are re-doing your outdoor space or just want an update and refresh, there is a wide range of outdoor furnishings from which to choose. They come in a broad selection of materials, including wicker (natural and man-made), wood and plastic (that actually looks very natural) and multiple colours enabling you to customize the furnishings to fit the ambience and vibe you want in your spaces. As with indoor furnishings, available pieces include dining sets, sofas, loves seats, sectionals and occasional chairs, and coffee and end tables that can be mixed and matched for a truly personalized look.
Outdoor pillows, cushions, umbrellas and area rugs are available in durable, fade and mildew resistant materials providing an opportunity for your outdoor spaces to be stylish as well as long wearing so they will last from year to year or until you are ready for the next update!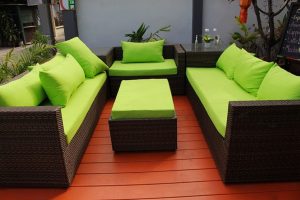 In terms of outdoor dining ware, forget the melamine of the past—it has gone upscale! The patterns, colours and even textures of dinnerware are impressive and include accessory pieces such as trays, platters and bowls. The broad selection allows you to pull together your own look by combining different colours and coordinating patterns for a truly fun, casual dining experience.
Likewise, drinkware has evolved beyond the plastic of the past and is available in shatterproof materials and a wide range of colours and textures. There are many styles of glasses, making it easy to have a glass for every type of beverage you might serve. Beverage accessories such as dispensers and beverage tubs will round out your gatherings and make self-serve stylish and practical, and more relaxing entertaining for you!
Simple decor accessories such as lanterns, candles, lights and even artwork add the finishing touches to your outdoor spaces and make them truly cozy, comfortable and festive spaces to relax and entertain in during the day as well as long after the sun has set. Plants add a soft, cooling effect to spaces and a mix of succulents, broadleaf and ferns provide visual texture and interest. Tall plants are a perfect filler for an empty corner and can provide a definition between zones.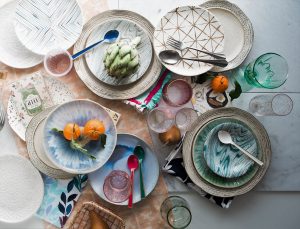 Creating your outdoor rooms can be a fun and inspiring way to make the most of the space available and reflect your summer style. Once you have created your outdoor oasis, make the most of every moment you get to relax and enjoy it, whether you are spending a quiet afternoon alone or entertaining family and friends.
Janet Armstrong (simplyswankdecor.ca) is a graduate of the Interior Design Institute of Canada, CAPS (Certified Aging in Place Specialist) and National Chair of the Decorators and Designers
Association of Canada (DDA Canada).