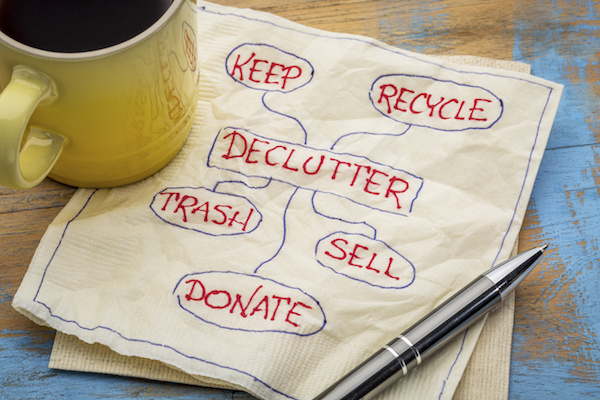 A cluttered home or workspace can be stressful and distracting.
Although getting rid of clutter can sometimes seem overwhelming, by taking small and manageable steps you can quickly and easily declutter and reclaim your space, helping you to feel more calm and productive.
Here are some great tips for decluttering your life from JustJunk.com:  
Be Prepared: Don't start your cleanup without the proper supplies. When you are motivated, you need to be fully equipped and ready to win your decluttering battle. Cleaning supplies, garbage bags, recycling containers, tote boxes and a label maker are a great decluttering toolkit.
Set Goals: Make sure that your goals are small enough so that you can meet them without getting discouraged. Something like "Garage cleaned out by the end of the week" is manageable and will be a big relief when it is completed.
One Step at a Time: Just because there may be clutter in every room of your house doesn't mean you need to tackle it all at once. Choose to tackle one room, or even one section of a room once a week.
Make Quick Decisions:  When you are rummaging through all of your clutter, ask yourself "Have I used this in the last two years?" If you haven't, you likely will never use it again.  Remember, the goal is to simplify your life. Get rid of the items you no longer use and free up space.
Donate Items: Not only will you be getting rid of the clutter out of your own home, you'll also be helping others. Label the items you need to donate and call a local charity or junk removal service.  Donating items that are still in good condition will help you remember why decluttering is so important, both for yourself and for others.
JustJunk.com removes junk and unwanted materials/items from residential and commercial properties including furniture, appliances, garden refuse and construction and demolition debris. The pricing rates include all labour, loading of the materials from anywhere on the property, clean up and all disposal or recycling fees. Customers are provided with an up-front, written estimate before any work begins.
Facebook: facebook.com/justjunk
Twitter: twitter.com/justjunk
Instagram: instagram.com/justjunk
YouTube: youtube.com/user/justjunk