Lifescape
By Janet Armstrong,
Certified Interior Designer, CAPS
Achieve a balanced and relaxed space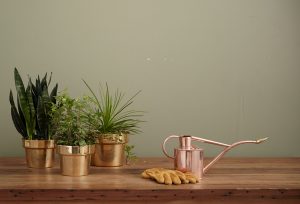 As we approach the autumn and start to contemplate spending more time indoors, you may be considering a room refresh and update as part of this transition into shorter, cooler days. While your updates may include a cable-knit throw or two, candles in lanterns, darker curtains made of richer fabrics and an area rug with rich texture and colour, there are some key elements that I believe should be incorporated into every room. While each adds to the overall look and feel of a space by providing texture, form, shape, life and elegance, they result in a room that is beautiful, balanced and just begging for you to sit, relax and spend some time.
So, what are those key elements you need in your spaces?
Botanicals
Every space should have something 'living' in them. Plants are a versatile decor element that can boost the style of and add life to your spaces. The variety of plants available today ensures there is a great selection of leaf shapes, colours, sizes and textures. The other aspect of plants that makes them a decor dream is that they are perfect in a number of locations throughout your room. Taller plants can fill in a corner or balance a chair and side table grouping while small to medium plants can form part of a vignette or accent a side table or coffee table. Remember not to use too many — the judicious and selective use of plants will keep your spaces appearing open, calm and harmonious.
Wood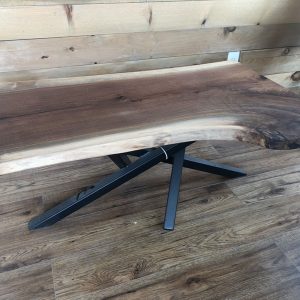 Incorporating wood into the design and decor of a room adds instant warmth and visual texture. Whether it is wood floors, one or more pieces of wood furniture or wood decor accessories, the material brings a sense of symmetry and earthiness to a space. I love the versatility of wood too — it is equally at home in any style and enhances and grounds a room. The usual' rule of thumb' is lighter-coloured wood finishes in smaller spaces to bring a sense of airiness and space while larger spaces are enhanced by darker finishes for a rich, elegant look. When planning your room, be sparse with the number of wooden elements you add, to ensure it doesn't appear cluttered or visually 'busy'. This asymmetrical coffee table by Stone City Woodworks is a perfect piece — handcrafted, loads of texture and organic shape and form.
Sparkle
Every room needs sparkle to keep it lively. This can be through the inclusion of glass light fixtures, glass table lamps or glass decor
accessories, mirrors which are perfect as they reflect and bounce light around your space or, metallic finishes to draw the eye with their sparkle and shine. Just a couple of stand-out pieces are all that are required to add vitality and movement to your rooms.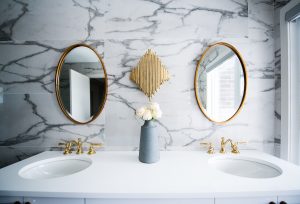 Black
Regardless of the colour palette in your rooms, each one needs a touch of black to ground it and add elegance and sophistication. I consider black a neutral colour as it works well with every colour on the colour wheel. Your room does not need much — just a touch to add drama and weight. Incorporate black through the addition of a black side chair, an occasional table, black window frames, an accent wall, picture frames or a couple of black throw pillows.
Fabric
Every room in your home has hard, square surfaces — floors, walls, ceiling and depending on the space, cabinets, tables, wardrobes,
entertainment units. To offset and counter these surfaces and shapes, every space needs fabric for softness and shape. Most rooms will typically have draperies that add shape and softness but ensure they are floor length regardless of the window size to make ceilings appear higher and the room more spacious.  In addition to curtains, be sure to include other fabric items such as towels and bath mat in the bathroom, throw pillows in varying sizes, shapes and textures and a cozy throw in the bedroom and living room, an area rug and table runner, placemats and napkins in the dining room.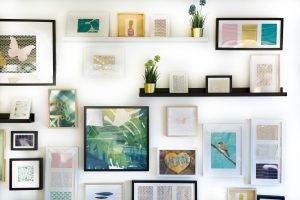 When considering your space and a possible refresh, remember to
include each of these elements. These easy updates and additions will result in spaces that are elegant, comfortable and layered with texture,
varying materials and finishes and just a touch of glamour to keep things balanced and playful.
Janet Armstrong (simplyswankdecor.ca) is a graduate of the Interior Design Institute of Canada, CAPS (Certified Aging in Place Specialist) and a Director and Membership Chair with the National Board of the Decorators and Designers Association of Canada (DDA Canada).