Lifescape
By Janet Armstrong,
Accredited Interior Designer, CAPS Certified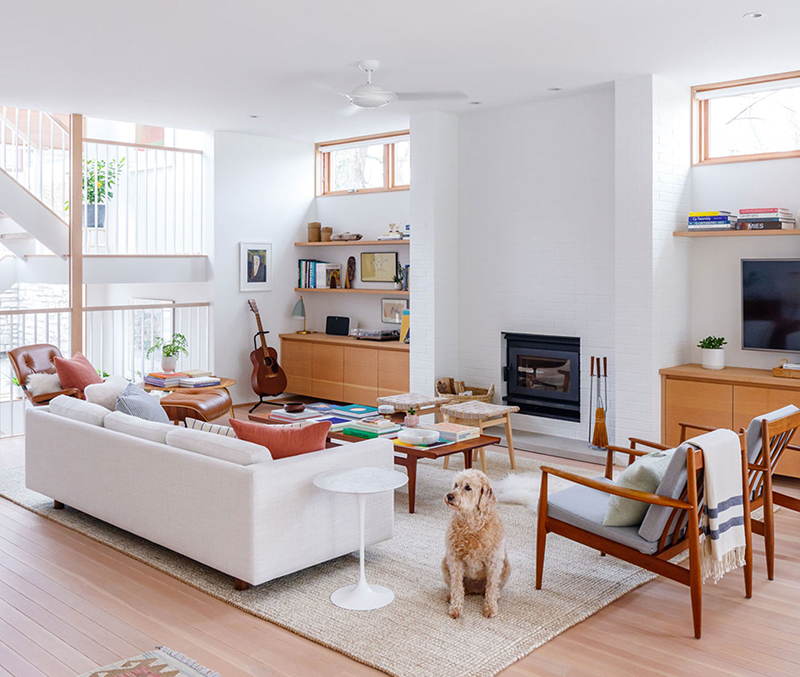 The prospect of retirement or semi-retirement, perhaps even changing health, may lead to decisions regarding our homes. These life events often have us downsizing to smaller spaces that are easier to manage or 'lock and leave' when the urge to travel strikes. While smaller spaces simplify our living situations, they may present a challenge in terms of how to decorate them to make them comfortable and livable as well as stylish. Living/family rooms see a lot of use and while layout is key in a smaller space, they also need to be well appointed to maximize style and make them appear bright, spacious and open.
Multi-Purpose Furnishings
A few well-chosen pieces will ensure your room is functional yet comfortable. I love ottomans for their multi-functionality; used for extra seating, footrests, coffee tables and storage, these pieces are the work horses of living/family rooms. Small occasional tables are perfect too as they are functional and decorative but can be easily moved around as needed.
Colour Palette
Selecting furnishings in the same colour palette as the walls allows the furniture to blend into the space, making it appear more spacious. Minimize the use of patterns and use the same fabric for draperies, throw pillows and even an ottoman to bring cohesion to the space, and enhance the sense of spaciousness.
When choosing the colour palette for your home, don't be afraid! Because your space is smaller, don't assume it has to be painted in neutral or light colours; bold and dark colours have a dramatic impact in smaller spaces. However, before committing to any colour palette take your time. Watch how the light moves through the rooms during the day and evening on both sunny and cloudy days. This will allow you to determine where there is an abundance of natural light and where there are shadows or diffused light.
If you decide on a dark colour for walls, bring balance to the space by painting the trim a crisp white and including a lighter area rug and accessories. If you choose a lighter or more neutral colour, dark colours can be featured in your accessories and draperies. These contrasts will ground the space and make it feel less formal.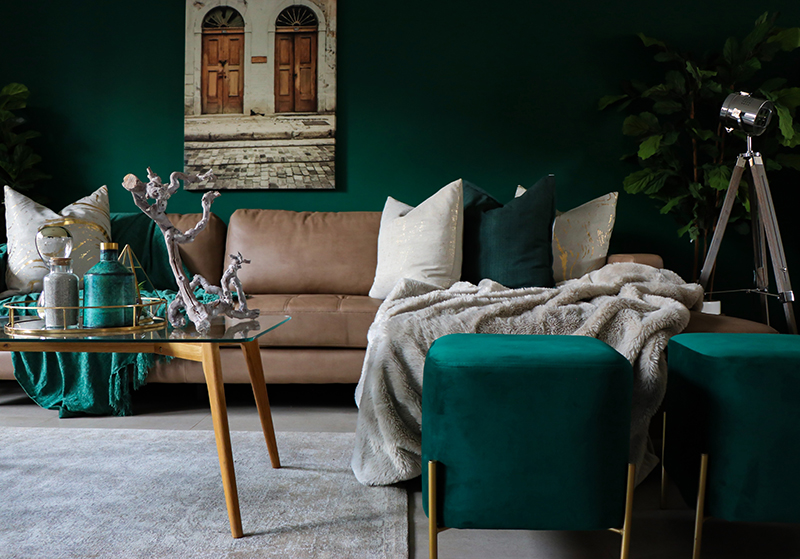 Scale
While some believe a small space requires small furniture, this is not necessarily the case. To ensure balance in your room, consider mixing larger and smaller items. One large statement piece can be the focal point and, when combined with smaller pieces, actually make a room feel more spacious. Just remember to not crowd the space; carefully select what you include to keep the look spacious, open and inviting.
Let the Light Flow
Using 'leggy' tables and seating with visual space beneath allows the light to flow and your space to appear open and bright. Occasional tables with glass tops and shelves below reflect light making the room appear open. Mirrors are the perfect accessory in any space for reflecting light and creating a sense of spaciousness. Ensure the mirror makes a statement; it should be large enough to look intentional and maximize the amount of reflective light.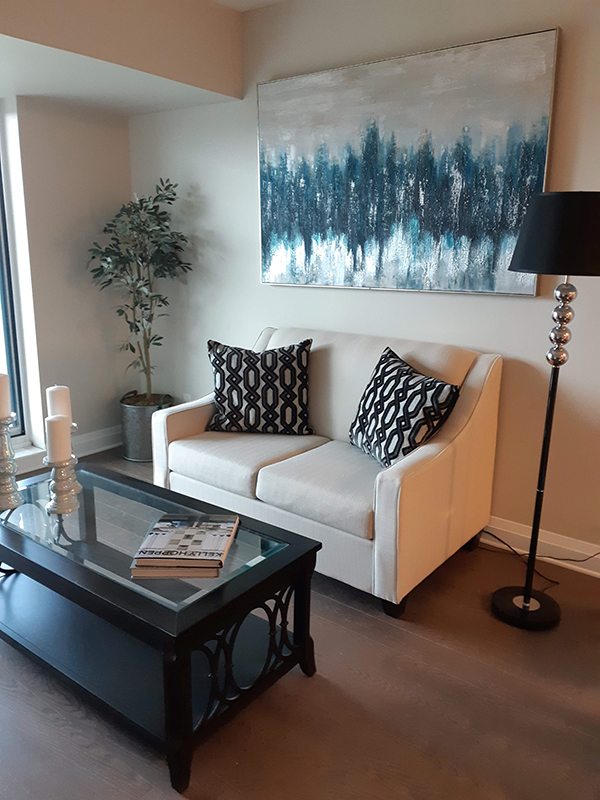 Furniture Placement
In a small room, furniture right against the wall emphasizes the limited space and does nothing to make it appear larger. Placing furniture an inch or so from the wall actually creates negative space giving the illusion of more room.
Less is More
Nowhere is the "less is more" approach truer than in design and décor, especially in a smaller setting. You want to keep rooms spacious and relaxed, not busy and distracting. This is not the space to display your entire collection of tchotchkes, no matter how interesting. A small vignette with a number of your favourites makes a pleasing display and a completely bare table can be perfect in its simplicity.
If you are designing a vignette, remember an odd number of objects is more interesting and balanced. For visual appeal include large, medium and small items in one colour, complementary colours and/ or with different textures. This is where you can have fun and express your personal flair.
The "less is more" approach extends to wall space. Intentionally leaving 'negative' space on the walls makes a big impact and produces a more relaxed feel. One large artwork surrounded by blank wall space is striking and draws attention.
No matter why you're figuring out layout and décor for more manageable space, these guidelines will assist with decisions about furniture, colour and decor for rooms that appear spacious and stylish.
Janet Armstrong (www.simplyswankdecor.ca) is a graduate of the Interior Design Institute of Canada. She's also a certified aging in place specialist (CAPS), national chair of the Decorators and Designers Association of Canada (DDA Canada) and a board member of LivABLE Design.