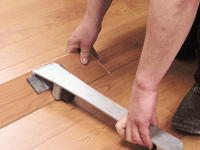 There's a lot to consider when buying a new floor. What style and colour will suit you best? What type of floor do you need—hardwood, laminate, or cork? What about plank size? And let's not forget about price. With so many questions to answer when making a selection, many consumers don't take into consideration the importance of the longevity and durability of the floor. Are all floors created equal or do some companies offer extras to help ensure your new floor stays looking beautiful?
With everyday life, it should be expected that your floor will take a little wear and tear, especially if you have pets or active families. Spills, scratches, and life can and probably will happen to floors. Sanding and refinishing or worse, replacing an entire floor, is not only difficult, but also expensive. What will happen if you have an unsightly dent or scratch in your new floor?
A new way to replace damaged floor planks
One company has an answer to life's mishaps. Torlys Smart Floors offer the Bulldog tool for all its hardwood, laminate, cork and leather floors. Because all Torlys floors utilize a special joint technology, Bulldog allows you to replace a damaged plank even in the middle of the room without removing the whole floor. This tool pulls the damaged plank away from the rest of the floor and allows for inserting the new plank simply and easily. There's no glue, no nails and best of all, there's no mess.
Torlys offers the Bulldog to all its dealers and it's a smart consideration when looking for the perfect floor for your home. Not only does easy plank replacement give homeowners peace of mind about purchasing a new floor, it's environmentally responsible. For more information visit torlys.com.
Consider this before purchasing flooring
1, Buy an extra carton or keep some extra planks when finished installing your floor so if you ever need to replace a plank, you have one that matches your existing floor.
2, Check to see how easy it is to repair your floor. Does the manufacturer offer special repair tools?
3, Ask your dealer for minor fix-up kits when you purchase your floor. That way you are prepared for small wear and scratch fixes.