Stretch your warm-weather wardrobe into fall
By Lindsay Ruck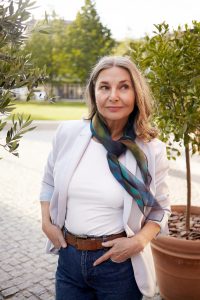 The time of year when summer is winding down, and the slightly cooler breezes of fall are gearing up can be an awkward transition in the fashion department. What
does one wear when it's cooler in the morning but heats up by early afternoon? It seems too soon to remove all signs of summer from your closet, but certain lightweight garments just aren't cutting it for that evening walk. To ensure you're ready for the hot and cold of this transitional time, I'm sharing a few simple, fashionable tips and tricks.
Re-purpose your beach bag
I'm not talking about a plastic bag you stuff with sunscreen and a sun hat before taking your grandkids to build a sandcastle at your local beach. Beach bags have now become a fashion accessory in their own right, and many can easily double as a large tote bag— perfect for storing that extra sweater or just-in-case scarf. From canvas and cotton to crochet, loose straw, or structured wicker, your multi-purpose bag will be the perfect size to store any unnecessary layers and accessories.
Don't ditch the summer dresses just yet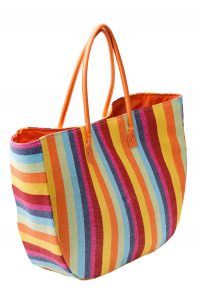 Those flowy summer dresses and skirts have a very small window for public display, and it's heartbreaking to send them to the back of the closet every year when the temperature drops. Stretch your summer frock longevity with one simple addition—tights. Tights (or stockings) are a great way to stay warm while still sporting your favourite summer fashions. Throw on a lightweight jacket or cardigan, and you've got yourself several new fall outfits that can carry you through the next couple of months.
Consider the perfect transitional pant
The simple clam-digger style is the perfect pant for transitioning from summer to fall. If you don't already own capris, consider adding a pair (or two) to your clothing inventory. Besides most capris being extremely comfortable, capris pants come in a variety of fabrics and can be dressed up or dressed down depending on the day's itinerary. A simple flat or walking sneaker is perfect for a casual outing or relaxing evening. Throw on a blazer, heels and a statement necklace, and you're ready for a lovely dinner with friends and family.
Scarves
No matter where your day takes you, a lightweight scarf is another one of those perfect transitional items you should always have on hand. Stay away from heavier fabrics, such as wool and heavy cotton, to avoid over-heating around the neck. Stick to those fabrics which provide breathability, such as silk and linen. An infinity scarf (also known as a circle scarf) is just as it sounds—a complete circle with no beginning and no end. Unlike the multiple attempts to wrap a regular scarf around the neck in
a visually pleasing manner, infinity scarves take the guesswork out and are an easy accessory to take on and off throughout the day. When no longer needed, just toss it in the beach tote!
Loving layers
Layers are an absolute must during this time of year and provide options throughout the day. To avoid looking like you're drowning in multiple garments, keep it simple when selecting each piece. Start from the closest garment to your body and work your way out. A sleeveless blouse or cotton Tshirt is a great foundation piece. Next up, consider a light sweater or cardigan. A light jacket or blazer that can easily be held or tossed into a tote will provide added warmth for breezy mornings or cooler evenings. If wind or rain is looming, consider a sweater or jacket with a hood. No more than three layers should suffice.
Transitional footwear
An increasing number of individuals are pushing back the seasonal sandal expiry date and wearing them long into autumn. If the weather calls for it, then there's nothing wrong with sporting a structured sandal post-summer. If you have a strict rule that toes must only be seen during the summer months, then transition to a flat before diving into the world of boots. A flat paired with capris pants is a great combination and allows breathability if the temperature warms up throughout the day.
Transitional pieces keep your summer wardrobe going strong just a few months longer. Check out your options and have fun pairing unsuspecting pieces together for a whole new
look!
Timely tips
Transitional pieces are key when adjusting from season to season. In summary, here are the top items for a smooth transition.
A blazer or cardigan
Pair a blazer or cardigan with a summer dress or summer blouse for an extra layer of warmth.
Large tote
A tote can hold those layers you begin to remove as the day heats up.
Capris pant
Not quite full-length pants and far from shorts, a capris pant is the perfect in-between.
Light scarf
With so many designs, colours and fabrics to choose from, a scarf if the perfect accessory for any month of the year.
Flat footwear
While a low-cut boot will also pair nicely with transitional outfits, a flat is a great option if you want something light that covers your toes.