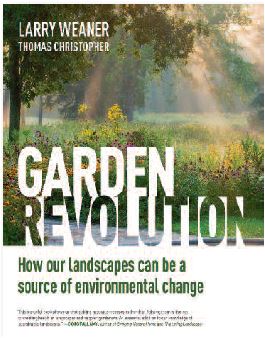 By Larry Weaner and Thomas Christopher
Timber Press
This lushly-photographed reference is an important moment in
horticulture that will be embraced by anyone looking for a better, smarter
way to garden. Larry Weaner is an icon in the world of ecological landscape
design, and now his revolutionary approach is available to all gardeners.
Garden Revolution shows how an ecological approach to planting can lead
to beautiful gardens that buck much of conventional gardening's counterproductive,
time-consuming practices. Instead of picking the wrong plant
and then constantly tilling, weeding, irrigating, and fertilizing, the authors
advocate for choosing plants that are adapted to the soil and climate of a
specific site and letting them naturally evolve over time. Allowing the plants
to find their own niches, to spread their seed around until they find the
microclimate and spot that suits them best, creates a landscape that is
vibrant, dynamic, and gorgeous year after year.