Creating the perfect atmosphere for your next family event can be an exciting yet challenging task. Decorating your patio is one of the best ways to create a memorable and enjoyable experience for everyone involved. It's important to take into consideration the time of year, the weather forecast, and your budget. Here are some tips on how to decorate your patio for the next family event.
1. Table Centerpiece
Centerpieces are a great way to add a decorative touch to your patio. You can find a variety of different centerpieces, such as floral arrangements, candles, and even small sculptures. Place the centerpiece in the middle of the table or create multiple smaller ones to scatter around the patio. Additionally, the outdoor table centerpiece should match the overall theme of your family event. If you have a beach-themed party, for example, you might opt for seashells or starfish. It's important to keep the centerpiece small and lightweight in order to prevent any accidents. While decorating with centerpieces, remember to keep the centerpiece elevated so that it doesn't get in the way of food and drinks.
2. String Lights 
One of the most popular ways to decorate your patio for family events is with string lights. String lights come in a variety of shapes, sizes, and colors and can be used to light up any area on your patio. Hang them from trees or posts or hang them from overhead structures like umbrellas or pergolas. You can also use string lights to line pathways or outline plants as an extra touch of decoration. Not only are they visually appealing but they help create a cozy atmosphere that's perfect for enjoying time with family and friends. It's important to make sure the string lights are secure and safe before turning them on.
3. Flowers and Plants
One of the most important and beautiful elements in outdoor decorating is flowers and plants. Use them to accessorize your patio – you can arrange them in pots, vases, and planters. Plant a variety of flowering plants that will attract hummingbirds, butterflies, and other pollinators. If you don't have a green thumb, consider using artificial flowers or greenery for a more durable solution. Additionally, adding hanging baskets provides height and adds visual interest to your space. It's also a great way to add color, texture, and charm to your patio. This is a great way to enhance the overall look of your patio while also providing beneficial food and shelter to birds and other wildlife.
4. Outdoor Furniture
Outdoor furniture is essential to create a comfortable atmosphere for your patio. Choose pieces that are appropriate for the size of your space, as well as weather-resistant materials. For larger patios, opt for chairs and tables with an umbrella or gazebo to provide shade from the sun and protection from the rain. For more intimate gatherings, consider benches, loveseats, cushioned seating, or swing sets. Additionally, add decorative pillows, blankets, or throws to bring warmth and color to the area. Also, be sure to use furniture covers to protect your pieces from the elements when not in use. 
5. Lighting 
The right lighting can make or break your patio.  A combination of overhead light and candles makes a great atmosphere for any event, while also providing enough illumination to keep everyone safe. If you have the space, you could even hang string lights around the area. This will create a warm and inviting environment that will be perfect for all kinds of gatherings. Don't forget to choose energy-efficient bulbs so that you don't waste electricity! If you are hosting an evening event, you could also opt for tiki torches or fire baskets for a unique touch. 
6. Accent Pieces
Adding decorative accent pieces such as potted plants and wind chimes will create a warm and inviting atmosphere on your patio. They also provide softness and texture to the space, helping to break up any harsh lines or colors. You can even use these items to add personal touches that are special to you and your family – like seating with your favorite colors, artwork that reflects your style, or sculptures of animals or sports figures that reflect some of your hobbies. With the right accents in place, you'll be sure to make your patio come alive!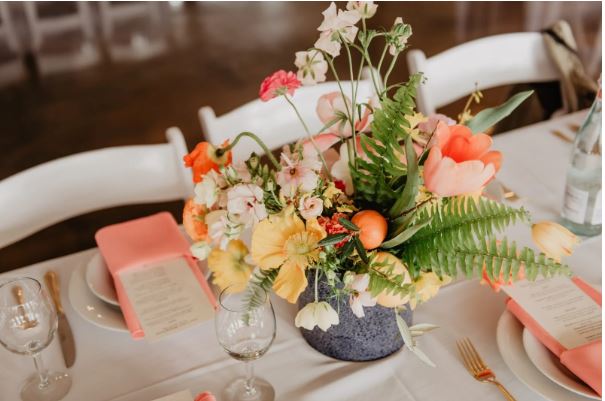 Decorating your patio for the next family event doesn't have to be difficult. With a few simple tips, you can make sure that the atmosphere is inviting and comfortable. Choose from flowers and plants, outdoor furniture, string lights, lighting, and accent pieces to create a space that will be perfect for any gathering. With these ideas in mind, you'll be sure to make your patio the perfect spot for your family get-together!