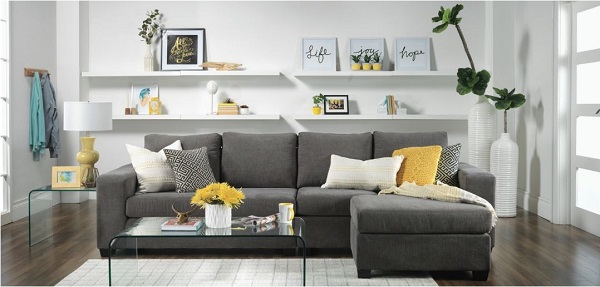 Editorial and Photos by Furniture.ca
Dreaming of decorating your home? Whether it's your first place ever or the latest in your long history of homes, style inspirations come a dime a dozen these days. You can pour over magazines, books, blogs, apps like Instagram and Pinterest, and of course you can start right here. Check out the Furniture.ca FCA Collection to pick the perfect items to start styling away.
Here are some popular design styles that might inspire you when it comes to choosing the right living room furniture and accessories for your home!
 Boho-Chic
Boho-chic is a really fun look for any age. Start by aiming for an understated backdrop with neutral walls, or do the opposite and pick a couple complementary colours like some aqua-toned blues and greens with white trim. If you have lots of natural light in the room to make it seem more airy and open, all the better.
In terms of accessories, don't be afraid to have a free hand when it comes to showcasing your favourite books and travel curiosities. Play with different textiles, especially if they add fun pops of colour. Boho-chic is great for those of you who aren't afraid of colour and energy, with a love for collecting little accessories and items. Try mixing earthy materials like burlap and wicker.
That said, you need balance in all things, and a boho-chic living room needs to have a chill side to work with all the little eye-catching knickknacks. Larger nature-inspired furniture like a reclaimed wood storage solution or a tree-trunk coffee table can do just the trick. If that sounds a little too boho and not quite chic enough for you, try smaller pieces like the Summer Swirl Stool from Furniture.ca.
Clean white furniture also makes for great balancing pieces. A simple white sofa like the Maltby Sofa in cream would be a great addition to any boho-chic living room. Its simplicity will act a blank canvas for all the fun accessories you have in the room, like colourful patterned shams and woven throws.
 Glam
Modern living for many of us often means having a hint of glamour in our lives. If being fabulous speaks to you, why not add some glam to your living room? We're not talking Mardi Gras beads and streamers here. When it comes to achieving a livable glam look, it's all about starting with a functional, cozy space with a calm colour palette. A light, neutral color scheme is important to create the perfect foil for the glitz that will come from your furniture and accessories.
Metallic accented furniture and accessories can bring shine to your home without being gaudy or overpowering. A little bit of gold can go a long way, on anything from serving carts to dressers. For instance, check out the Allanton Serving Cart in rose gold and black or the Crestaire Ladera Dresser in Capiz.
Art pieces – small statues, prints, photos and paintings – are also great ways to add a little bit of fabulous to your living room. You can offset the cool undertone brought by a gallery-like setting by using family photographs for warmth. Bring in some plants to add a bit of nature, so the gold doesn't seem so cold. For accessories like pillows and throws, try contrasting textures. Silks, linens, velvets and furs can be mixed and matched to create an illusion of depth to the fabrics, adding a hint of luxury and warmth to your home in an understated way.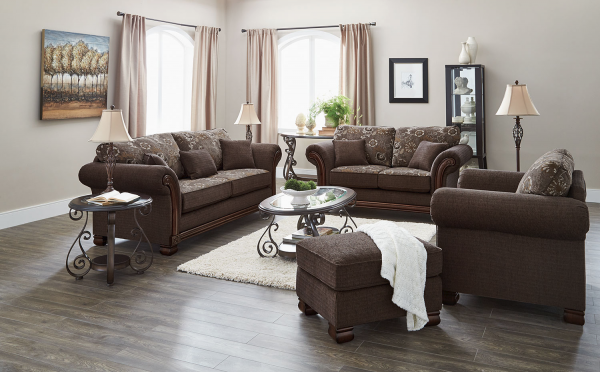 Colourful
Having a colourful home doesn't necessarily mean living in a circus or a funhouse, though if you have kids it may certainly sometimes feel that way! You can definitely achieve a colourful home in a tasteful way.
One way to achieve a colourful home is by painting the walls in a colour that you like, but using a couple different shades. The walls don't even all have to be the same colour – you could, for instance paint the top half in one shade and the bottom half in another. Make sure you choose colour tones that work with the atmosphere you want to convey. For instance, if you want a blue room, the shades you choose can convey either a rich, solemn mood or an airy, spacious one.
 Your furniture and accessories will also have to be chosen in relation to the mood of the room. With darker tones, mix and match materials like velvet, concrete and leather. For brighter rooms, you can play with airy fabrics, wood furniture and plants. Of course, you can always mix and match. Wood, plants and concrete go well together in many a modern home.
If you happen to have neutral walls, you can still bring colour into your room via accessories and furniture. Check out the Lancaster Sofa in green. If that's too much colour at once for you to handle, invest in some fun cushions, rugs and throws in different shades and patterns that interest you.
 Scandi
Scandinavian style is about achieving the balance between minimalism and cosiness. While it may seem stark and industrial at first glance, you can quickly detect elements of heat that acts to offset all those shades of black and white.
As most of you probably already know, the Scandinavian look starts with a clean white backdrop. Your furniture and accessories should be white, black or grey as well. Wood accents are also recommended, as they are a great way to bring a hint of nature to work with the industrial coolness of this look. You can do this by incorporating pieces like a rustic wooden coffee table or even furniture that is simply accented with wood. The Melbourne Titus dining table would be a great centerpiece in a Scandinavian-style home, with its steel frame and bamboo top.
Interesting textures like furs and woven materials can quickly add coziness to your Scandinavian-inspired living room. Plants, whether they are greens or simple flower arrangements, can also breathe some life into your home. They also infuse some very small, tasteful splashes of colour to your living room. It's important to have lots of natural lighting as well, as this adds an openness to the setting and promotes a sense of calm and peace.
Conclusion
These are only some of the many design inspirations that are out there for you to check out before embarking on styling – or restyling – your home. Online furniture stores are a great place to get some inspiration, as you can see pictures as well as the price for items that interest you. Have fun and don't be afraid to mix and match, whether it's colours, fabrics or even entire styles, as many design trends can overlap at times!