Lifescape
By Janet Armstrong,
Certified Interior Designer, CAPS
PHOTO: SIMPLY SWANK DECOR
Creating memories with fall table décor
As cooler days appear and the fall schedule begins to take shape, many of you are transitioning the decor in your homes from cool, easy, light summer items to warmer, more textured, comfortable items that celebrate the fall season and prepare us for transitioning to the colder days of winter. Of course, in addition to fall decor, many are thinking of the Thanksgiving celebrations and the possibility of entertaining family and friends.
While fall decor may be on display leading up to and after the day of thanks, the Thanksgiving table takes centre stage, and a beautifully set table can add warmth, flair and elegance to the celebration. If you prefer a less traditional menu, having an attractive table can still enhance the celebration's festivities.
Regardless of whether you are serving a traditional or less traditional dinner, the following tips and ideas will help you prepare and entertain with ease.
Let's start with the table linens. A tablecloth brings a more formal look to the space, while table runners provide a more casual vibe. Runners can be placed lengthwise or laid crosswise on the table if they are shorter in length. For a chic layered look, laying one or two table runners over a tablecloth will provide informal elegance!
While placemats have long been the usual addition to dining tables, I like chargers for the touch of elegance and depth they add to the dining table and how they anchor each place setting. Available in round or square, as well as a variety of finishes and colours, the charger you select depends on how it will show off your dishes. Whether you are serving a traditional or less than traditional meal, bring additional depth and visual interest by layering all needed dishware on the charger. Interspersing complementary solid colours or using mismatched pieces brings a chic, unexpected and playful touch to the table and provides additional colour and pattern.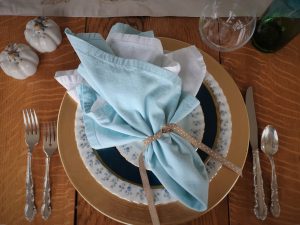 Linen napkins are a lovely touch to a beautifully laid table and place settings. There are many ways of folding and arranging napkins on the table, from a rectangle fold placed under the cutlery to intricate folds that hold the cutlery and are placed on the plate. I love the look of layering two napkins together for an effortless yet elegant look. Casually laid on an angle across the place setting, the result brings additional shape and form to your table. Or draping the napkins across the plate with the point angled down provides unexpected style and flair. Napkin rings add a finishing touch—like jewellery for the table, but ribbon is an easy alternative that adds a whimsical, casual touch.
The shape and size of your table and the style of serving that is, buffet or food passed at the table, are guides to assist in determining the shape and size of your centrepiece. Incorporate the colours of your dishes and linens in the centrepiece and include items of various heights to provide scale and form for an attractive display. Be sure to include items that have visual texture to create depth, movement and vitality.
Whether you are planning a formal or informal setting and serving a traditional menu or an alternative, setting a beautiful table to celebrate all we are thankful for is easily achieved by layering in each element and including colour, texture, shape and form. As the crowning touch to a day of celebrations, a beautiful table and the conversations that take place around it will create many memories for family and friends and remind us that each and every one of us has much to be thankful for.
Janet Armstrong (simplyswankdecor.ca) is a graduate of the Interior Design Institute of Canada, CAPS (Certified Aging in Place Specialist) and Chair of the Decorators and Designers Association of Canada (DDA Canada).