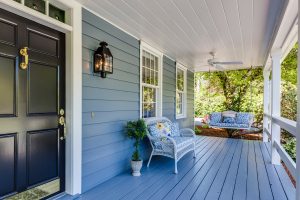 Lifescape
By Janet Armstrong,
Certified Interior Designer, CAPS
Trends to watch for creating your outdoor oasis
Enjoying the surrounding of your own home has never been more poignant than it has been since we've been asked to socially isolate: stay home and stay safe.
You have no doubt been seeing lots of articles and beautiful pictures in home and garden magazines, as well as on Pinterest and Instagram
about the home decor and design trends for 2020. The rich,deep-toned jewel colours together with colours from nature (greens, blush pink,
blues), the mixing of various man-made and natural materials that add visual interest and creative tension, a variety of metallic finishes and
colours and dual or even multi-purpose furnishings. We have been seeing these trends used in updates to indoor spaces, but they are extending to our outdoor spaces as well.After a long winter, we are anxious to spend as much time outdoors as possible and want to ensure our outdoor spaces are comfortable, beautiful and functional.
One of the keywords for design and decor trends in 2020 is function;you not only want your spaces to look beautiful, you want them to work
hard. When planning a new outdoor space or considering updates to an existing one, view the area(s) as 'rooms.'Think about who will use the
spaces, when and how often.This is important especially when it comes to selecting furnishings, materials and finishes to ensure the 'rooms' are easy-care and low maintenance, so you can maximize the most of your time spent in them.To assist you in the creation of functional,
comfortable outdoor spaces, consider the following guidelines.
Furnishings
Outdoor furnishings are available in a wide variety of materials that range from man-made,such as plastics, through to natural materials such as a wood and wicker. Personal preference and style are important considerations,but you want your investment to look good and remain comfortable,so ease of maintenance is important too.The following are some pros and cons of the various materials available to assist you when determining how to furnish the space.
Plastic
Pros
• affordable
• withstand the elements
• lightweight so that rearranging is easy
• available in a variety of colours
Cons
• easily bleach in the sunlight
• does not have the strength and integrity of other
materials
• lightweight structure makes it prone to blowing around in high winds
• will break or warp when the rated weight limit is exceeded
Wicker
Pros
• has a natural 'give' to it that makes it more comfortable
• very durable
• not susceptible to bleaching or fading from the sun
Cons
• less expensive,lower quality products available,but they will show wear and tear over time
• not completely water and moisture-proof, can feel 'sticky'on humid days
Wood
Pros
• durable
• does not hold heat
• stronger,more integrity, can hold more weight
• long-life if cared for and sealed properly
Cons
• heavy
• more expensive than other options
• can splinter
• not low maintenance
• requires indoor storage space during inclement weather
Metal
Pros
• available in a variety of finishes and colours (look for colour applied using a powder coating)
• resistant to chipping,scratching and fading
• sturdy and able to withstand weather and heavy weight
Cons
• absorbs heat quickly and holds it — so can burn the skin
Rugs
As with indoor spaces,rugs are a beautiful addition to your outdoor spaces. They can define a space, ground it and pull the look together. Rugs are available in a variety of materials providing a range of choices depending on your budget, style and space. Natural fibres such as sisal, hemp, jute and seagrass are strong, durable and sound absorbent and they add texture to any space. Synthetic fabrics such as polypropylene or plastic are available in a wider range of colours and are low maintenance — they can be hosed down and dry quickly.
Bear in mind the same guidelines apply to outdoor as indoor rugs; they should be big enough that all furniture is on the rug or at least the front legs,the rug should extend six to 12 inches either side of the sofa and there should be at least 12 inches of space between the edge of the rug and 'walls' which in the case of an outdoor space might be the decking or patio.
Lighting
While outdoor spaces do not require much light, there will be times when you will remain outside well into the evening.For those occasions,string lights and outdoor lamps are excellent options for ensuring overall lighting. To add ambiance and a soft glow, candles and lanterns are perfect choices. Choose candle lanterns of various heights to create a centrepiece and taller ones for setting on the patio —
perhaps as a corner display or grouped at the end of the sofa.
Decor
Like the indoor spaces of your home, outdoor spaces need decor to complete the look and many options exist today for outdoor decor. Furniture cushions and throw pillows are a colourful way to add depth, texture and comfort and add in a throw or two for the cooler evenings.Plants are an ideal way to fill out a corner and can function as a screen as well if necessary. Metal or ceramic stools are perfect for
their multi-functionality (seating, plantstand, table) and can add texture and colour.
Creating your outdoor rooms and can be a fun and inspiring way in which to make the most of the space available as well as reflect your summer style. Once you have created your outdoor oasis, make the most of every moment available to relax and enjoy it whether you are spending a quiet afternoon alone or entertaining in a socially distant manner with family and friends.
Janet Armstrong (simplyswankdecor.ca) is a graduate of the Interior Design Institute of Canada, CAPS (Certified Aging in Place Specialist) and a Director and Membership Chair with the National Board of the Decorators and Designers Association of Canada (DDA Canada).