By Janet Armstrong, Certified Interior Designer, CAPS
Unique creations for all seasons
As we settle into fall with its beautiful colours and cooler days, many of us are planning a Thanksgiving feast for family and friends. While the food and celebration are an important focal point, equally important is the centrepiece not only for the festivities themselves, but as part of your overall fall decor. Centrepieces can be created well in advance of Thanksgiving to be enjoyed for a number of weeks throughout the season rather than just one weekend.
To assist you and alleviate some of the stress, I am sharing instructions for a simple DIY centrepiece using faux elements that is elegant and will last throughout the fall season. One of the many benefits of decorating today is that seasonal decor items come in a wide range of colours so there is something for every decor style and colour palette. And the approach I have used and described below could be used to create a centrepiece or vignette for any season or celebration throughout the year.
While you may select different items than I have to include in your centrepiece, the steps to creating it are the same and will ensure a beautiful result. Before you start to create your centrepiece, select a base for the centrepiece. I have used a large wooden serving tray which provides an informal look and feel and grounds the appearance of the display, but equally effective and attractive are large platters, a rectangular tray or plate or a favourite pottery piece.
Then think about what elements you would like to include in your centrepiece — candles, gourds, pumpkins, fall stems, spheres, faux succulents, nuts, stones, etc. — and assemble them close by. Remember to ensure there are an odd number of items and items of varying height and texture to bring balance and visual interest to your creation.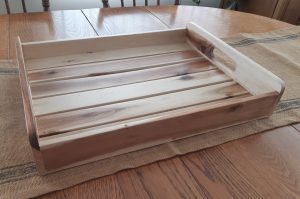 The first two elements I added were the candlestick and a bowl which I inverted to be the base for another candle. These two are the 'foundation' for the centrepiece and everything else builds around them. Equally lovely and interesting items that could be used for a candle base include a small pedestal plate, inverted tea cup or a small jelly jar filled with nuts or pebbles. Using items in unexpected ways provides an element of surprise and interest to decor and can be a source of inspiration and amusement as well.
I chose pumpkins for my centrepiece and propped two of them against the side of the tray to give them a bit more height and the angles give more visual interest and movement to the display. The different shades of colour and materials provide depth and the glass brings a lightness and 'negative space' to the display, preventing it from appearing too heavy. Gourds in different shapes and sizes would be equally beautiful instead of the pumpkins.
Next, I added pillar candles. Again, the varied colours provide interest, coordinate with the pumpkins and work to keep the display from being predictable and monotonous. The added height also brings dimension to the display and provides a focal point.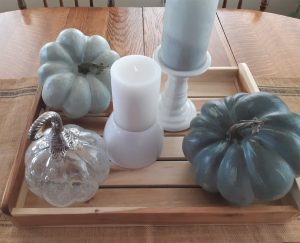 Once these items were placed, I added in some fall stems, greenery and floral spheres to fill the spaces as well as provide additional colour, texture and autumn elements. Fall stems are available at local decor and craft stores and come in a wide range of colours, lengths and as single stems or pre-made bundles. These sources also carry a wide variety and sizes of pumpkins and gourds in a range of colours.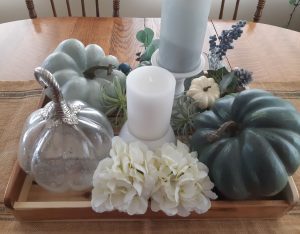 While I have centred the bowl and candlestick, offsetting items can be interesting as well as in this variation.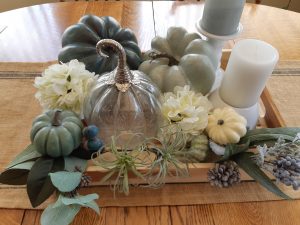 Have fun and enjoy creating your own one of a kind centrepiece and play with the elements and their placement until you have a look that you are satisfied with. Bear in mind that a display such as this works equally as well on a coffee table or an entrance way table to bring a touch of fall to those areas of your home.
Janet Armstrong (simplyswankdecor.ca) is a graduate of the Interior Design Institute of Canada, CAPS (Certified Aging in Place Specialist) and a Director and Membership Chair with the Board of the Decorators and Designers Association of Canada (DDA Canada).