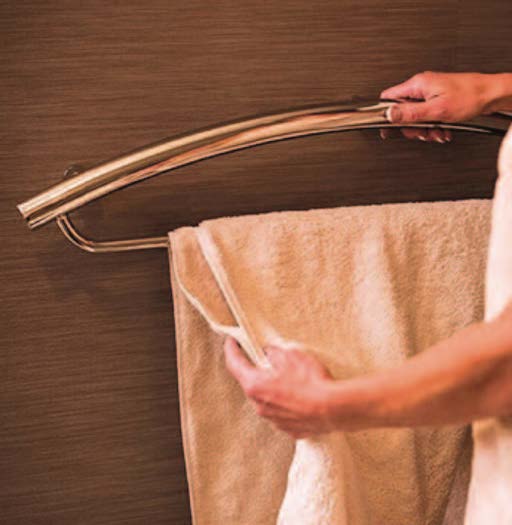 An aid to living-in-place for the future
By Janet Armstrong, Certified Interior Designer, CAPS | June 2019
You may have heard or read the term Universal Design but what does that mean? When interior designers talk about Universal Design, we are talking about the design of a living environment that can be accessed, understood and used by everyone living in your household as well as by family and friends regardless of age, size, ability, disability or cognition. What I love above using Universal Design principles in my designs is that they result in a stylish, functional, safe and comfortable space that supports living-in-place well into the future.
As you look around your home and consider the rooms that perhaps pose the most significant challenge to living-in-place into the future, the bathroom is possibly one of the biggest. One of the most used rooms in your home, this high traffic space has to be functional for everyone from youngest to oldest. When you are planning bathroom updates, it is the perfect opportunity to take future requirements of users into account regardless of their ability and/or stage of life. Read on for a number of considerations to take into account when designing your new or updated bathroom.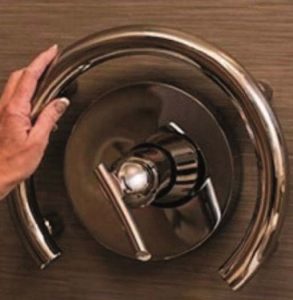 Shower
When designing an accessible bathroom, there are a couple of options available with respect to bathing. One is what is called a wet room — an area that incorporates both a bathtub and a floor level shower. Rather than a separate shower stall, the whole area that contains both tub and shower is waterproof, and the floor adjusted to facilitate water runoff and drainage. This multi-functional design makes the space appear more open and gives the illusion of space and allows two people to use the space at the same time. To prevent the shower spray from soaking the surrounding area, a partial glass partition could be installed such that there is still room to access the area with a mobility aid, but water will not soak towels, furniture or toilet paper rolls. If space doesn't allow for a wet room, the other option is a floor level shower only with the glass partition to contain water spray.
Bench seating is a perfect addition to a shower area. Not only does it assist those unable to stand, it gives a spa like feel to the space and can assist with bathing functions such as sitting to shave legs. Renovating is the perfect time to install a bench but a fold up shower bench can be installed into an existing shower and is a low cost, effortless way to have the benefits of a bench without the cost of remodelling.
Staying warm while unable to stand directly under the warm water spray of a shower, can be mitigated with not only radiant heated floors, but shower walls and ceiling as well. This will ensure a warm, comfortable space for the duration of your shower and eliminate chills!
A sliding rail shower is a fantastic addition to the shower. The shower head adjusts to different heights on a wall mounted bar. With the addition of a hand-held shower head, the sliding rail shower makes the shower a perfect bathing space for every member of the family regardless of size and ability. And the added benefit is the shower rail can be a grab bar too!
Throw out those preconceived ideas about grab bars right now — no longer are the chrome, institutional looking bars the only game in town! Grab bars now come 'disguised' as towel bars, toilet paper roll holders and faucet rings. Beautiful, stylish and discreet, only you will know what their hidden functions are. Note: When installing grab bars of any type, be sure there is blocking behind the wall on, which they will be installed to ensure the integrity and strength of the bar.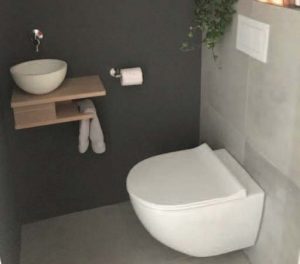 Toilet
We are all familiar with the typical household toilet; they sit on the floor, drain through pipes installed through the floor and have little space underneath them (a cleaning challenge). While we have been accustomed to this type and it is found it the vast majority of homes, wall hung toilets provide an alternative and advantage for safety and accessibility.
If you are updating your bathroom to facilitate living-in-place, wall hung toilets provide advantages. Installed at the precise height for your comfort, they make for more efficient cleaning and provide better access and approach, particularly for mobility assist devices.
The tanks are housed behind the wall in a cast iron or steel carrier installed between two wall studs for support and to anchor the bowl. An opening in the wall is provided for the flush buttons and also allows ease of access for repairs.
Vanities
There are a number of options available when considering a vanity. They can be wall mounted with open space beneath; enclosed with doors that when open reveal empty space that enables access; or, they can look like the usual vanity, but the under vanity cabinets are on wheels, so that they roll away to provide access to the sink.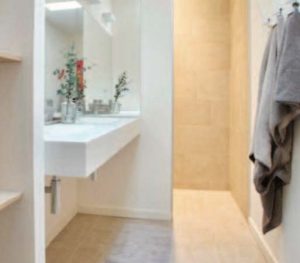 Taps
To facilitate ease of use and access for all, other considerations to ensure a comfortable bathroom include motion-activated or lever-handled taps. In addition to their ease of operation and being hands free, motion activated taps are advantageous as they:
Prevent the spread of germs and bacteria.
Have an automatic turn-off so water overflow is prevented.
Save on water usage.
Have the ability for a water temperature preset, to prevent scalding.
Motion-activated lights
Perhaps you have experienced motion-activated lights in an office or hotel setting. Pretty cool and practical, right? But think about the safety advantages to having them in your home! They illuminate rooms without you having to fumble around in the dark for a switch and anyone, regardless of height or reach, can easily have light.
Motion-activated lights can also illuminate typically dark areas such as drawers or cabinets too. And because they automatically turn on only when required, they are energy efficient and therefore cost effective too.
The flexibility and practicality of Universal Design principles results in spaces in your home that are accessible, safe and functional. But the real attraction lies in the fact that applying these principles to a bathroom design and update will produce a stylish, comfortable oasis that can be used by all — regardless of age, size, ability, disability or cognition and will support healthy living-in-place into the future.
Janet Armstrong (simplyswankdecor.ca) is a graduate of the Interior Design Institute of Canada, CAPS (Certified Aging in Place Specialist) and a Director and Membership Chair with the Board of the Decorators and Designers Association of Canada (DDA Canada).