When Small is Beautiful
text and image by Janet Armstrong
At this stage of our lives, many of us are transitioning our living space and planning to, or have already, downsized into a smaller home. There are many reasons why a smaller space is appealing.
Joshua Becker of Becoming Minimalist (www.becomingminimalist.com) has blogged about downsizing and identified 12 reasons we are happier in a smaller space. Among the 12 are: less maintenance and cleaning;the freedom to do more of the things that bring us joy and pleasure – spending time with family and friends, hobbies, travel, volunteering, fewer or no work hours, etc.; smaller spaces are mentally freeing; and a smaller home costs less to purchase and manage (think less taxes, utility costs, insurance).
One of the dozen reasons he identifies is less decorating. While a smaller home means there are fewer rooms and spaces to decorate, it doesn't mean you have to sacrifice design and style.There are many ways you can ensure your home is inviting, comfortable, functional and reflects your personality and flair.
Space
Small space does not mean everything in the room has to be on a small scale.While some may believe this to be the best approach, balance in design and décor is important and can mean mixing larger items with smaller ones. Furniture is available in a wide range of sizes so there is something available for every space, whether it is a sofa, table and chairs, bed or occasional tables.
To keep smaller rooms feeling spacious, do not cram them with furniture. Carefully consider how the space will be used, how frequently and who will be using it. From there you can determine the minimum pieces needed to meet those needs and edit out items as required. Some guidelines on furniture for smaller spaces to bear in mind include: tables should be leggy and have open space beneath them; glass tops on occasional tables, coffee tables or a dining table keep a space feeling more open and spacious and enable light to flow; mirrors reflect light and make a space feel more open; and, the use of multi-purpose pieces.
Many think that because a space is small, their furniture has to be placed right against the wall. In fact, the opposite is true; furniture right against the wall emphasizes the smallness of the space and it leaves marks and blemishes. Moving furniture out even a few inches can make a room feel cozier and can even make them appear larger than they are.
Multi-purpose rooms
Having a smaller space with which to work does not mean you can't have a hobby space, home office or workout area.There are no strict rules on the use of spaces in a home so think creatively and figure out what will work best for you.
For example, it is unlikely your guest room will be used 365 days of the year and could do double duty as a home office with a small desk, computer and bookcase tucked into one corner of the room. I have also seen some very clever compact home offices tucked under a stair case or in a closet. If you have a family room, your treadmill or cross country ski machine could be located here and the bonus is the workout goes much faster and seemingly easier if you are watching television!
Less is more
Use the 'rule of odds' in your displays.
The"less is more"approach extends to wall space as well. Intentionally leaving negative space on the walls makes a big impact in your décor and produces a more peaceful, relaxed feel. A gallery arrangement of several smaller pieces of art or one big piece with blank wall space around it can produce a very pleasing effect.
Colour
When choosing the colour palette for your home, don't be afraid! Because your space is smaller, don't assume it has to be painted in neutral or light colours — bold and dark colours can make a dramatic impact on smaller spaces. However, before committing to any colour palette take your time. Watch how the light moves through the rooms during the day and evening on both sunny and cloudy days.This will allow you to determine where there is an abundance of natural light and where there tends to be shadows or diffused light.
Nowhere is the"less is more"approach truer than in design and décor, especially in a smaller space.You want to keep rooms spacious and relaxed, not busy and distracting; this is not the time to display your entire collection of tchotchkes no matter how lovely or interesting. Besides, who wants to dust all of that? A small vignette with a number of your favourites (pack the rest away) makes a pleasing display and a completely bare table can be perfect in its simplicity.
If you are designing a vignette, bear in mind the rule of odds. An odd number of objects is much more interesting than an even number and as crazy as this sounds, provides more balance. Mix it up for further visual appeal; think large, medium, small items in one colour or complimentary colours, or items all the same size in different textures.This is where you can have some fun and really express your personal style and flair.
If you decide on a dark colour for walls you can bring balance to the space by painting the trim a crisp white and including a lighter area rug and accessories. If you choose a lighter or more neutral palette, dark colours can be featured in your accessories such as throw cushions, artwork or draperies.These contrasts will make the space less formal and more comfortable.
Storage
Even if you have de-cluttered before moving to a smaller space, there are still things that need to be stored away.(I have made two cross-country moves in less than four years and I am still finding things to get rid of!) There are a clever number of ways to keep things organized and the clutter at bay. End tables with drawers provide a place to hide remotes, coasters, and magazines.A large ottoman can be used for various purposes such as a coffee table, storage and extra seating. Perhaps a large bookshelf can house the TV and entertainment systems as well as your books, and baskets are an attractive option to collect things from keys and mail to hats, mitts and scarves. Drawer organizers are fantastic too and can keep items organized in the kitchen, bathroom and home office.
Interior designers can assist and support you in the transition to a smaller space. They will work with you to evaluate your space, make recommendations and assist in decisions regarding furnishings, colour, finishes, layout and design and décor accessories. Interior designers can also alleviate the stress associated with transitioning by sourcing items and shopping with you to select the perfect pieces to make your smaller space reflect your personal style.
Once you have transitioned to and adapted to your new smaller space, you will be surprised how much happier and relaxed you are and how much freedom you will have to pursue and enjoy your favourite activities. ■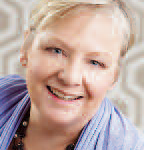 Janet Armstrong (www.simplyswankdecor.ca) is a graduate interior designer from the Interior Design Institute and member of the Canadian National Association for Decorators and Designers (CDECA).