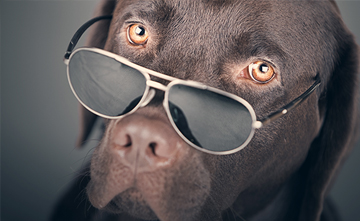 The summer means spending more quality time out and about with pets, but each year across the province the Ontario Society for the Prevention of Cruelty to Animals receives hundreds of reports of animals left unattended in parked vehicles.
When driving with your pet, remember they need to go with you when you leave your vehicle. If your pet cannot accompany you, make sure to leave them at home where they will be safe, cool and comfortable.
On a hot day, the temperature inside your vehicle will quickly become much hotter than the temperature outside. When your pet is left unattended in a hot vehicle, it's not just uncomfortable for them — it's life threatening.
Dogs in particular have very limited ability to sweat. Even a short period in a hot environment can cause suffering and distress and could result in brain damage or death.
This summer, take the Ontario Society for the Prevention of Cruelty to Animals #nohotpets pledge to not leave your pet in a vehicle. You can also help spread the word by tweeting with the #nohotpets hashtag.
If you come across an unattended vehicle with an animal inside that appears to be in distress, act quickly and report it to the Ontario Society for the Prevention of Cruelty to Animals at 310-SPCA (7722). You can also contact your local police service or your local Society for the Prevention of Cruelty to Animals or Humane Society.
Quick Facts
Excessive panting, drooling, and listlessness are signs of heatstroke in animals. If you witness these signs in your pet, seek veterinary attention immediately, move the animal to a cool area and offer it drinking water.
Leaving a pet unattended in a vehicle could result in charges being laid against you under the OSPCA Act and/or the Criminal Code of Canada.
"Our pets depend on us for their health and safety. I encourage all Ontarians to sign the no hot pets pledge and remember that when you're out taking advantage of the attractions and activities that Ontario has to offer this summer – don't forget your pet – bring your pet with you when you leave your vehicle or leave them at home." Yasir Naqvi, Minister of Community Safety and Correctional Services.
"Leaving your pet unattended in a vehicle is one of the most irresponsible decisions a pet owner can make. Your pet's safety is your responsibility. Placing them in a dangerous environment could not only be harmful, it could result in the animal owner being charged as well as being fatal to the animal. Let's make this summer a happy one for all of our family members, including our pets." Connie Mallory, Chief Inspector, Ontario SPCA.