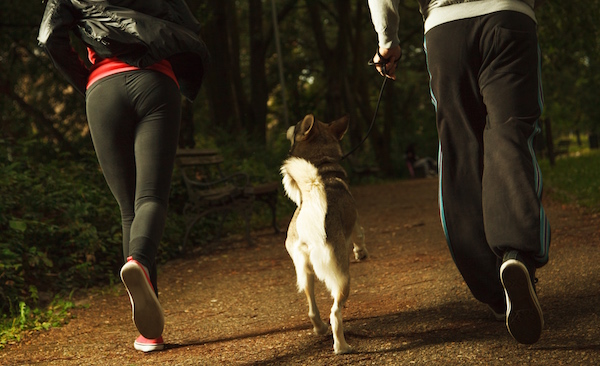 Imagine a workout buddy who never cancels last minute on you. Imagine a workout buddy who keeps up with your pace, doesn't complain about running hills and is available any time of the day. Imagine a workout buddy who is always excited to spend time with you. Your dog is not only your best friend, but also the best workout buddy out there to help you achieve your health and fitness goals.
Your dog is always up for a trip outside. As soon as he or she sees that leash or hears the car keys, his or her excitement is palpable. Let your dog's contagious energy be your motivation to get out and be active as well.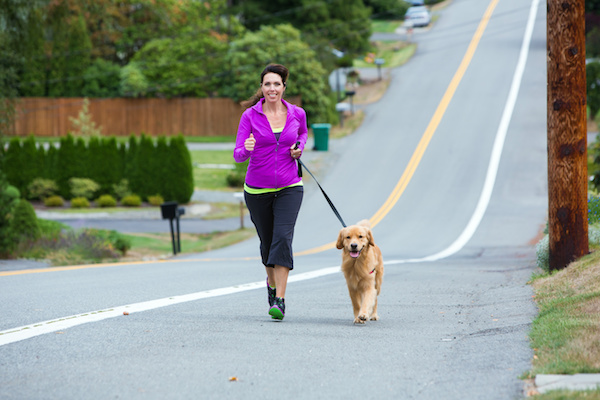 Running and Hiking
If you want to kick your walks up a few notches, make a morning jog or an evening hike a part of you and your dog's daily routine. If you're not a routine runner, you and your canine should start a running regimen that builds up from an alternating walk/run to a casual 5 mile jog. If you've been itching to check out a new trail, your dog is a great hiking buddy that will keep you company and keep you safe.
Useful Gear:
Biking and Rollerblading
Some days you just don't feel like going for a run, but if you have an athletic dog who needs to log miles, it's impossible to compromise. If your dog is accustomed to keeping pace with you and doesn't get distracted easily on walks, have him or her run beside you as you bike or rollerblade. This gets your pup active and running while you cruise along. But, before you hop on wheels of any sort that involve balancing, ensure Fido won't want to chase the first squirrel in sight. Be safe.
Useful Gear:
Stand-up Paddle Boarding and Kayaking
If you're looking to exercise on the water, your dog is a great companion for a stand-up paddle board or kayak. If your pup loves to swim, let him or her hop off the board or kayak every once in awhile for a quick swim to burn energy.
Useful Gear:
Dog-Friendly Exercise Classes
You know that guilt you feel when you get home from work and your dog has been inside all day? Then, do you notice his or her long face as you sneak out again to head to the gym?If you want a guilt-free workout, dog-friendly outdoor boot camps are a great activity for you and your canine. These programs combine high-intensity moves for strength, balance and cardio for you while your dog practices obedience drills and agility exercises.
Useful Gear:
Don't Have a Dog?
If you don't have a dog but still want the ultimate workout buddy, you're in luck! With smartphone apps like BorrowMyDoggy and Bark'N'Borrow, you're one click away from finding the perfect dog for your fitness goal. Browse through photos and descriptions to find a dog that can keep up or push your limits.