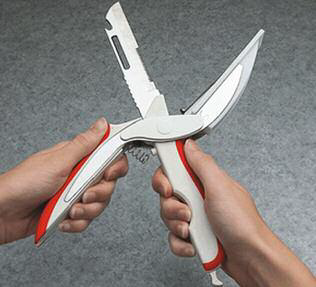 Multi-functional
Kuraidori Slicer Plus is a chef's knife and cutting board in one.The Slicer Plus has an easy-squeeze shearing action that makes it simple to slice vegetables right into the salad bowl or into containers for storage. Features include: scissors, knife, peeler, fish scaler, bottle opener, and twist top bottle opener.The scissors come apart and can be used as a regular knife with a slicing and serrated blade. It also has a bypass action which slices food instead of crushing it like an anvil action can do.An ergonomic comfort soft grip handle makes it easy for anyone suffering from arthritis or other joint pain. Check out more information at homehardware.ca.

Patio pleasure
This stainless steel glass pyramid flame heater brings a new dimension to outdoor heating.The stylish unit provides a unique visual flame that dances inside the centrally-located quartz glass tube.This attractive piece of patio art will surely be the focal point of any outdoor setting. Heater features include a safety-certified quartz glass tube, a durable stainless steel construction, a tip-over protection system, attached wheels for easy mobility,a safety auto shut-off tilt valve,and easy-on-the-back convenient wheel assembly.While this unit does produce considerable heat,due to the decorative glass cylinder design, its heat output will be less than standard patio heaters. Find out more at costco.ca.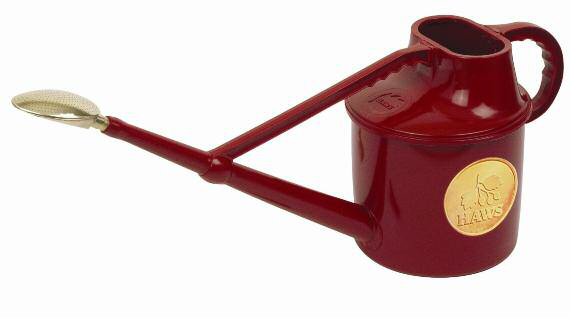 Let it flow
This could be the last watering can you ever buy. Extremely hard-wearing with high-impact strength, this watering can is heavy duty, injection-molded plastic, yet it's light in weight and has been engineered with two handles. It contains a removable oval brass rose and a plastic downspout attachment which directs water into pots and planters without disturbing even the most sensitive of seedlings.An extension spout can be removed for added versatility. Original design created by John Haws in 1886. Available through Lee Valley and Home Hardware stores, or at hawswateringcans.com.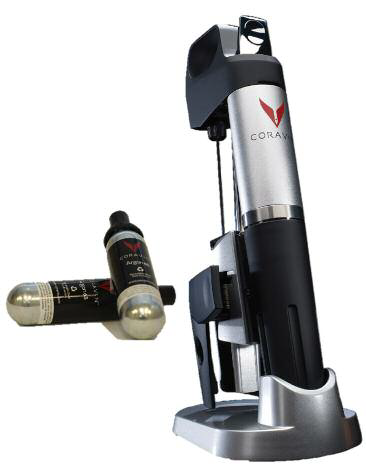 Freedom by the glass
No longer must you compromise by sharing your wife's Chardonnay if you prefer Sauvignon Blanc.The Coravin sys- tem reforms the cork of any wine bottle after each pour, pre- serving the wine for months until the next glass.This means everyone in your household is granted the freedom to drink what they want, when they want, sans sacrifice. No more sav- ing that special bottle for the weekend or for an important occasion.Fancy a glass of white wine while you cook,but pre- fer a bold red with the main course? Now you can have both without having to open multiple bottles—you can even finish with a delicious dessert wine. Host a dinner party your friends won't forget.With Coravin, your guests can enjoy glasses from dozens of bottles, rather than settling for whatever is open. Find out more at coravin.com. n
Compiled by R. Legault.
PRICES AND PRODUCT AVAILABILITY MAY VARY.
COYLE PUBLISHING ASSUMES NO RESPONSIBILITY FOR THE QUALITY OF THE PRODUCTS THAT ARE PROMOTED IN THIS COLUMN, NOR IS IT RESPONSIBLE FOR CUSTOMER SERVICE-RELATED ISSUES THAT ARISE FROM INTERACTIONS WITH THE COMPANIES PROMOTING THESE PRODUCTS.